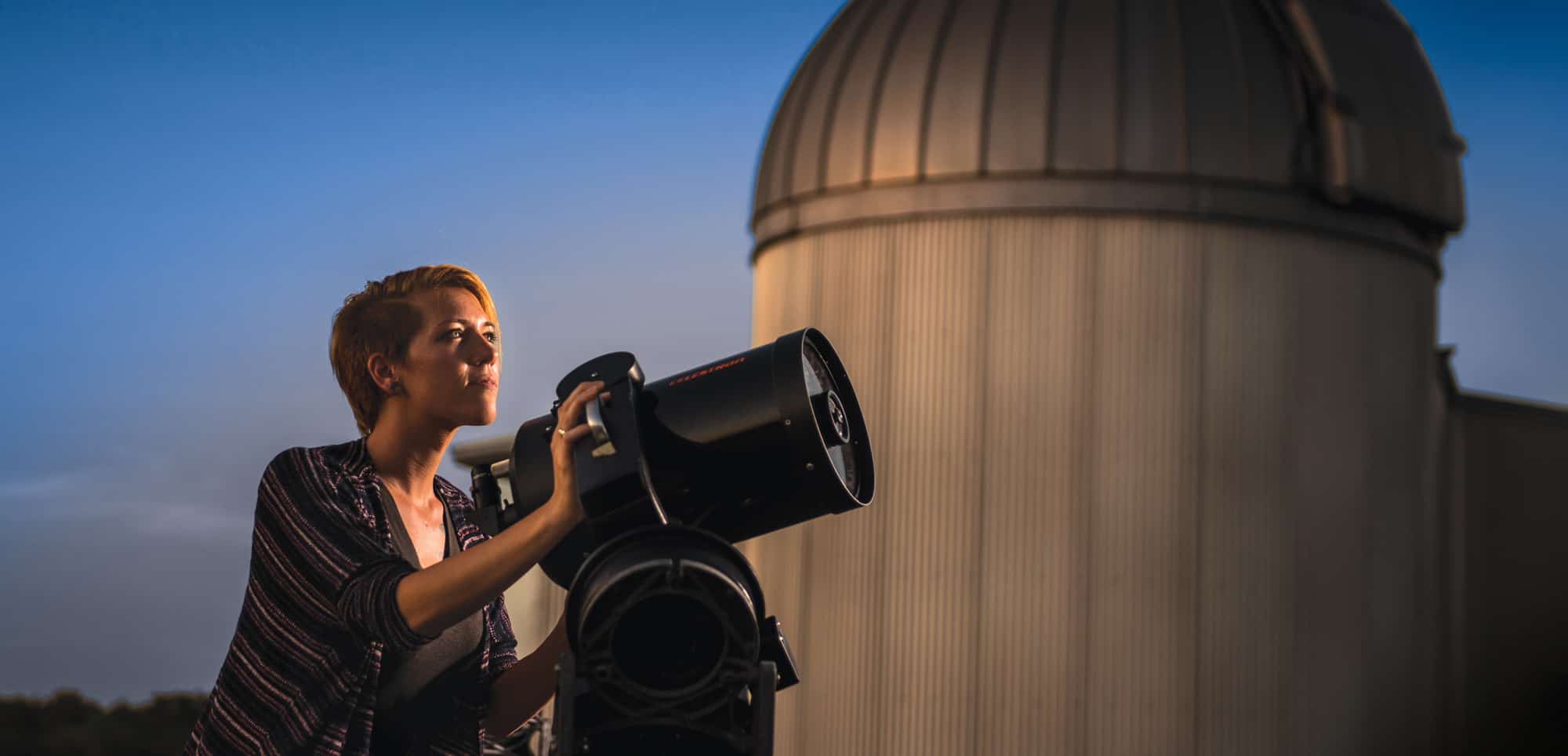 Department of Physics and Astronomy :: Explore Our Programs
Explore Our Programs
Explore the world from the atomic to the universal level with a degree in physics. While here, you'll investigate the structure of matter and how it functions across space and time. You'll have the opportunity to study asteroids, white dwarfs and binary stars with our state-of-the-art observatory and research laboratories. Our programs prepare you for graduate work or employment as professional physicists. Utilize your skills in engineering, law and medicine.
Where It Is Offered
Commerce
Foreign Language
Required for BA, not BS
Total Credit Hours
120 hours
Thesis Requirements
No thesis required
Back to menu
Physics (BA/BS) :: 1.13 Course Delivery and Resources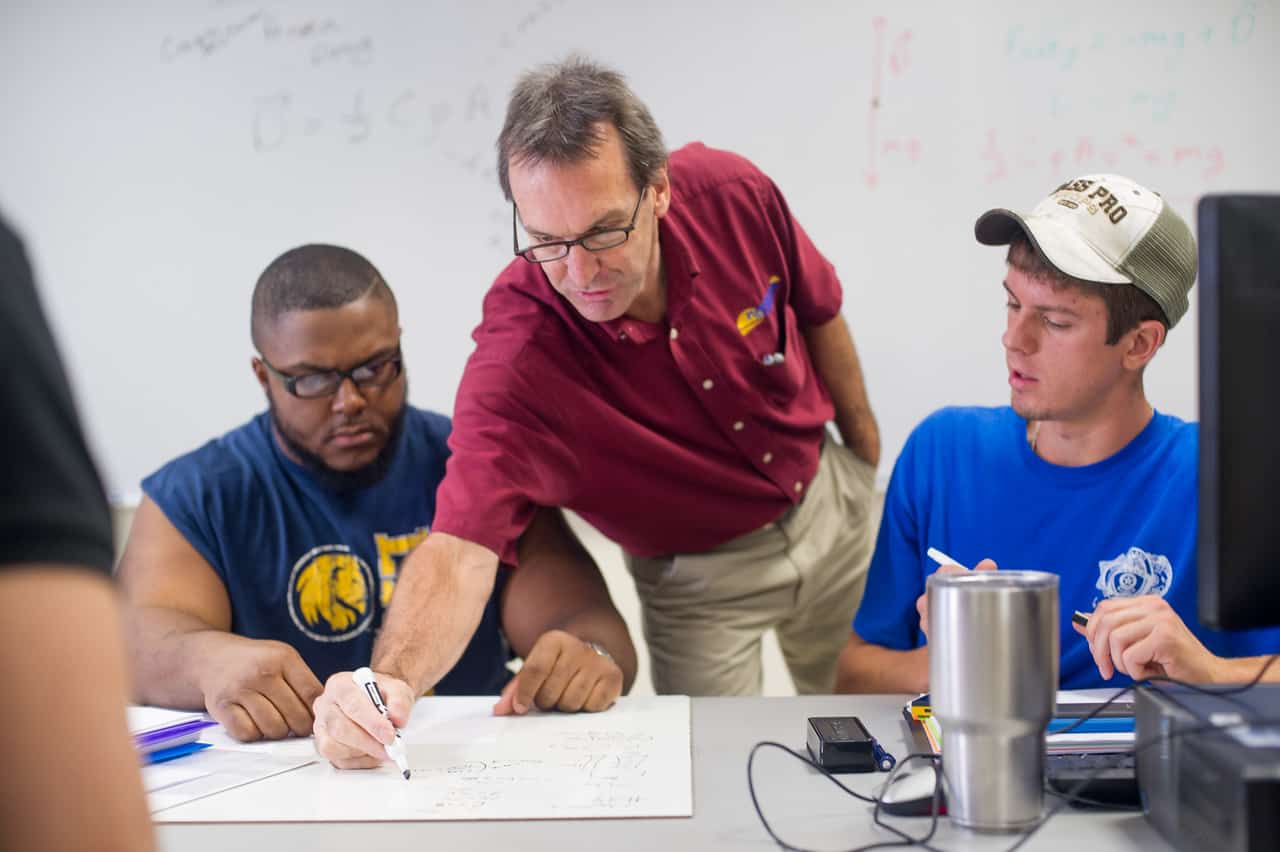 RESEARCH EXPERIENCE FOR UNDERGRADUATES (REU)
SUMMER REU PROGRAM For COMMUNITY COLLEGE STUDENTS
We offer a unique and rewarding research training opportunity each summer, specifically created for community college students interested in physics and astronomy. Six community college students are selected each year to participate in the program. You will enjoy a unique, ten-week research experience working directly with a faculty mentor on a collaborative research project matching your specific interests.
Back to menu
Department of Physics and Astronomy :: Our Facilities
Our Facilities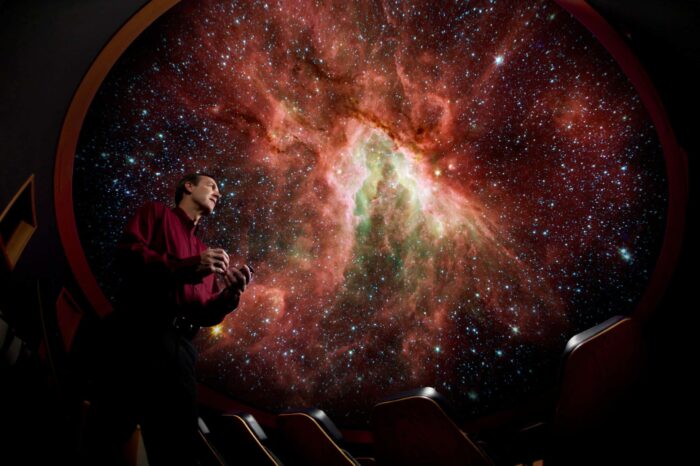 Planetarium
Our planetarium is located on the first floor of the McFarland Science Building and is home to a Digitstar 5 all-digital projection system in a 40 foot dome that provides amazing sights and sounds for audiences of all ages. The Planetarium's 87 reclined seats immerse the viewer in a space environment appearing to take them to places beyond the Earth.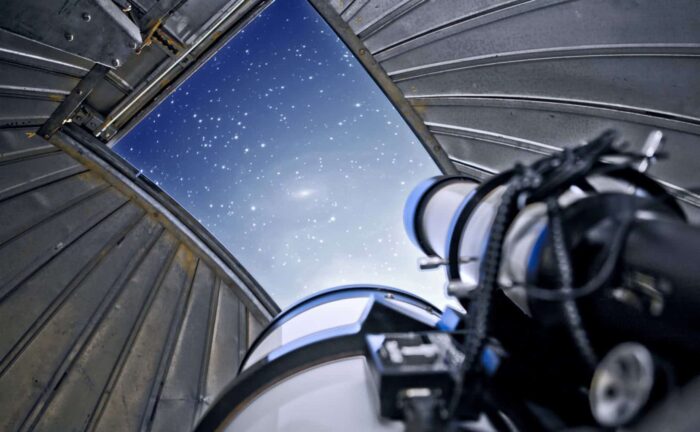 Observatory
Our observatory houses the observing and research-grade telescopes. The latest addition to our collection is a Planewave CDK 700 27-inch telescope, which is housed inside of a clamshell, AstroHaven dome. This telescope is located next to the original dome, which houses a Meade 16-inch LX200 Schmidt-Cassegrain with an attached 5-inch Televue refractor.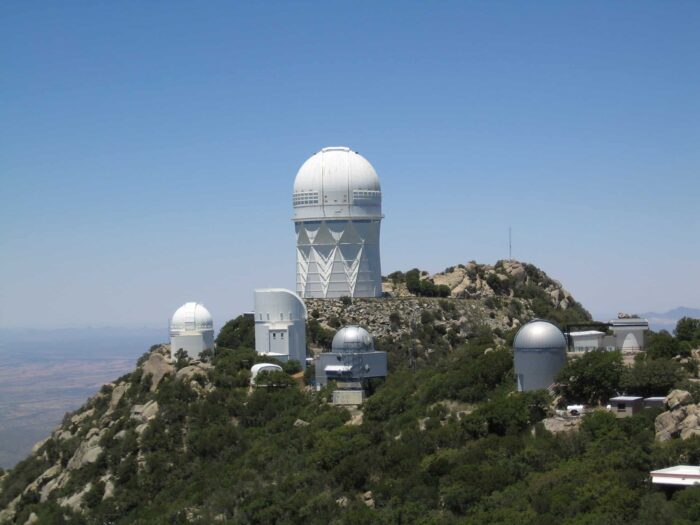 SARA Telescopes
Southeastern Association for Research in Astronomy (SARA) is a telescope consortium that operates two 1-meter-class telescopes at Kitt Peak National Observatory in Arizona and Cerro Tololo International Observatory in Chile, South America. These telescopes are at two premier locations selected for their crystal clear skies and remote mountaintop locations.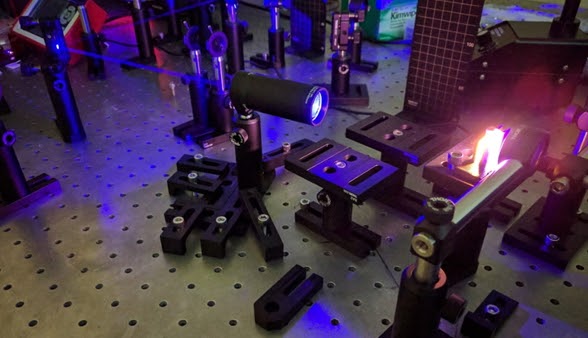 Organic Semiconductor Lab
Organic semiconductors are studied for their potential in next-generation optoelectronic devices. They have many advantages over inorganic materials, such as silicon, which is the most commonly used inorganic semiconductor for electronic devices. Most organic semiconductors are less expensive, flexible and versatile.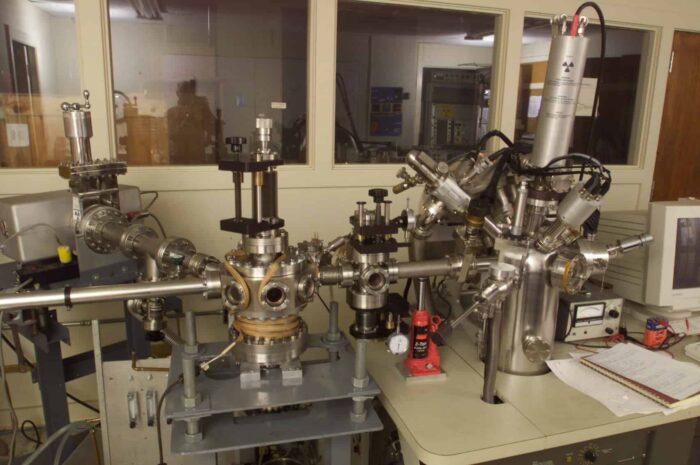 Surface Physics Lab
Surface physics studies the structure and properties of the atoms on the surface of materials. The Surface Physic Laboratory at Texas A&M University-Commerce offers a wide variety of innovative research opportunities including: X-Ray Photoelectron Spectroscopy (XPS), Soft X-Ray and Auger Electron Appearance Potential Spectroscopy (APS).
Back to menu
Department of Physics and Astronomy :: Featured News
Featured News
A&M-Commerce Society of Physics Students Receives National Recognition
The A&M-Commerce chapter of the Society of Physics Students (SPS) has won an Outstanding Chapter Award from the organization's national office. The designation is the highest level of distinction, with less than 15% of the organization's chapters receiving the title. The local chapter has been a Distinguished Chapter for the past six years consecutively. The […]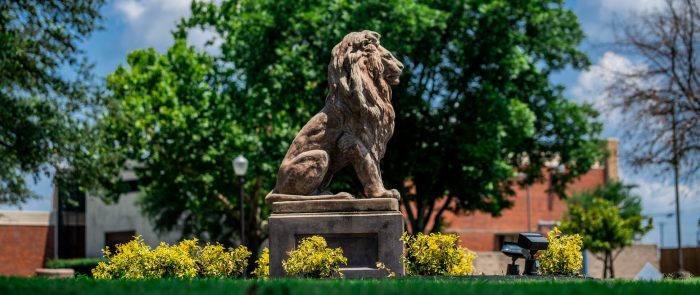 TAMUC Faculty Matt Wood Named A&M System Regents Professor
The Texas A&M University System recently announced the recipients of the prestigious Regents Professor distinction, and Texas A&M University-Commerce Professor of Physics and Astronomy Matt Wood, Ph.D., joined 11 others system-wide to receive this honor. The A&M System Board of Regents established the Regents Professor Awards program in 1996 and the Regents Fellow Service Awards […]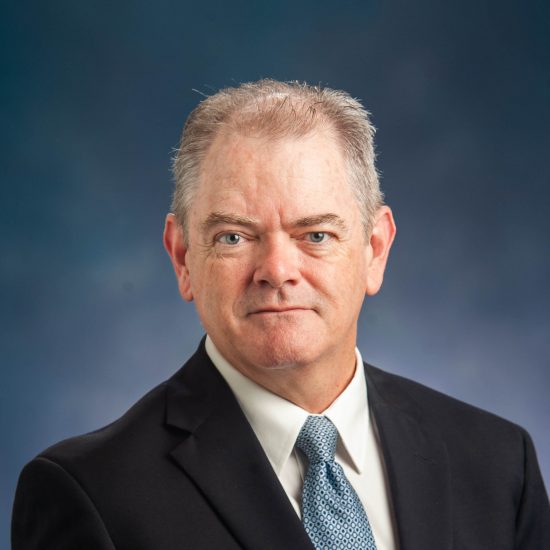 Paris Regional Medical Center Honors TAMUC Engineering and Technology Department at Appreciation Luncheon
Representatives from the Department of Engineering and Technology at A&M-Commerce attended a Dec. 15 luncheon at Paris Regional Medical Center (PRMC), where the department was recognized for providing personal protective equipment during the COVID-19 pandemic. A&M-Commerce attendees included Brent Donham, Ed.D., dean of the College of Science and Engineering; Perry Moler, Ph.D., assistant professor and […]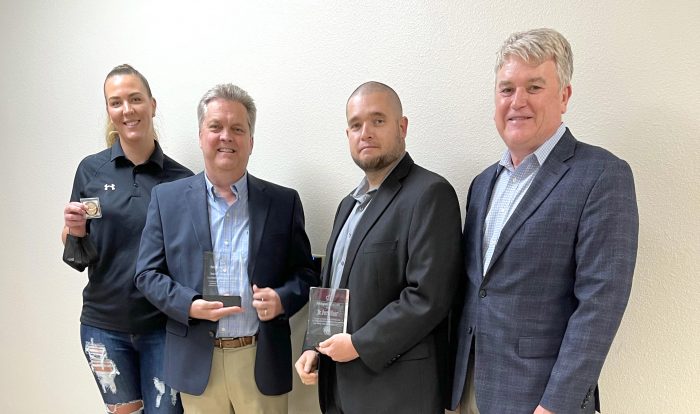 A&M-Commerce RELLIS Faculty Member Receives Prestigious Recognitions
Dr. Eman Hammad, a Texas A&M University-Commerce assistant professor working at the A&M System's RELLIS Campus, recently received a pair of accolades signifying her accomplishments in the field of cybersecurity. Hammad was named one of the "Top Women in Cybersecurity" by the website ITWorld Canada. Hammad joins 19 other women on the list. In addition, […]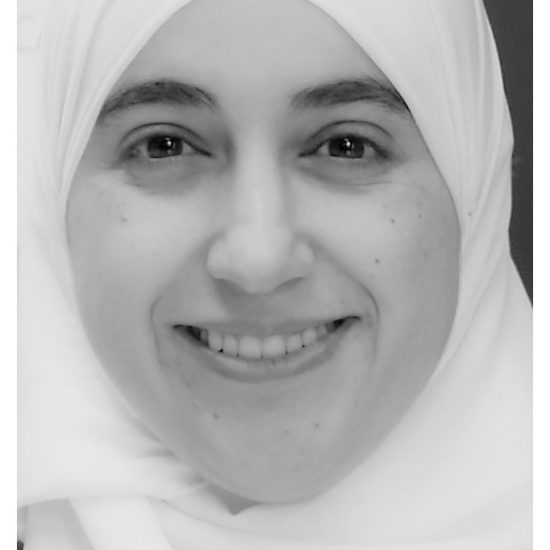 Mathematical Association of America Features A&M-Commerce Students' Research Video
The Mathematical Association of America has selected a research project video by A&M-Commerce students Victor Ezem and Ashlee Story to be featured on its website. Ezem is a mathematics and computer science major, and Story is a computer science major. They submitted a video presentation of their research, "Properties and Parameters of Codes from Unit […]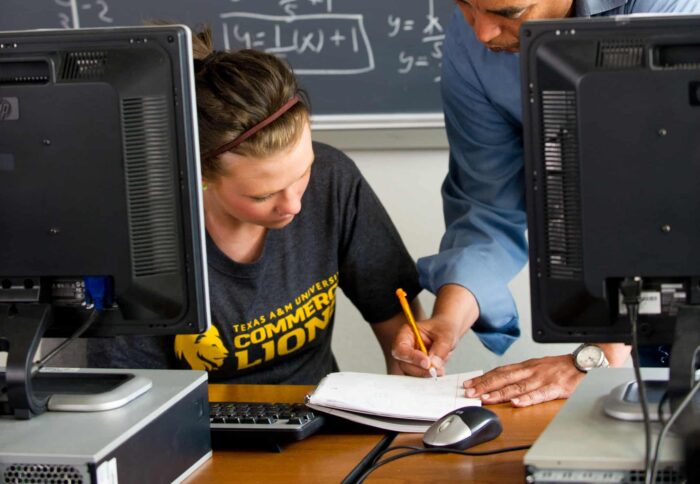 A&M-Commerce Chemistry Student Receives Recognition at Regional Meeting
A&M-Commerce chemistry student Shea Garland received recognition for Outstanding Undergraduate Poster Presentation in Organic Chemistry at the American Chemical Society's recent 2021 Southwest Regional Meeting in Austin, Texas. Garland is an Honors College student pursuing a Bachelor of Science in Chemistry. Dr. Stephen Starnes, associate professor of chemistry at A&M-Commerce, said he is proud of […]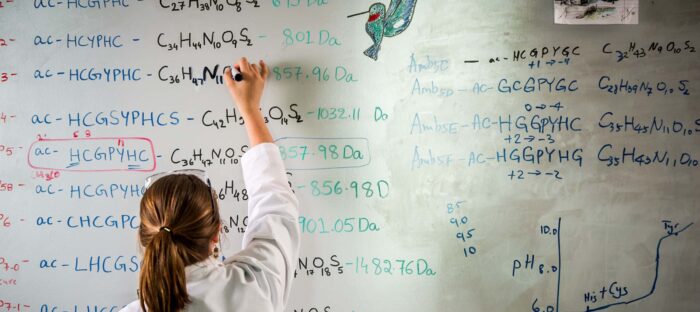 Multiple TAMUC Faculty Members to be Recognized at Virtual Ceremony
Eight faculty members at A&M-Commerce will be awarded the 2021 Dr. Augustine "Chuck" Arize Junior Faculty Award in a virtual ceremony on Tuesday, Oct. 5. Dean Kimberly McLeod in the College of Education and Human Services will serve as keynote speaker for the event. The award recognizes A&M-Commerce junior faculty who exhibit professional excellence. Candidates […]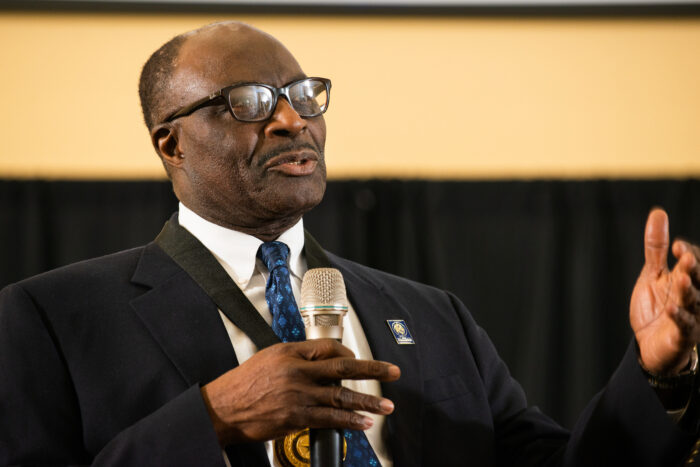 A&M-Commerce Undergraduate Electrical Engineering Program Earns Accreditation
The Department of Engineering and Technology at Texas A&M University-Commerce recently announced that its Bachelor of Science in Electrical Engineering is newly accredited by the Engineering Accreditation Commission of ABET. ABET is a non-profit, non-governmental agency tasked with accrediting academic programs in applied and natural science, computing, engineering and engineering technology. Accreditation provides assurance that […]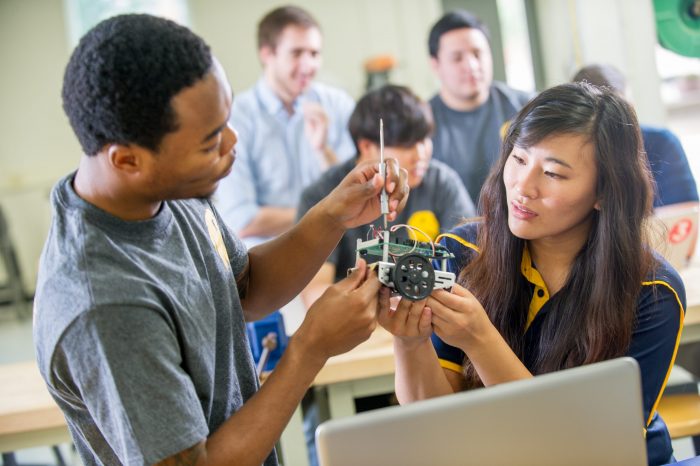 A&M-Commerce Research Students Present at Mathematics Conference
Two research projects submitted by A&M-Commerce students participating in the university's summer 2021 National Research Experience for Undergraduates program in mathematics were selected for pre-recorded presentations at the Young Mathematicians Conference at Ohio State University, held virtually August 20-22. Mathematics and computer science major Victor Ezem and computer science major Ashlee Story presented "Properties and […]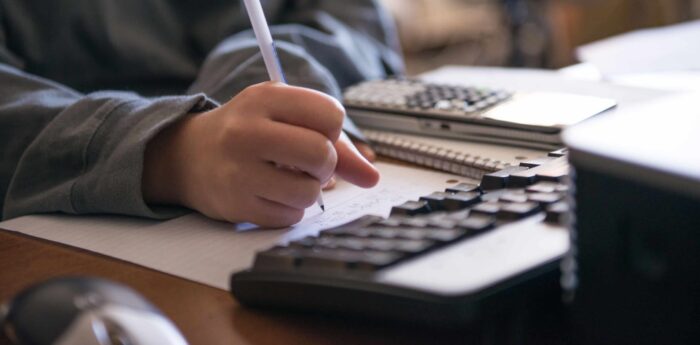 TAMUC Alum Designs Cranial Prosthesis With Cornell University Team
In the two years since graduating from Texas A&M University-Commerce, Karli Thornton has been busy changing the world. She has worked internationally, earned her master's degree in biomedical engineering from Cornell University in New York and designed a patent-pending cranial prosthesis device that can potentially help millions of patients. None of her success would be […]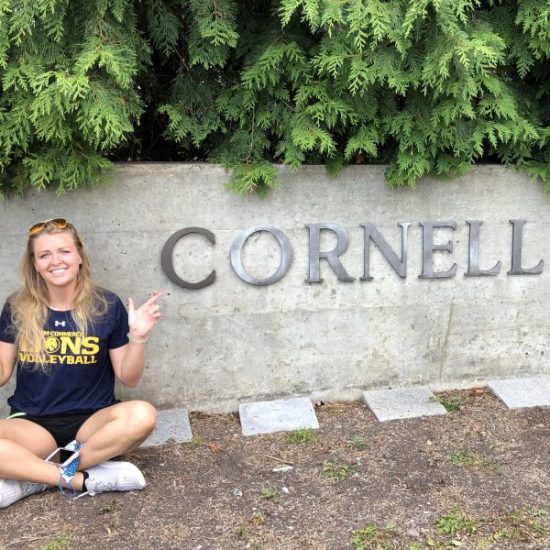 Back to menu
Department of Physics and Astronomy- (Aditya Editing) :: Student Organizations and Involvement
Student Organizations
Society of Physics Students
This organization meets bi-weekly and is open to all students with an interest in physics. We sponsor physics and science-related activities, provide opportunities for members to meet with researchers from other institutions and provide social events for our members.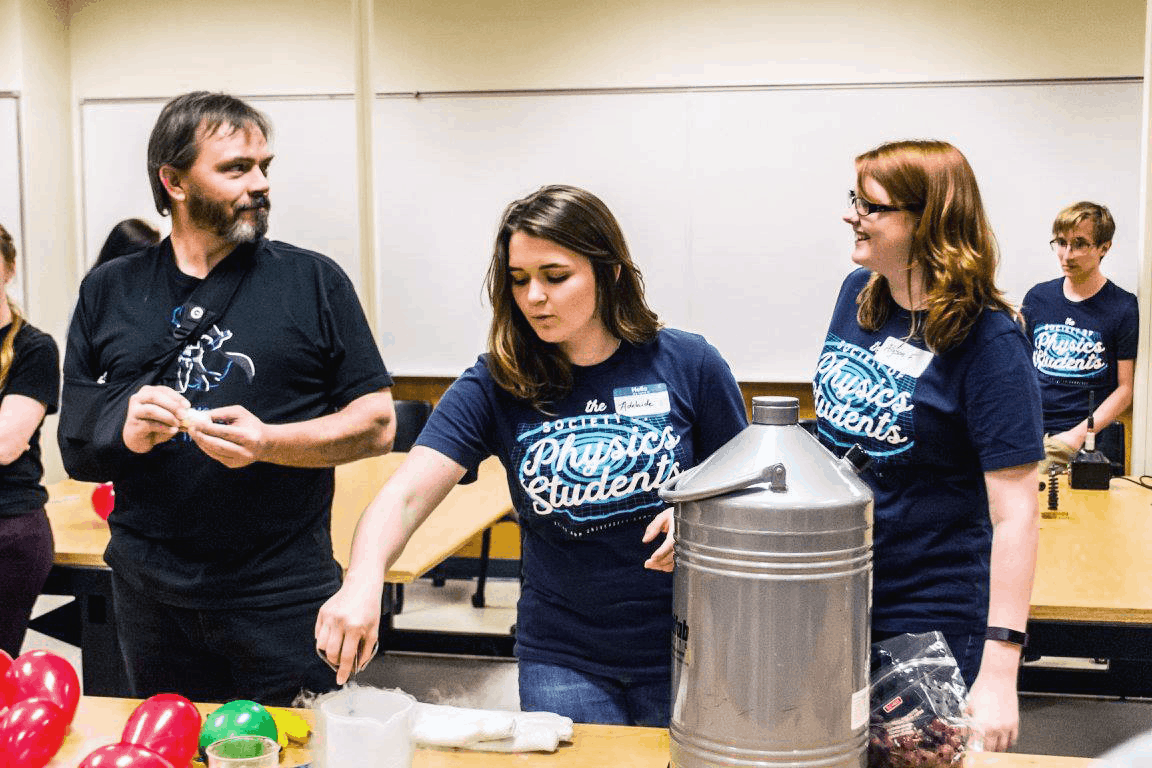 Back to menu
Department of Physics and Astronomy :: Scholarships
SCHOLARSHIPS
As a physics and astronomy student, you have access to a wide range of scholarships specific to your degree.
NSF Scholarship
If you are majoring in Chemistry or Physics at Texas A&M University-Commerce, you may be eligible for receiving up to $7,800/year NSF scholarship based on your financial need, $500/year travel fund to attend scientific meetings and possible additional stipends for doing research with any faculty member in Science, Math and/or Engineering at TAMUC, as well as special training in scientific writing and presentation. These supports may continue up to 3 years.
Back to menu
Physics and Astronomy :: RESEARCH PUBLICATIONS AND GRANTS
Our Research
Our physics and astronomy faculty are excited to develop your knowledge and skills through research. Opportunities are available for both undergraduate and graduate students. We encourage you to discuss any research interests with your professors.
Physics education research focuses on understanding how to improve the teaching and learning of physics. Research seeks to identify and understand teaching strategies that build physics identity. Methods include analyzing both national survey data and case studies. We study the factors that affect students' career decisions with the goal of increasing the number of physics majors from underrepresented groups, including women, and improving the attitudes of all students regarding physics. You can find more information about our STEM teacher preparation programs here.
Organic semiconductors are studied for their potential in next-generation optoelectronic devices. While they have many advantages over inorganic materials such as silicon, their material properties are still not well understood compared to inorganic materials. Research focuses on exciton and charge carrier dynamics in organic materials and organic/inorganic hybrid systems. Resolving the interfacial state's problem and elucidating the characteristics of excitons and charge carriers represent critical steps to achieve efficient organic-based devices. Faculty: Dr. Heungman Park (webpage).
Surface Physics studies the structure and properties of the atoms on the surface of materials. The Surface Physics Laboratory at A&M- Commerce engages in a variety of experimental research including X-Ray Photoelectron Spectroscopy (XPS), Soft X-Ray and Auger Electron Appearance Potential Spectroscopy (APS).
Research is concerned primarily with observational and theoretical studies of asteroids, white dwarf stars and cataclysmic variable binary systems. Membership in the Southeastern Association for Research in Astronomy (SARA), provides access to three 1-m-class telescopes located at premier astronomical observatories in Arizona, USA, in Chile, South America, and on the island of La Palma in the Canary Islands. We also operate the 0.6-m A&M-Commerce Observatory.
Modeling and calculating observables in direct reactions, heavy-ion central collisions, fusion reactions, formation and decay of compound nuclei, nuclear structure, mean-field theories, radiative capture reactions, transport theories, neutrino scattering, white dwarfs, neutron stars, supernovae and applications of computer science. Research encompasses many branches of nuclear science such as stellar evolution, stockpile stewardship and national security.
Back to menu
Department of Physics and Astronomy:: Meet our Faculty and Staff
Meet our Department
Back to menu
Department of Physics and Astronomy :: We are Here to Help!
We are here to help!
Back to menu
Department of Physics and Astronomy :: Contact
Contact Us
Department of Physics and Astronomy
P.O. Box 3011
Commerce, TX 75429-3011
Back to menu