mark your legacy
Lion Athletics invites you to leave your legacy by naming a locker in one of our sport locker rooms. Over the past four years, every athletic program has received a brand-new locker room or locker room enhancement through the support of our donors and Best in Class mission. Our goal is to honor our past, present and future by allowing the Lion faithful to name these individual lockers. Upon receipt of your gift, we will install your name plate on an individual locker in the sport locker room of your choice. Your gift will help continue our Best in Class mission by providing facility enhancements for Lion student-athletes.
How it Works
An $1,800 gift will establish your legacy and display visual support for our student-athletes who are the beneficiaries of your gift. Gifts can be made over a three-year period (i.e. $600/year for three years) on an annual, monthly or customized payment plan. Lockers are available on a first-come, first-served basis until all lockers are reserved. When we have received two-thirds of your gift, we will install your name plate that will mark your legacy.
If you're a Lion alum, former student-athlete, parent, student, fan or friend, we wholeheartedly welcome your support!
Choose a Locker
Lockers Available
Football – 120
Volleyball – 18
Women's Basketball – 17
Men's Basketball – 17
Softball – 28
Soccer – 25
Women's Track & Field/Cross Country – 60
Men's Track & Field/Cross Country – 60
Men's Golf – 10
Women's Golf –10
Customize Your Name Plate
Next Line: Donor's choice

Examples: Class of 2017 • 1972 National Champion • #18 Quarterback • B.A. '91/M.Ed. '93 • City, State • Lion Hall of Famer 2004 • Lifetime Fan

Final Line: Short message

Examples: Go Lions! • In Loving Memory… • In Honor of… • Win the Day! • Never Quit!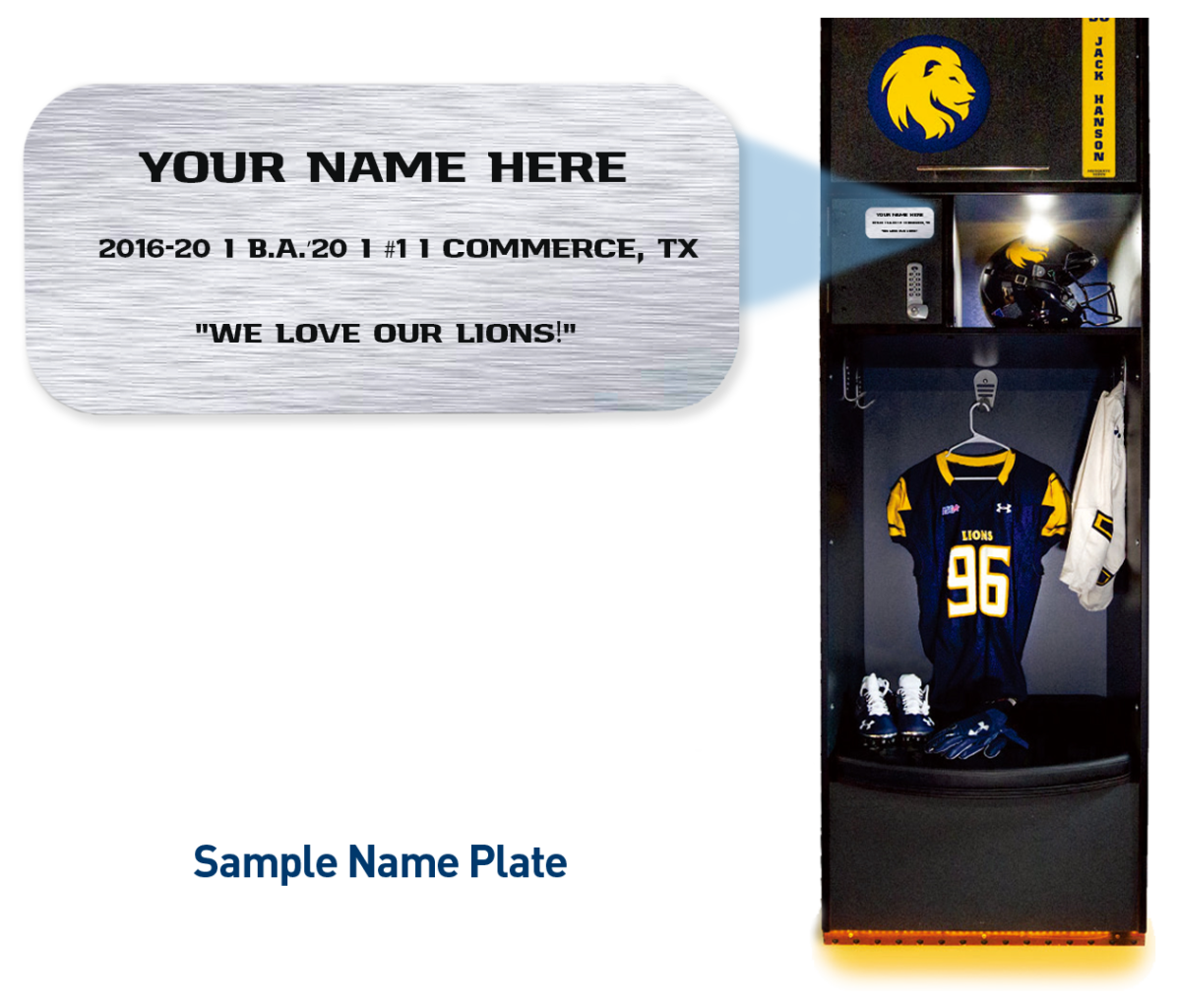 Impact
Your gift will directly impact all of our 444 Best in Class student-athletes through athletic facility enhancements.
For more information, please contact the Lion Champions Fund at 903.468.8756