Agriculture Student Awarded the National Wheat Foundation Jerry Minore Memorial Scholarship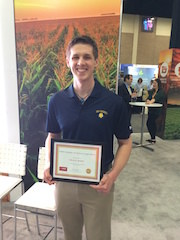 Texas A&M University-Commerce sophomore, Travis Born was recently awarded the National Wheat Foundation Jerry Minore Memorial Scholarship in partnership with BASF Corporation.
Born (of Ferris, Texas) was awarded the scholarship at the Commodity Classic in San Antonio. The Jerry Minore Memorial Scholarship is given to four individuals who have demonstrated success in academics and leadership roles, along with having a personal connection to the wheat industry and a planned career path in agriculture.
"We are so proud to have one of our School of Agriculture family receive this prestigious scholarship and to be nationally recognized," said Director, School of Agriculture, Randy Harp.
The National Wheat Foundation (NWF) was established by the industry to serve as the national center for wheat research, education and outreach. Serving their mission, the Foundation works to advance the wheat industry through strategic research, education and outreach collaborations, guided by core values of grower centeredness, integrity, honesty and trustworthiness.
NWF sees its educational outreach as central to its work to further advance the future of the wheat industry. Through scholarships and educational programs, it provides opportunities for growers and future leaders to learn more about the wheat industry.
The Foundation is a 501(c)3 non-profit organization incorporated and headquartered in Washington, D.C., governed by a nine-member Board of Directors and managed by staff of the National Association of Wheat Growers (NAWG), the Foundation's sole member. The National Association of Wheat Growers was founded more than 60 years ago by producers who wanted to work together for the common good of the industry. Today, NAWG works with its 22 affiliated state associations and many coalition partners on issues as diverse as federal farm policy, environmental regulation, the future commercialization of emerging technologies in wheat and uniting the wheat industry around common goals.
NAWG is the primary representative in Washington D.C. for wheat growers, working to ensure a better future for America's growers, the industry and the general public.