A&M-Commerce Alum Named Texas Teacher of the Year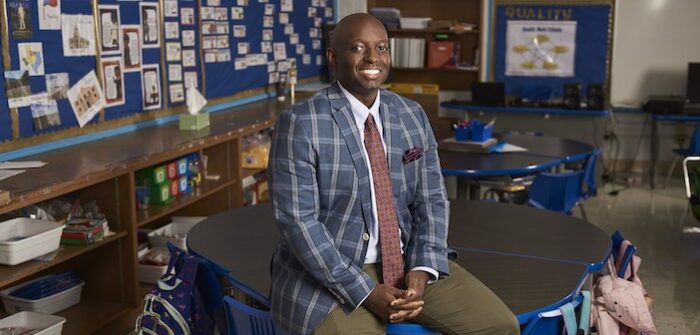 Texas A&M University-Commerce alum Eric Hale made history after being named Texas Teacher of the Year by the Texas Association of School Administrators (TASA) and Texas Association of School Boards (TASB).
The announcement came September 30 during the annual TASA/TASB convention, which was held virtually this year.
Hale's honor is also a trailblazing one, as he becomes the first black man to win the honor.
"My 2020-2021 school year started April 17, the moment Gov. Abbott closed schools [to in-person instruction] for the remainder of the academic year," Hale said in a statement following the announcement. "I have learned that regardless of this pandemic, whether in a classroom or not, I can find innovative ways to deliver learning resources to my students in pursuit of continued greatness."
This extraordinary teacher has made waves in the past year, with a slew of accolades and accomplishments to his name. In October 2019, he received the Queen Smith Award as the top urban teacher in the nation.
In 2020, Hale was named one of Dallas ISD's two Teachers of the Year and was featured on the Kelly Clarkson show, where Clarkson presented him with a $10,000 check to be spent for his classroom.
The 2016 A&M-Commerce graduate also teamed up with his alma mater in June to donate 16 laptops to his students so they could continue to learn over the summer.
Hale, who currently teaches at David G. Burnet Elementary School in Dallas, will now represent Texas in the National Teacher of the Year competition, which is administered by the Council of Chief State School Officers. In January, the council will choose four finalists for the award with the winner being named later in the year.