A&M-Commerce Business Students Attend G.A.M.E. III Forum in New York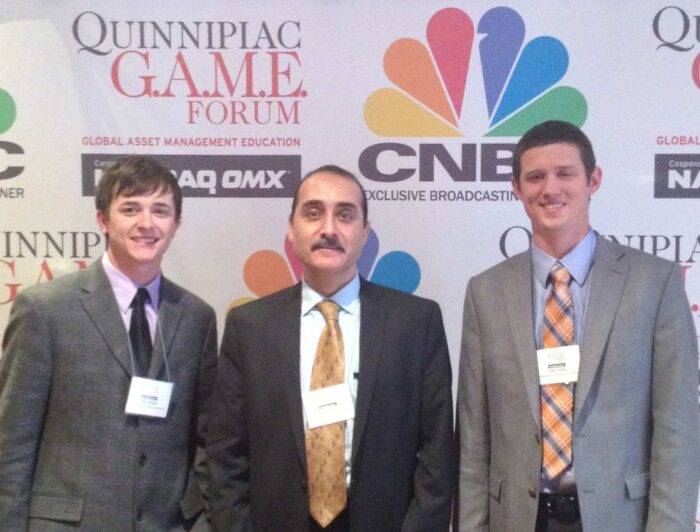 Texas A&M University-Commerce students from the College of Business and Entrepreneurship recently attended the Quinnipiac Global Asset Management Education (G.A.M.E.) III Forum co-sponsored by NASDAQ OMX April 4-6 at the Hilton New York Hotel in New York City.
The students attending the event were Collin Carder, Richard Cranfill and Justin Wright. They were accompanied by Dr. Kurtay Ogunc, Assistant Professor of Finance and Director of M.S. in Finance Program.
"We were quite impressed by the depth of coverage and the fact that students were encouraged to ask questions related to financial markets, global economy and investing," said Dr. Ogunc. "The biggest takeaway was that markets are continuously evolving and there will be new financial products introduced to the marketplace due to increasing uncertainties around the world."
G.A.M.E. consisted of one day of keynote panel sessions who discussed the global economy, asset allocation strategies and corporate governance, while providing a Federal Reserve perspective. Day two included a variety of breakout panels, workshops and keynote perspectives that covered about 30 different topics on asset management. The forum concluded on day three when panels discussed career opportunities within the financial services industry.
Keynote speakers included: Abby Joseph Cohen of Goldman Sachs; David Darst of Morgan Stanley; Guy Adami, Fast Money Contributor on CNBC; Dr. John Silvia, Wells Fargo Securities; Richard Peach of Federal Reserve Bank of New York, Dr. Roger Ibbotson of Yale School of Management, Philip Guziec of Morningstar Option-Investor.
Founded by David Sauer, a finance professor in the School of Business at Quinnipiac University, the forum attracted 1,000 student participants from 44 states and 33 countries, representing 118 universities to hear 120 speakers over two and a half days.
For more information on the G.A.M.E. III Forum, go to qgame.quinnipiac.edu.