A&M-Commerce EcoLions Clean up City Streets
Roughly 362 million pieces of litter accumulate on Texas roads each year, according to the Don't Mess with Texas campaign. Students at Texas A&M University-Commerce are doing their part to remove some of that trash on city streets near campus.
On January 18, approximately 15 students spent the Martin Luther King Jr. holiday cleaning up Commerce. They started at Omega's Biscuits and Eggs on Monroe Street, headed north to Live Oak Street, and then walked west down Live Oak Street to the frontage road near McDonald's. In all, they filled several garbage bags with roadside debris.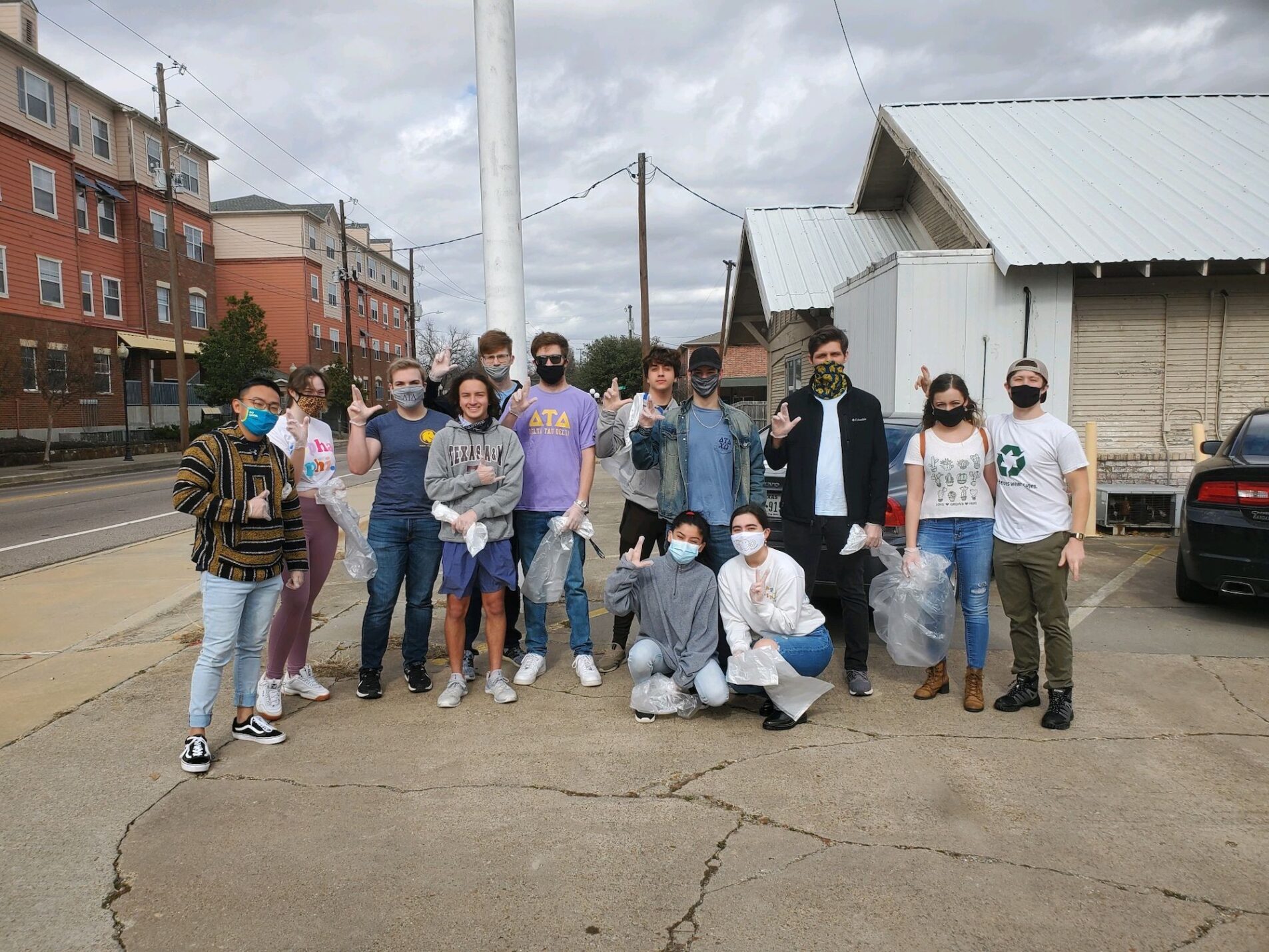 The cleanup day was organized by the A&M-Commerce EcoLions, a sustainability and recycling student group on campus that focuses on environmental projects, including recycling and beautification. Two other student organizations—Mujeres de Acción and Delta Tau Delta—also participated.
Former EcoLions member Nick Scott organized the event. Scott graduated in December 2020 with a Master of Science in biological sciences, but he continues to volunteer with the EcoLions.
Scott said the trash pickup project originated from a conversation on the Nextdoor app.
"Someone posted pictures of a lot of trash along the streets and highways around Commerce," he said. "Several local citizens responded to the pictures with messages like, 'I'm sick of this; why are we treating the city like a trash dump?'"
In response, Scott reached out to the EcoLions to see if they would be interested in a Commerce clean-up day. Mujeres de Acción and Delta Tau Delta also expressed interest in helping.
"It turned out perfectly," Scott said. "Plus, it was a great way for people to come together in a safe outdoor activity and do something positive during COVID times. It was a fun couple of hours, and we picked up several bags of trash in a small stretch of area," he said.
The EcoLions hope to make Commerce cleanup a monthly activity. In future months, the group would like to focus on Culver Street, the creek behind Fix and Feed Commerce Hardware, and the areas around the Lions' football stadium and Garvin Lake.
They hope the cleanup day inspires local citizens, businesses and organizations to proactively step up and help clean up city streets.
"It would be awesome if someone came and cleaned up the trash for us, but how long are we going to look at the trash and wait for someone else to pick it up?" Scott said. "As a community, we can come together and make a difference," he said.
If you are interested in volunteering at the next EcoLions cleanup day, contact Nick Scott at [email protected] Learn more about EcoLions and upcoming events on their Facebook page.