A&M-Commerce Flag to Fly Over Hopkins County Courthouse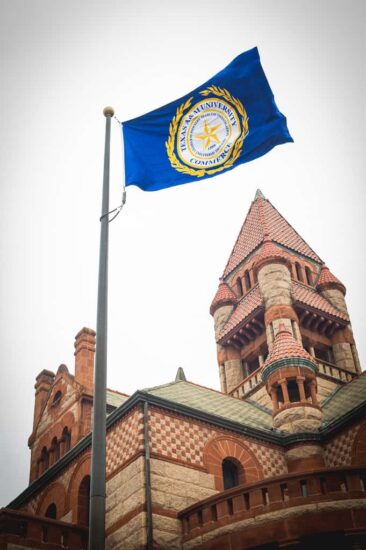 Beating out back-to-back winner Texas Tech, A&M-Commerce secured the right to fly the university's flag over the Hopkins County Courthouse in Sulphur Springs after alumni placed the winning bid of $4,750 during the Hopkins County Health Care Foundation's "Fly Your Flag" event in its Lights of Life Campaign. The flag, which was raised in an afternoon ceremony on Nov. 26, will fly until Dec. 2.
A&M-Commerce President Dan R. Jones and alumni were in attendance to raise the flag.
"Texas A&M University-Commerce is proud to have provided educational opportunity to many thousands of students from Hopkins County for more than a century. We are thrilled to see our flag flying high above the Hopkins County Courthouse," Jones said.
Proceeds from this year's Lights of Life Campaign, including the funds raised during the STAR Country 95.9-hosted "Fly Your Flag" event, will support Memorial Hospital in the purchase of a new bone density machine, three new intensive care unit beds and a UV room disinfection unit. Remaining funds will go to the Health Care Foundation's "Leaving a Legacy" endowment fund.
According to Vice President for Institutional Advancement Randy VanDeven, the winning bid to fly the A&M-Commerce flag exhibits the commitment of alumni to the university's legacy.
"We are honored to have the distinction of flying the A&M Commerce colors at the Sulphur Springs city square over the Thanksgiving holidays," said VanDeven. "We want to extend our sincere appreciation to all of our alumni and friends who demonstrated the pride in being a Lion."
Click here to view more photos of the A&M-Commerce flag at the Hopkins County Courthouse.