A&M-Commerce National Society of Leadership and Success Holds Fall Induction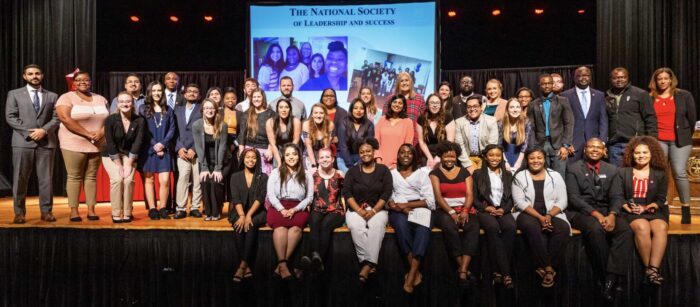 Students, faculty and staff were honored at the Fall 2018 National Society of Leadership and Success Induction Ceremony held November 30 at A&M-Commerce. One hundred fourteen students were inducted and seven faculty and staff received honors.
"We felt as a society that this induction was one of our most successful yet," said Abby Johnson, NSLS local chapter president and junior studying history and English. "It was much smaller than our standard induction but that pushed us to create deeper connections with our new members."
Derryle Peace, director of Alumni Relations, was awarded an honorary membership and was the keynote speaker for the induction ceremony. The honorary membership award is given to faculty, staff, administrators or members of the local community who represent the goals and mission of the society and demonstrate strong leadership skills.
"I was surprised and deeply honored to receive an honorary membership to this esteemed group," Peace said. "The mission of the organization and the opportunities offered to students are outstanding and go a long way in the development of tomorrow's leaders."
In addition, the Excellence in Service to Students Award is given to staff members on campus who exemplify strong leadership and mentorship qualities and express a sincere commitment to bettering the lives of students. This year, the award was given to Kevin Martin, assistant to the director of Financial Aid and Scholarships; Doyce Dees, adjunct instructor and laboratory coordinator in Biological and Environmental Sciences; and Katy Williams, assistant director of Leadership Engagement and Development.
Three faculty members were also honored with the Excellence in Teaching Award. The award is given to faculty members who go above and beyond in their teaching, inspiring students beyond the classroom and helping students develop beyond the confines of the classroom. The recipients were Dr. Nicole Farris, associate professor of sociology; Dr. Andrew Baker, assistant professor of history; and Dr. Hsun-Yu Chan, assistant professor of psychology.
"The impact that NSLS has on students is tremendous," said Coy Martin, NSLS advisor and budget coordinator for the College of Humanities, Social Sciences & Arts. "When students first start the program, they are not fully aware of the potential that they hold. NSLS assists them in bringing out their leadership potential so they can use it in their classes, professions and future careers."
NSLS was founded in 2001 and is the nation's largest leadership honor society where top students nominated by their colleges come together to identify and achieve their goals.