University Professors Win Cottrell Awards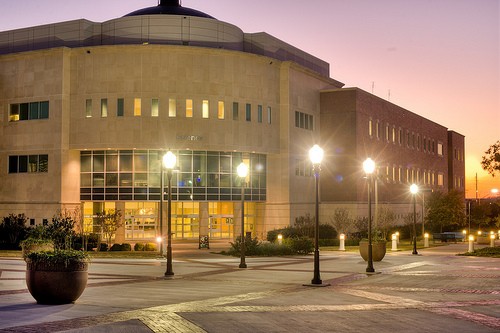 Two professors in the Texas A&M University-Commerce Department of Physics and Astronomy recently received notification that they were recipients of Cottrell College Science Awards. Assistant Professors Dr. Kurtis Williams and Dr. William Newton were each awarded $35,000 from the Research Corporation for Science Advancement's Cottrell College Science Program.
"The Cottrell Awards of the Research Corporation are extremely competitive, so the fact that both Drs. Williams and Newton were given awards this year speaks to the exceptional quality of each of their research endeavors," said Department Head Dr. Matt Wood. "Both of these young faculty members are already internationally known and respected. We at A&M-Commerce are fortunate to have both of these remarkable scientists as members of our faculty."
The CCSA is the oldest program of the Research Corporation. Since the early 1970s, its purpose has been to promote basic research at the undergraduate level and to prove the importance of research in education. Drs. Williams and Newton were acknowledged for their work engaging and motivating students to pursue careers in research. The award money is meant to be start-up money for productive research programs that will be used as a tool for undergraduates to participate in individual studies. In the last 15 years, only 1,300 faculty members nationwide have been supported by the program.
"My research in general focuses on neutron stars, the super dense remnants of supernova explosions, and uses them as laboratories to better understand the interactions between fundamental particles," said Newton. "I'm excited to use this award to investigate how recent experimental advances in our understanding of short-range neutron-proton interactions impact our model of neutron star properties. I am looking forward to involving our undergraduate students in this fascinating project."
For more information on the Cottrell Awards, visit https://rescorp.org/cottrell-scholars/cottrell-plus