A&M-Commerce's 'Testing Kitchen' Live Series Bringing Something New to the Table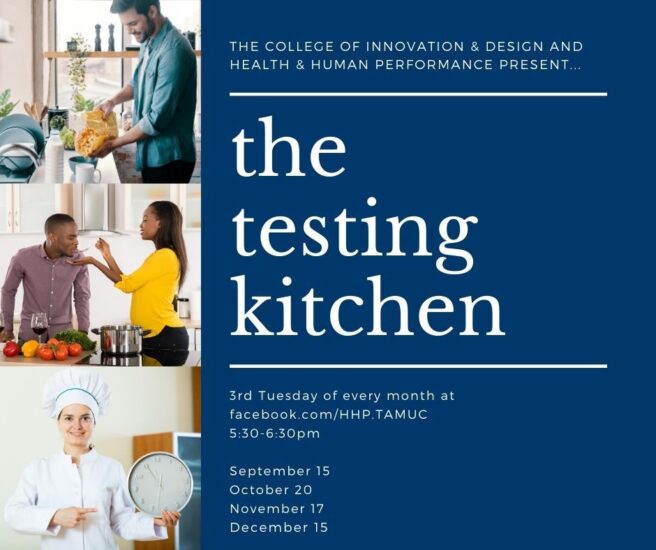 The College of Innovation and Design and the Department of Health and Human Performance at Texas A&M University-Commerce are teaming up to provide cooking expertise to college students with the new "Testing Kitchen" live series.
On the third Tuesday of each month, Dr. Quynh Dang, interim director of First-Year TRAC, along with guest assistants, will prepare a healthy meal using minimal ingredients that those with few cooking skills can replicate. The cooking will take place in the Nursing and Health Sciences Building but will be streamed on Facebook.
The Testing Kitchen series is aimed at college students who may have limited cooking experience, or those who want to be able to prepare their own meals but have limited access to kitchen resources.
"The Health and Human Performance Department along with the College of Innovation and Design at A&M-Commerce have chosen to make a difference. We realized a need and have begun our response," said Dr. Henry Ross, interim head of the Department of Health and Human Performance. "We are united with a single purpose in mind that seeks to meet and to improve the healthcare of Northeast Texans. The recently constructed Nursing and Health Sciences Building provides space for opportunities that promote innovation, growth, and discovery."
The idea of the testing kitchen originated in the Global Health course offered during the Fall 2020 semester. As part of the course, students learn the important connections between proper nutrition and overall health. Current A&M-Commerce student Sparkle Perkins said that the course showed that healthy cooking can be easy with the proper skills.
"I took Dr. Dang's Global Food class the fall semester of my freshman year," Perkins said. "We took everyday dishes and made them healthy, showing that you can make your favorite food healthy, even if it's a dessert."
The Testing Kitchen series provides an opportunity for students to learn healthy eating tips and meet campus leaders even if they are learning remotely this semester.
"The upcoming Testing Kitchen menu was suggested by former freshmen in my Global Foods course," Dang said. "I am so very excited to engage our students and community in an activity which combines two important aspects of life: food and health."
The next broadcast of the Testing Kitchen will be 5:30 p.m. on October 20 at facebook.com/HHP.TAMUC.