Collin College, Texas A&M University-Commerce Partner to Deliver Classes at Frisco Campus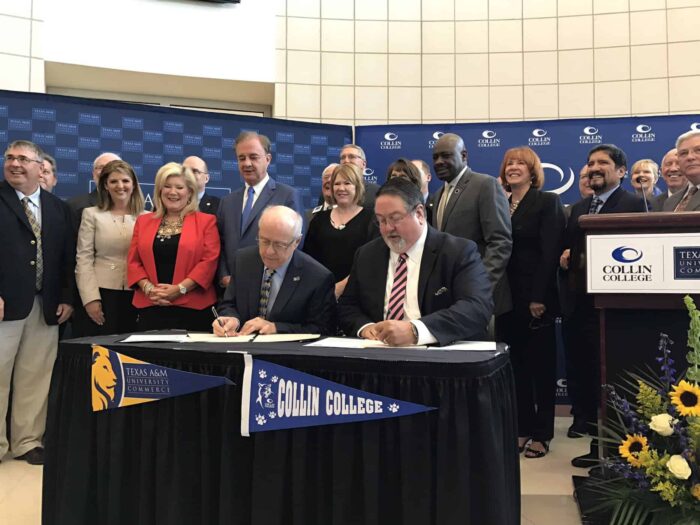 Today, Collin College and Texas A&M University-Commerce signed an agreement bringing university classes to the fast-growing city of Frisco at Collin's Preston Ridge Campus. Presidents of the two institutions put their signatures on official documents as dignitaries celebrated the newest additions for undergraduate education in Collin County.
"Texas A&M University-Commerce is an outstanding university, and Collin is proud to join forces for the benefit of our students," said Dr. Bob Collins, who chairs the Collin College Board of Trustees. "We believe in working together to make quality, affordable college education available when and where our constituents need it."
"The Texas A&M University System exists to increase opportunities for hard working Texans," said Texas A&M University System Chancellor John Sharp. "Working with a quality institution like Collin College is an outstanding way for A&M-Commerce to help us fulfill our mission."
With population growth in the area, the courses are expected to be popular with students. The new classes will begin this spring at Preston Ridge Campus, which is located at 9700 Wade Boulevard in Frisco.
"This partnership aligns superbly with the one-campus/student-centered model we believe best serves the higher education needs of students in one of Texas' fastest growing areas," said A&M-Commerce President and Chief Executive Officer, Dr. Ray Keck.
Spring enrollment for the new classes from Texas A&M University-Commerce opens Nov. 2, when students will be able to choose from junior- and senior-level college courses that prepare students for careers in marketing, business, environmental science and agribusiness. University officials plan to expand course offerings in the future, which, pending approval from the Southern Association of Colleges and Schools, may lead to the offering of bachelor's, master's and doctoral degrees. This compliments coursework already in place at the Collin Higher Education Center (CHEC) in McKinney. A&M-Commerce undergraduate degrees at CHEC include interdisciplinary studies, psychology, Spanish, sports and recreation management. Master's degrees include educational administration and higher education, and the university also offers a doctorate in higher education at the McKinney facility.
According to Collin College District President Dr. Neil Matkin, "Collin has a long standing relationship with Texas A&M University-Commerce, but this partnership is much broader. This is a true 2+2 program in which students come to Collin as freshmen and stay at the Frisco campus all the way until the end of their senior year."
Dr. Matkin said that the agreement fits perfectly with the college's new master plan, which was approved by the Board of Trustees in June. "University partnerships will be an important part of our new plan for the future," he said. "Our intent is to create a pipeline from K-12 to Collin and to the universities. The spirit of collaboration we've seen with our partners from Commerce is very exciting."
The majority of freshman and sophomore students at Collin College enroll with the intent to transfer to a university for a bachelor's degree or higher. Enrollment at the Preston Ridge Campus now tops 8,200 students, and headcount districtwide at Collin College is up 5.4 percent this fall.
"We're ecstatic about the partnership between Collin College and Texas A&M University-Commerce," said Mayor Maher Maso. "Providing opportunities for students to earn bachelor's degrees (or higher) without ever leaving Frisco has been on city leaders' 'wish list' for many years. Because about a third of our population is under 18, affordable higher education opportunities are essential to building a highly educated workforce, which benefits both our residents and our local businesses. Congratulations on this historic collaboration."