Dedication Ceremony Honors the Late Mr. Ivory Moore, Sr.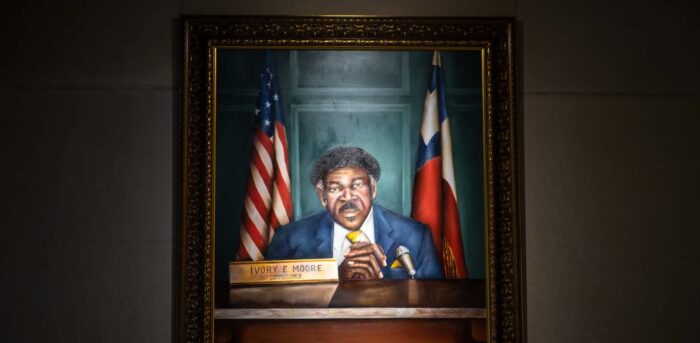 The Lion community gathered for a dedication ceremony at Halladay Student Services building on November 13 where a portrait of the late Mr. Ivory Moore, Sr. was unveiled.
Moore, who passed away in August 2014, played an important role in the history of A&M-Commerce as the university's first African American administrator. He served as dean of minority affairs through the mid 1980s.
Throughout his career, Moore advocated for minority, disadvantaged and first-generation students, securing grants for impactful programs and services to support students in need.
Moore also served the Commerce community as the first African American city council member and the first African American mayor. He lived by one of his favorite sayings: "Serve, and serve well."
To honor Moore's contributions, the university commissioned his portrait from artist Debora Schubert Lytle. It was originally unveiled in September 2013 and was displayed in McDowell Administration Building until its recent relocation to the entrance of the Halladay building. Halladay was chosen for the portrait's permanent home because Moore's office was located there.
Following the ceremony, a reception was held to honor four A&M-Commerce faculty and staff members for their outstanding contributions to the Texas Association of Black Personnel in Higher Education. The honorees included Dr. Julia Ballenger, professor of educational leadership; Dr. David Brown, curriculum and instruction professor; Dr. Joyce Miller, curriculum and instruction professor; and Mr. Derryle Peace, alumni relations director.