Dr. Zhengshan Zhao receives American Society for Reproductive Medicine Award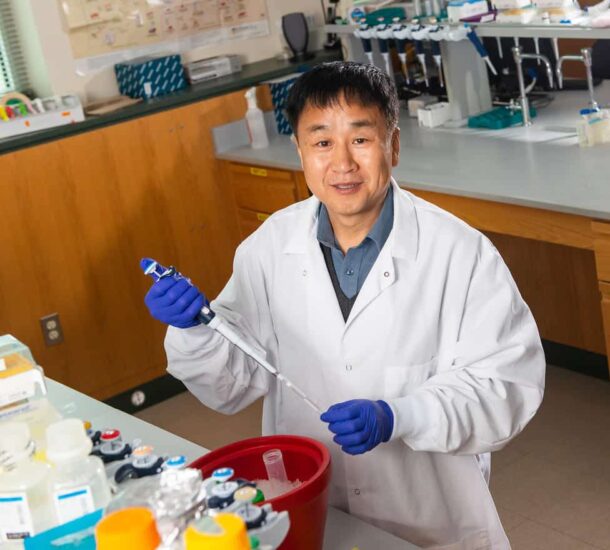 Dr. Zhengshan Zhao, Associate Professor for the Biomedical Institute for Regenerative Research (BIRR) and the Department of Biological and Environmental Sciences, recently received an award from the American Society for Reproductive Medicine in the amount of $20,000.
 The award was presented to Zhao at the Scientific Congress & Expo in Denver where almost 20,000 scientists and researchers from 93 countries gathered to share their expertise. The prestigious honor is awarded to scientists who make significant contributions in the field of regenerative research.
According to Dr. Larry Lemanski, Director of BIRR, previous awardees are from some of the world's top universities. "The last one was from John's Hopkins University, and they've come from international, renowned universities, so we're very happy that Dr. Zhao was able to compete internationally and be selected as the top awardee in this particular field," Lemanski said. A physician-scientist, Zhao came to A&M-Commerce from Stanford University in 2016 to teach and research at BIRR.
Zhao was awarded for his research in using regenerative medicine to correct cardiac muscle damage caused by heart attacks. The project originated over five years ago when Lemanski and his colleagues discovered two ribonucleic acids in the human body that can turn non-muscle cells into cardiac muscle cells. The current work is part of a longer-term project to repair cardiac muscles after heart attacks.  Lemanski predicts that these pre-clinical trials will go to clinical trials within two or three years.
Zhao plans to use his award funds to hire more students to work in BIRR and on his research project. According to Zhao, students who have the opportunity to work with him in the lab "can learn cutting edge technologies in molecular biology and can stimulate their interest in biomedicine."
Lemanski predicts that news of Zhao's award, combined with the ground-breaking research that is happening at BIRR, will draw more students and professors to A&M-Commerce. "We are very proud that, as a member of BIRR, Dr. Zhao was able to be awarded this prestigious grant and prestigious honor," Lemanski concluded.