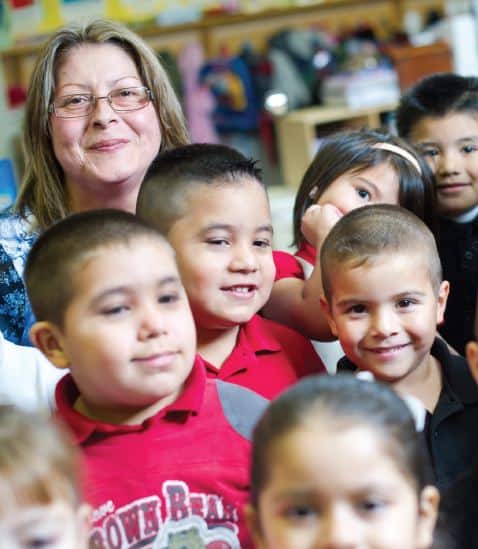 According to the Texas Education Agency, more than two-thirds of the instruction English Language-Learners (ELL) in Texas receive is delivered by individuals not certified to teach bilingual or English as a Second Language (ESL) curriculum. While demand for certified bilingual ESL teachers continues to surge all over the nation, the number of those teachers within the U.S. has not increased enough to match the need, leaving school districts to search far and wide for those who are qualified to deliver instruction in two languages.
However, Drs. Laura Chris Green, María Fernández Lamarque and David Hervás have taken up the task to multiply the quantity—and quality—of bilingual educators right here at A&M-Commerce.
In 2012, the trio developed the research project "¡Enriquecemos!/We Enrich: A Spanish Intervention for Pre-Service Early Childhood – 6th Grade Bilingual Teachers" as a part of a five-year grant from the U.S. Department of Education's Office of English Language Acquisition. While the grant will provide scholarships and fellowships to prospective and current bilingual teachers, the ¡Enriquecemos! component will compare customary instructional methods and newer enrichment techniques in order to determine the best methods to train undergraduates to teach elementary school students in bilingual classrooms. This investigation, according to Lamarque, is an atypical research endeavor.
"When you read the literature in the journals about heritage language and bilingualism in the States, many of the studies deal with social context and the approach of the speaker to society—not so much so far on instructional techniques," said Lamarque, associate professor and director of Spanish graduate studies.
To evaluate the teaching techniques within their experiment, the investigators have divided Spanish for Heritage Speakers and Bilingual Education undergraduates into two groups: students who will receive a traditional manner of instruction consisting of memorization, error-finding and weekly quizzes and students who will participate in innovative enrichment workshops. Undergraduates in the traditional workshops will have direct exposure to composition rules while enrichment workshop students will discover those rules through literature. All of the participants will be trained in instructional approaches to Spanish spelling, grammar and accentuation so that they will be prepared to teach younger students. However, the workshops will also play a crucial role in improving the language skills of the undergraduates themselves, many of whom experience difficulties in producing formal, written Spanish, an impediment that would hinder their ability to teach despite their facility in speaking the language.
"They have very good oral skills, but what we call their 'academic Spanish,' especially their written Spanish, is weak. The usual approach that I have seen is that when students have academic difficulties, we remediate," said Green, associate professor and director of bilingual/ESL education. "But I'm from a school that believes in the opposite—that students who are struggling need enrichment, not to slow things down. I think this is especially true with regards to language development."
Green's enrichment approach to bilingual education presents students with literary texts, such as poems, and asks them to pattern their writing after those pieces that are linguistically rich but short, as not to be overwhelming. The subject matter of the students' writing, however, is personal—rather than lifted from a textbook—allowing the undergraduates to find a certain level of confidence earlier on in their coursework.
"The students can write one or two of these simple poems, and then they share them. When they hear their own words spoken aloud, they realize that they have skills and talent and that they can be decent writers. There's an attitude shift in their approach to writing," Green said. "We put a lot of emphasis on learning how to read in elementary school, but learning to write is just as important. It will serve them in elementary school, and then it serves them when we have them in college. "
Green says that Spanish-speaking children first entering school in the U.S. are shortchanged at the onset, as educators often ignore the average of 7,000 words those children know when beginning kindergarten instead of seeing their Spanish proficiency as an opportunity to create individuals who are fully bilingual. These children, according to Green, have fewer opportunities as adults because they lack a high degree of expertise in all areas of their native language. ¡Enriquecemos! addresses this obstacle that is shared by many undergraduates and the younger students they will go on to teach.
Just last spring, Ruddy Mendoza was one of those undergraduates. Mendoza has now moved into the Spanish master's program, and under the supervision of Drs. Lamarque and Green, she is the graduate assistant in the ¡Enriquecemos! project. While working toward her teaching certification, Mendoza will play several roles in the project. With Lamarque, Mendoza will use more traditional methods to teach language rules that the students must apply in their assignments. She will also help Green conduct enrichment workshops for Bilingual Education students in Commerce and at the Mesquite Metroplex location. As a researcher, Mendoza will collect the students' writing as data and use a rubric to measure the dimensions of academic Spanish that the investigators are hoping to improve: vocabulary, voice, flow, accentuation, spelling, capitalization and punctuation.
"As a bilingual speaker, I can relate to the struggles many native speakers have in reading and writing in their own native language," Mendoza said. "This investigation can help us gain a new insight into teaching by using literature and interaction, and our study can help bilingual teachers utilize a more effective approach to teaching so that the Hispanic community can enrich its own language instead of losing it."
In fact, through practice at the Commerce Plaza Comunitaria (Community Plaza), which opened at A.C. Williams Elementary School in January 2012, the ¡Enriquecemos! project will allow students to impact the Hispanic community outside of A&M-Commerce before they receive the degrees and certifications necessary for elementary classrooms. The Plaza is a joint effort of the university, the Mexican Consulate in Dallas and the Commerce Independent School District. It serves as a learning center for Hispanic adults seeking ESL instruction, assistance in improving literacy, tutoring for the GED in Spanish and information on attaining citizenship. While parents who attend the Plaza are learning, the undergraduates taking part in ¡Enriquecemos! provide the children with instruction based on the enrichment techniques from their workshops, such as performing reader's theater, which asks students to create and read scripts based on the dialogue in Spanish children's books.
At the close of the 2013-2014 academic year—after two semesters of thorough training through rigorous but fun workshops and engaging work in the community—the ¡Enriquecemos! team expects that the project will produce a body of instructional techniques for teachers in elementary bilingual classrooms. The workshop participants' success will be measured according to their performances on final achievement assessments. Ultimately, a new class of teachers with enhanced language skills will emerge from A&M-Commerce, ready to educate those who require classes that will equally develop their Spanish and English, rather than rejecting one for the other.
Though ¡Enriquecemos! is just moving into its second year, it sets the standard for creating a succession of more effective bilingual educators. After witnessing how Mendoza has thrived, Lamarque has marveled at the possibilities.
"We have students who come directly to the graduate program, but Ruddy started with us as an undergraduate. She went through all of these approaches with us, and now she's teaching the different groups for our study. I think that is very remarkable that Ruddy has reached this level of proficiency. For me, it's a great achievement," said Lamarque. "Why not, in the future, have more students like
her enroll?"
To that end, the team is gearing up for a heavy-duty recruitment push to encourage more students to head down this challenging but worthwhile path.
"Being a bilingual teacher is difficult because you're like any other elementary teacher; you're teaching all subjects. You're responsible for all of that, except you're doing it in two languages. It's harder than the average teaching assignment," said Green.
But the instructional methods that will surface as the return of these researchers' investment in the ¡Enriquecemos! project will make the assignment easier and more beneficial to the young bilingual students who may one day arrive at A&M-Commerce to continue this cycle.
Click here to enrich your understanding of ¡Enriquecemos! by listening to Drs. Green and Lamarque and Ruddy discuss the project. And continue your fearless investigation of the incredible research happening at A&M-Commerce at pride.tamuc.edu!