Lion Family Gathers to Mourn, Rejoice at Vigil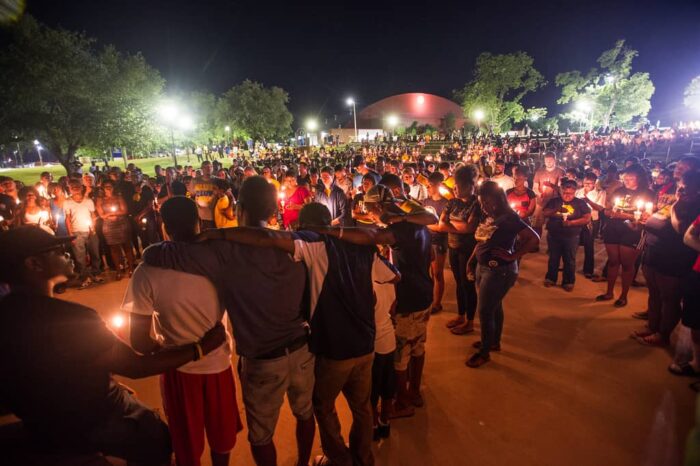 Last evening, Wednesday, June 4, 2014, Lions gathered for a candlelight vigil to mourn and rejoice in fellowship for Devin Oliver and Aubree Butts who are no longer with us and for Zenobia Winbush and La'Tisha Hearne who are healing. What started as a very dark day for the Lion family was lit up, not just by candlelight, but by love and compassion for all four women.
In the late afternoon of Tuesday, June 3, these four members of the A&M-Commerce women's basketball team were involved in a tragic two-car accident on Loop 286 in Paris. They were en route to Paris High School to watch a summer league basketball game. Two of the young ladies, Aubree Butts of Lewisville and Devin Oliver of Rowlett, passed away while La'Tisha Hearne of Richardson and Zenobia Winbush of Schertz, Texas were first listed in critical condition and later released from the hospital.
Last night's vigil was coordinated by students of many affiliations including athletes, the orientation family, Leadership, Engagement and Develop (L.E.A.D), Freshman Leadership Class (F.L.C.) and others. Approximately one thousand people attended the vigil including administration, faculty, staff, alumni, community members and even students who were away for summer break but returned to honor their peers.
Student orientation leader, Vincent Phillips, opened the vigil with gratitude and sentiments for everyone attending.
"It's really warm to the heart that we can all gather here," Phillips said. "Tonight is a time to mourn, celebrate and make sure we're living our lives right."
Athletic Director, Ryan Ivey, followed by saying, "Tonight we honor and we celebrate the lives of two wonderful young ladies. Two women who embody every characteristic of what it means to be a Lion."
Luis Franco, director of orientation; Kelly Smith, coordinator of new student orientation, and Lauren Krznarich from L.E.A.D, shared emotional and colorful stories about both Devin and Aubree.
"Devin's employment experience, as well as her rich involvement on this campus, enabled her to shape the growth and maturity of many new students she came in contact with through her service on our team," Smith expressed.
"In 2012, Aubree became an integral part of the FLC family and she was adored by the rest of her classmates and always known for having a smile on her face," said Krznarich.
Faculty Athletic Representative, Lavelle Hendricks, shared messages from Devin's and Aubree's parents.
"They ask you for your continued prayers though this time," said Hendricks. "They appreciate the outpouring of love that has been given to them, not only from Commerce, but from throughout the United States."
Several others shared their remembrances. Among them were Jackson Daily, student government association president; former Head Women's Basketball Coach Nicole Anderson; Assistant Women's Basketball Coach Leonard Bishop and Head Women's Basketball Coach Jason Burton who offered a prayer.
"We thank you [Heavenly Father] for these two young ladies, the opportunity to be blessed by their presence and the opportunity to have known them if only for a second," said Burton.
Jonathan Fields, student, was Aubree's boyfriend, and just prior to the accident, he was in Birmingham, Ala. with 24 fellow students on a trip centered on Civil Rights. When the group found out about the accident, the students collectively decided to return early to join the Lion family for the vigil.
"Commerce community, be strong. That's what Aubree and Devin would want you to do," said Fields. "My friend Zach has been telling me all day that to get through things like this you must have a good God and good friends. I have that. They [Devin and Aubree] have that. Zenobia and La'Tisha, you all have that. You all are amazing women."
Members of the women's basketball team also gathered to express their love for Devin and Aubree by saying, "Devin was always the positive one smiling and Aubree led us when we didn't have anybody."
Just a few short months ago the A&M-Commerce amphitheater was filled with the same crowd to celebrate the university's much-anticipated 125th anniversary kick-off. Last night was a testimony to the way this Lion family stands together through the good times and darker moments to support each other in celebration and in sorrow.
Ryan Ivey summed it up best when he said, "We have to lean on each other, not just for these two young women we lost, but we have to be strong for Zenobia and La'Tisha. It's up to us as Lions, as individuals of this campus community, to help them see their way through. Now, more than ever, We Are Lions."
Updates:
Both Zenobia Winbush and La'Tisha Hearne are at their respective homes with their families, coping with the situation as best they can. They are both still shocked and shaken over the events but are adjusting with the help of their loved ones.
Aubree Butts' funeral will be held Saturday, June 7 at noon. There will be a viewing prior to the service, beginning at 11:00 A.M. at Westside Baptist Church at 900 Bellaire Blvd. in Lewisville, Texas.
Devin Oliver's services will begin with a wake on Friday June 13, from 6-8:00 P.M. at Mount Hebron Baptist Church in Garland, Texas. The funeral service will be held Saturday, June 14, at 11:00 A.M. in the same location.
A&M-Commerce has established the Devin Oliver and Aubree Butts Memorial Fund. Please make donations payable to Lion Athletic Club with "Devin Oliver and Aubree Butts Memorial Fund" in the memo line. Donations will go toward a space in the new Academic Enhancement Center to be named in their honor. For more information, contact Lion Athletics Associate Director of Development, Taylor Fore at 903.468.8194 or via email at [email protected].