National Champion! J.T. Smith Wins 60-Meter Dash at USA Track and Field Indoor Championships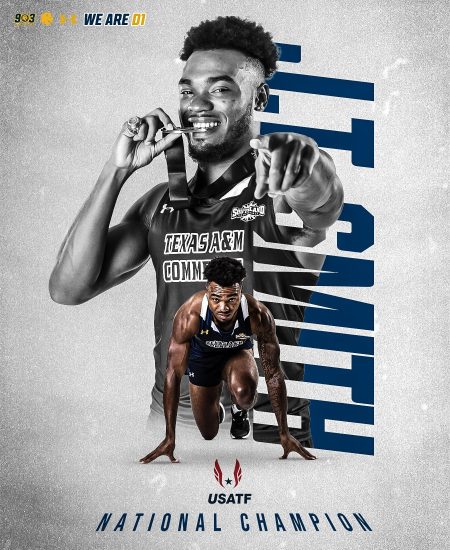 ALBUQUERQUE, N.M. – Texas A&M University-Commerce men's track and field sprinter J.T. Smith is a national champion once again after winning the 60 meter dash at the 2023 USA Track and Field Indoor Championships on Saturday afternoon.
A welcome back celebration is scheduled at 2:30 p.m. on Sunday afternoon in the Field House when Smith returns home from Albuquerque.

Smith (Klein Oak) had the second-fastest time in the first round on Friday and set a new personal-best time of 6.55 seconds earlier in the day on Saturday during the semifinals race, which was the fastest time among all competitors.

In the finals, he clocked in at 6.53 seconds to win the race. Adjusted for altitude, his time is a new school record and fifth fastest by a Division I runner this season.

View the full race video.