Planetarium Announces New Programming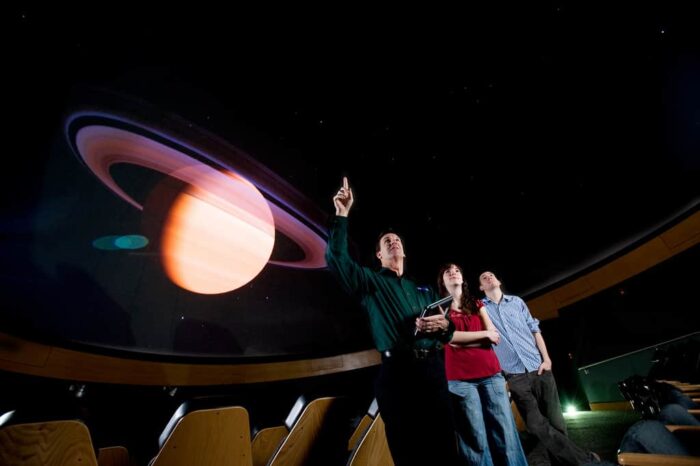 By Cheri Davis
The Texas A&M University-Commerce Planetarium is pleased to announce its two newest shows playing on Friday nights. Each show lasts an hour. The 7pm show is "Exoplanets: Worlds of Wonder" and at 8pm is "Astronaut."
Have you ever wondered what space exploration would be like and what you might find along the journey? "ExoPlanets: Worlds Of Wonder" has a look and feel unlike any other full dome show before. Using the latest data from multiple planet-hunting missions, including Kepler, "ExoPlanets" is a story about mankind's first Space Probe as it journeys outside our solar system to the many new planets astronomers are discovering around distance stars. Audiences will visit Gas Giants caught in a deadly dance with their host stars, frozen rogue planets hurtling through space, molten rocky worlds now known to science and new planets drifting comfortably within the Goldilocks Zone, the area around a star where Earth-like worlds may exist.
Dr. Geoffrey Marcy, world-famous astronomer in Extra Solar Planet Discoveries, described the "ExoPlanets: Worlds Of Wonder" screenplay as, "Absolutely glorious. It artfully captures the science, the beauty, and the wonder of the new worlds we are discovering." The "ExoPlanets" show also covers the National Earth and Space Science Standards for grades K-9.
Have you ever wondered what it would be like to be an astronaut and go into space? In the planetarium show "Astronaut" not only do viewers experience the same sights and sounds that astronauts do but also explore what occurs inside the human body, from the blood rushing through the heart to the firing of the brain synapses just before a rocket launch. "Astronaut" is narrated by actor and producer Ewan McGregor. "Astronaut" is an inspiring show, exploring the amazing worlds of inner and outer space, from floating around the International Space Station to maneuvering through microscopic regions of the human body.
Dr. Kent Montgomery, Planetarium Director states, ""Astronaut' is one of our favorite shows with some of the most outstanding graphics we have ever seen."
"ExoPlanets: Worlds of Wonder" will be offered each Friday at 7pm beginning August 2 through September 27th. "Astronaut" will be presented at 8p.m. on Fridays beginning July 26 and running through August 30. Reservations for the shows are recommended and can be made in advance by calling 903-468-8650; specific seats will not be reserved. For updated show information, call the information line at 903-468-8652 or check our website for the latest in show information.
Admission is $4 for those under 18 and college students with ID, $4.50 for university employees and senior citizens, and $5 for all others. A discount of $1 per person will be offered if tickets are purchased at the same times for two shows viewed on the same day.