Christmas show comes to the Planetarium Dec. 5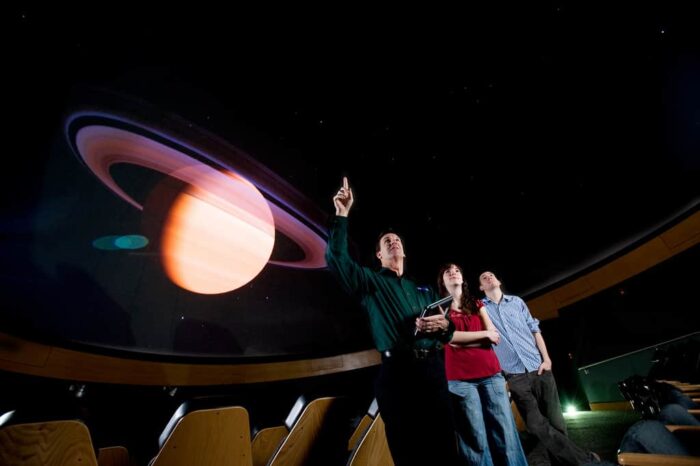 By Dr. Cheri Davis
Texas A&M University-Commerce Planetarium is proud to announce its holiday presentation, "Mystery of the Christmas Star." Get into the spirit of the holidays by attending this Christmas favorite. The show plays every Friday night through Dec. 20. Show times are 7:00 and 8:00 p.m.
This program explores the Biblical story of the star that led the Wise Men on their journey to worship the baby Jesus and the historical events that occurred around that time.
"'The Mystery of the Christmas Star' is one of the Planetarium's most popular shows and has become an annual tradition for many," adds Dr. Kent Montgomery, Planetarium Director.
"The Mystery of the Christmas Star" tends to sell-out, so come early. Reservations are recommended and can be made via email at [email protected] or by calling our office at (903) 468-8650. Specific seat reservations are not available.
The shows begin with brief remarks by a member of the Planetarium staff, who will guide you on a tour of the night sky on the planetarium's 40-foot dome.
Admission is $4 for those under 18 and A&M-Commerce students with ID, $4.50 for university employees and senior citizens, and $5 for all others.
Save the date: Plan to join us and bring your friends and family to the Grand Reopening Celebration, Jan. 31, 2014. "The Planetarium will present 'Dinosaurs at Dusk' a show which was specifically designed for our new Digistar 5 system. The event will offer something fun for all ages including drawings for door prizes," said Dr. Cheri Davis, Assistant Planetarium Director. The celebration will begin at 6:30 PM and is free for all visitors.
For more information visit the planetarium webpage at: https://www.tamuc.edu/planetarium