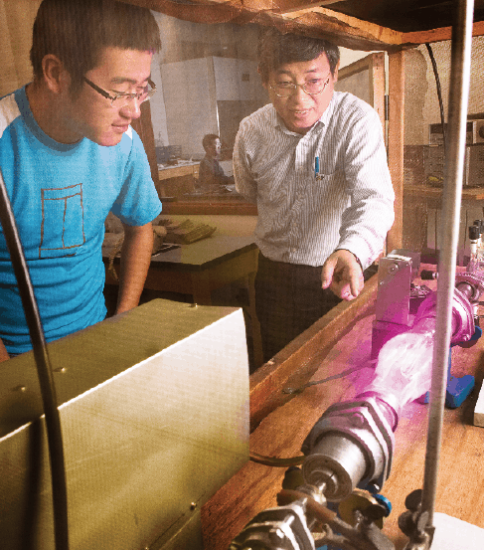 Dr. Ben Jang holds the distinguished honor of being the first person in A&M-Commerce's history to receive a U.S. patent for his work with RF non-thermal plasma techniques to modify catalyst materials for industrial processes. After five years of determination and perseverance through the application process, Jang is confident in his work but keeps an eye to the future.
"It's an accomplishment and it brings recognition, but we also want to take this to the next level. With the right resources, personnel, and time, we strive to attract investors to further market this technology to benefit chemistry students, faculty and the community."
The patent is for RF non-thermal plasma techniques for catalyst development to improve process efficiencies. It is a mouthful, but at its core, it's a process most people can probably recognize or appreciate.
"Plasma technology is being used in the semiconductor industry to do etching. It can also be used to put a coating on a car bumper and other items," said Jang. "Plasma is not new, catalysts are not new, but combining them is quite new, and we are leading technology advancement in this area."
The plasma can be generated using a gas or vapor of hydrogen, argon, oxygen or any vapor, and the goal is to demonstrate the unique capability of the RF plasma technique to improve the efficiency of various catalytic processes by controlling the surface properties of catalysts and inducing unique interaction between metals and supports.
"Catalysts are widely used in the chemical industry and energy or fuel processes," said Jang. "There is definitely great potential, but it takes time and personnel and additional resources to market the patent to industry."
Going forward, Jang hopes to develop the technology to greater maturity. Companies take risks when they adopt new processes, so it will require additional investigation to solidify the existing data, streamline and mature the process further and hopefully entice companies to adopt Jang's technology in their own production. It is a bright future ahead, not only for Jang, but for investors and industry alike.
Read stories about more fearless investigators like Dr. Jang at pride.tamuc.edu.