Regents Return from Europe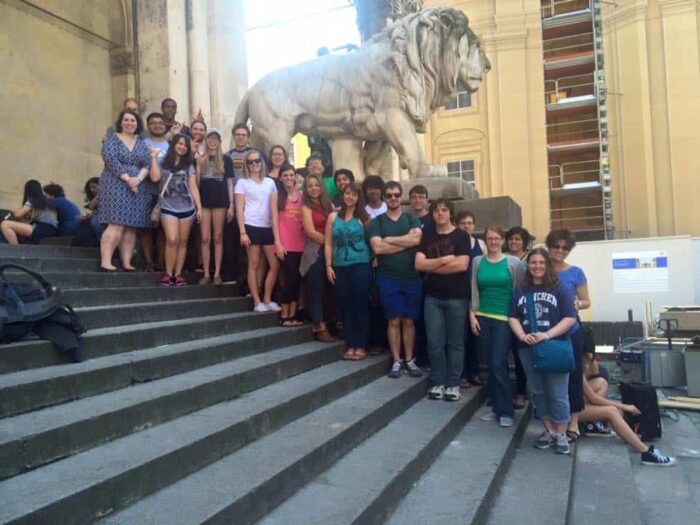 The Regents' Scholars just returned from their study abroad trip in Europe. This group of 20 students stayed in Bayeux, France; Paris, France; Munich, Germany; and London, England during the month of June 2015.
Drs. Ricky Dobbs, Shonda Gibson, Tabetha Adkins and Yvonne Villanueva-Russell accompanied the group of students on this 24-day trip, which coordinated with a course taught by Dr. Villanueva-Russell. Prior to traveling, the students completed the Global Competency Aptitude Assessment (GCAA) to test their competency levels before being exposed to different cultures in European cities.
The students are now actively working under the direction of Dr. Villanueva-Russell on ethnographic research projects based on the qualitative data they collected during their travel experiences. These projects cover diverse topics such as church attendance practices, handicap accessibility, public music performance, homelessness and trends in education. The students will showcase their projects on August 10, 2015 at the Rayburn Student Center in the Ambition Room. Later that day, the Regents will complete their post-travel GCAA assessment. The assessment data obtained from these scholars will be a valuable contribution to the ongoing implementation of the QEP.
Regents' Scholars pursue their major of choice but also complete a tiered curriculum focusing on multiculturalism, leadership and global awareness. The objective of QEP is to prepare students for an interconnected world, and the Regents' Scholars curriculum requires students to study abroad the summer of their junior year with the program for course credit. Dr. Tabetha Adkins describes the experience as "life changing. I am in awe of this experience—both for the students and the faculty."
To learn more about QEP please visit the QEP homepage or email the QEP committee at [email protected]