TAMUC Alum Makes a Mark in Contemporary Art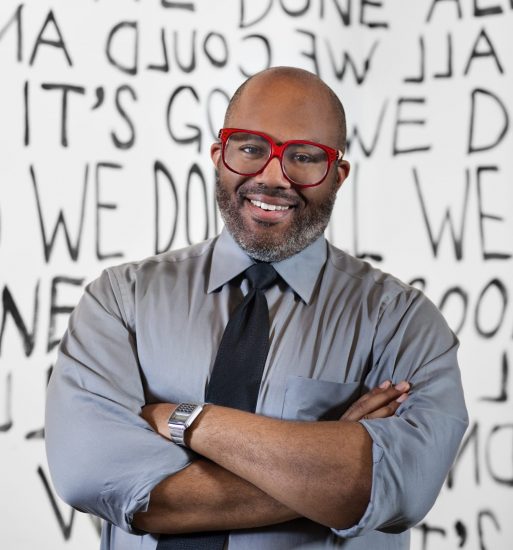 A recent article on ArtDaily.com highlights contemporary artist Trenton Doyle Hancock, an alumnus of A&M-Commerce. Hancock is a renowned artist whose second solo exhibition is on view from Sept. 17 through Oct. 29 at Shulamit Nazarian gallery in Los Angeles, California.
According to the article, "Storytelling is at the root of the artist's practice, drawing equally from the world of comics, film, art history, and religion." Hancock's current exhibition is titled "Good Grief, Bad Grief" and includes a series of self-portraits that highlight his ability to "deftly utilize a range of styles, mark making and color theory to achieve a profoundly psychological image."
Raised in Paris, Texas, Hancok lives and works in Houston. He graduated from A&M-Commerce in 1997 with a Bachelor of Fine Arts in Art before attending Temple University in Philadelphia where he received a Master of Fine Arts.
Among his many honors and achievements, Hancock was one of the youngest artists in history to participate in the prestigious 2000 and 2002 Whitney Biennial exhibitions at The Whitney Museum of American Art in New York City.
Hancock's work is included in the permanent collections of the Museum of Modern Art, New York; The Whitney Museum of American Art; Los Angeles Contemporary Museum of Art; The Metropolitan Museum of Art; Brooklyn Museum; San Francisco Museum of Modern Art, and many more.
Read the full ArtDaily.com article.
Photo Credit: Shulamit Nazarian gallery