TAMUC Recognized for Efforts During National School Psychology Week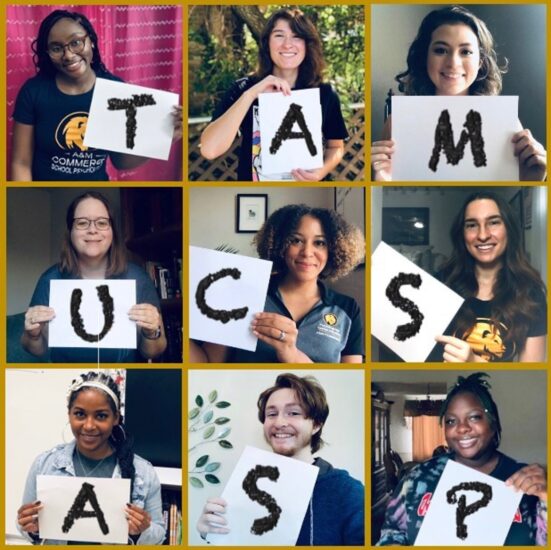 The National Association of School Psychologists (NASP) recently dubbed the Specialist in School Psychology (SSP) program at Texas A&M University-Commerce as one of three leading school psychology programs in the country.
The program received an Honorable Mention for Outstanding Graduate Program, thanks to efforts from the A&M-Commerce Student Affiliates of School Psychology (SASP) during National School Psychology Week (NSPW) from November 9-13, 2020.
Assistant Professor Erin Harper, Ph.D., serves as faculty sponsor for the group.
"I could not be prouder of our students for this hard-earned recognition," Harper said. "I saw first-hand how much effort they put into planning and executing a successful NSPW and it's truly a joy to see their hard work pay off."
Participating for the first time, SASP hosted multiple school psychology-related events each day during NSPW to highlight awareness, appreciation, advocacy, allies and affirmation.
The group distributed bookmarks and pamphlets and met virtually with undergraduate psychology classes to promote the school psychologist profession and TAMUC's SSP program.
Students delivered bundt cakes and thank you cards to SSP faculty and mailed advocacy letters to state Sens. John Cornyn and Ted Cruz, and state Rep. Ron Wright. They also collaborated with other campus organizations to discuss social justice and hosted a panel to discuss the importance of self-care and positive affirmation in the role of school psychologists.
SASP reported that the activities built a sense of community and collaboration among students and faculty in the SSP graduate program. According to the group, their social justice collaboration increased awareness of social justice deficits and highlighted opportunities for other organizations to increase their impact through collaboration.
NASP Advocacy Coordinator Catalina Uribe expressed appreciation to the group and student leader Kelli Lahman.
"It was clear to us that [the] TAMUC SASP mobilized to effectively plan and execute a highly successful, highly impactful NSPW," Uribe said. "Thank you for the important work you do every day, and especially for the strides you took to promote our chosen profession this past NSPW."
DeMarquis Hayes, Ph.D., assistant dean for the College of Education and Human Services, said the recognition is amazing.
"To be nationally recognized among so many other programs is a testament to the quality of students we have in the Specialist in School Psychology program here at A&M-Commerce," he said.
Learn more about the Specialist in School Psychology program at A&M-Commerce.