Texas A&M University-Commerce, L3 Announce Electrical Engineering Partnership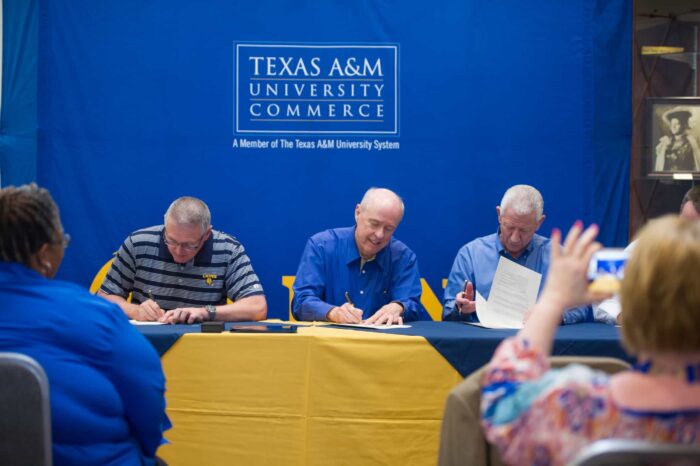 Texas A&M University-Commerce and L3 Mission Integration announced today a major partnership to increase the number of electrical engineers available to regional industries.
L3's ISR Systems Sector and Mission Integration President Bruce Trego and Texas A&M University-Commerce President Dr. Ray Keck recently signed a memorandum of understanding (MOU) regarding the university's Fall 2017 launch of a new undergraduate degree program in electrical engineering.
The new initiative will significantly broaden opportunities for A&M-Commerce students to engage in cutting-edge internships, technical programs, and research projects. As part of the three-year agreement, L3 will provide a distinguished lecturer in electrical engineering to the university.
"Thoughtful Americans have long known that public-private partnerships offer our best hope for significant and sustained progress," said Dr. Keck. "In fact, this relationship is a distinctly American practice. The MOU marks a significant investment by L3 in A&M-Commerce, making it our largest partner. We are a better university because of L3's commitment to the community, education and skilled engineering job creation."
Mr. Trego said, "L3 anticipates hiring as many as 42 new graduate and co-op electrical engineers over the next year. We recruit from 25 schools across the southern region, so the opportunity to hire BSEE candidates from our own backyard is extremely beneficial."
In addition, Mr. Trego said, "Electrical engineering co-op students will now have even more of an opportunity to gain applicable real-world experience. We are extremely pleased to be working with the University on a project that will benefit regional industries and add more A&M-Commerce alumni to our workforce."
The aerospace and defense contractor, located in Greenville, Texas, specializes in the development and maintenance of military aircraft and special-mission systems.
Along with L3, A&M-Commerce received support from other area employers to establish the degree program, including Oncor Electric Delivery Company LLC, The Campbell Soup Company, Raytheon Company and Raven Industries.
The University received final approval for the new degree from the Texas Higher Education Coordinating Board in April. The electrical engineering program will prepare individuals to apply scientific and mathematical principles to the planning, design, and evaluation of electrical and electronic systems and their components. Students interested in joining the inaugural class of electrical engineers at A&M-Commerce can apply for admission via the ApplyTexas online application at https://www.applytexas.org/adappc/gen/c_start.WBX.
The new degree plan is the third engineering program offered at A&M-Commerce, joining bachelor's degrees in construction engineering and industrial engineering. Those programs are accredited by the Engineering Accreditation Commission of ABET (Accreditation Board for Engineering and Technology).