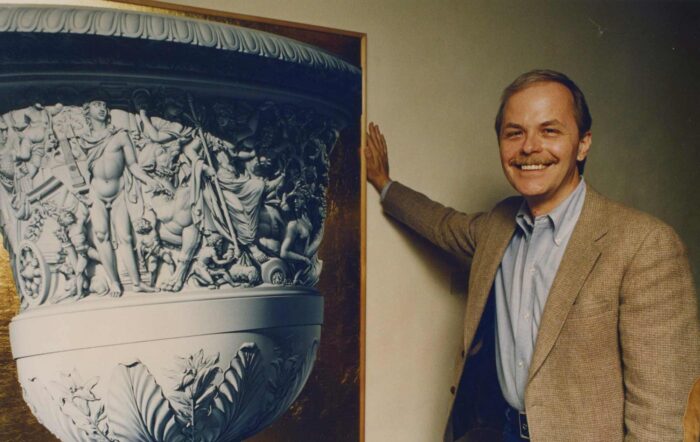 I enjoy teaching students everything I wish my teachers had told me on my journey through art schools.
Art
College Major
Master of Fine Arts
Gerard Huber was born in the small city of Waterloo, Iowa, where he attended Catholic parochial schools K-12. He attended the University of Northern Iowa for his undergraduate education. Following the completion of his BA degree with High Honors in Painting and Printmaking in 1971, Huber spent a summer at Notre Dame University as an Aspirant to the Brothers of Holy Cross, studying Contemporary Theology and Figure Drawing. He found that the religious lifestyle wasn't for him. Two years later, Huber was accepted to Cranbrook Academy of Art, a nationally renowned graduate institution offering an independent studio-based program taught by Artist-in-Residence mentors in an apprentice-like community. In 1975, he completed his MFA degree in Painting and Drawing and moved to Dallas to begin his teaching career at East Texas State University, which is now Texas A&M University-Commerce. Seven years later, Huber met his husband, Dr. Russell Dunckley, a clinical psychologist in private practice, and they are celebrating their 39th anniversary this year.
A Conversation with Mr. Huber
What would you tell a student who is thinking about attending A&M-Commerce?
"Texas A&M University-Commerce provides students an intimate environment that invites meaningful engagement with the faculty. These faculty members are dedicated to preparing you to become an innovative contributor to society and professionally competitive in the job market."
What draws you to your discipline?
"I can't remember a time when I wasn't drawing or sculpting in plasticine clay. While in elementary school, I didn't know what it meant to be an artist or whether I was good enough to become one. All I knew was that drawing was the only thing I wanted to do and that it gave my life meaning. That hasn't changed over the decades. After taking my first class in oil painting at a civic art center in eighth grade, the instructor took me aside and told me that he thought I had the "makings" of a fine studio artist. The lightbulb flashed "on" in my eighth-grade brain, and I decided to become an artist and to share my passion with others. Over the years, I have realized that visual skills are also an important element to enhance creative problem-solving. Creative problem solving is important for the discovery of paradigm-shifting solutions to several problems, including global social and economic issues, technological innovation, business competitiveness, and personal challenges. I enjoy teaching students everything I wish my teachers had told me on my journey through art schools."
What has been your favorite course to teach?
"I have taught Drawing I, Introduction to the Fundamentals of Drawing, almost every semester I have been teaching in Commerce. While that amounts to over 80 semesters, I am always excited about the prospect of introducing new students to the fundamentals of the drawing process, which will form the basis of any artistic field that they might pursue. Teaching beginning drawing also inspires my artistic practice because I am enthralled with the "magic" of creating the illusion of volumetric form in three-dimensional space on a two-dimensional picture plane with pencils or paint."
Tell us about a project you are currently working on or recently completed.
"This is the Artist Statement for my most recent series of paintings: "In Christianized Western civilization, depictions of naked male flesh have been so closely associated with evil, that the only way a nude male body could be tolerated as if it was being abused, punished or mutilated – a sort of sadomasochistic expiation of an unconscious guilt about merely having a body, whereas depictions of female nudity are culturally acceptable according to John Berger in his book Ways of Seeing because they provide opportunities for "acceptable" male possession whether in fact or desire. My goal is to challenge this contempt for the fully nude male figure, which is thought to be, at best, embarrassing and, at worst, indecent. My strategy is to employ beauty as a subversive instrument of seduction, a peacefully sensual way of drawing the viewer into a space that challenges heteronormative assumptions of male competitiveness, and which demonstrates that same-sex relationships are wholesome, healthy and life-affirming."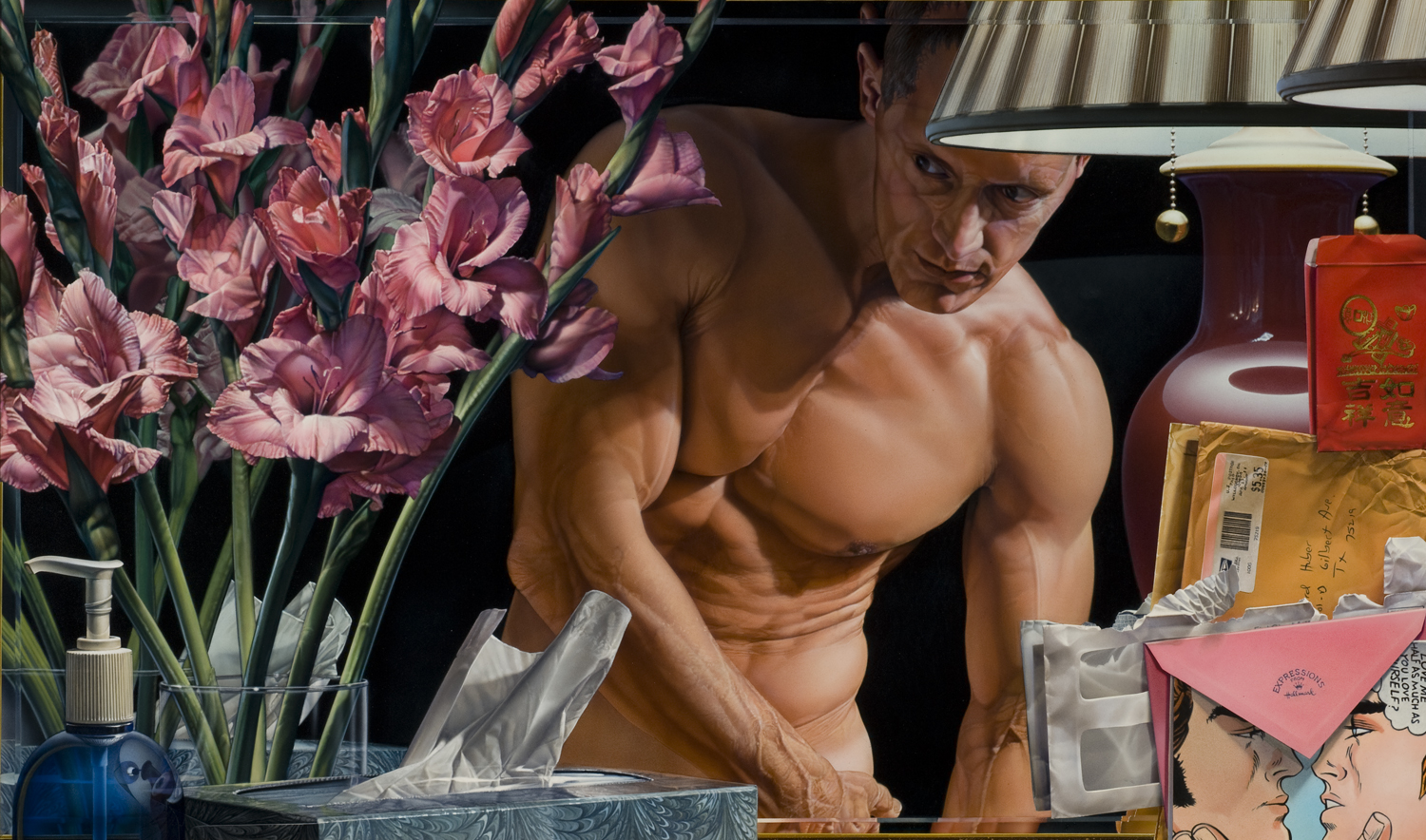 Educational Background
MFA, Painting and Drawing, Cranbrook Academy of Art, Bloomfield Hills, 1975
Blossom-Kent Art Program, Painting, Kent State University, 1974
Special Student, Life Drawing and Contemporary Theology, Notre Dame University, 1971
BA, Painting and Printmaking, University of Northern Iowa, 1971
Academic Positions
Professor, Department of Art, TAMUC, 2005-Present
Associate Professor, Department of Art, TAMUC, 1995-2005
Assistant Professor, Department of Art, TAMUC, 1985-1995
Instructor, Department of Art, TAMUC, 1975-1985
Awards and Honors
"First Place" Award, Boundless (International Scope), ART FLUENT, Sandwich, Massachusetts, 2020
"Fearless Investigation" Award, Faculty Senate Recognition Award for Professional Excellence, TAMUC, 2019
"Best of Show" Award, 1st Annual ISAP Master and Signature Exhibition, International Society of Acrylic Painters, Cathy Kline Art Gallery, 2018
Visiting Artist/Visiting Scholar program, American Academy in Rome, 2013 and 2015
"Honorable Mention" Award, 79th National Midyear Show, The Butler Institute of American Art, 2015
Research Interests
Airbrush painting
Trompe l'oeil illusionism
Hyperrealism
Professional Organizations
International Society of Acrylic Painters Signature Master Member
National Society of Painters in Casein and Acrylic Signature Member
National Oil and Acrylic Painter's Society Member
College Art Association Queer Caucus
Featured Courses
ART 1316 Drawing I
ART 1317 Drawing II
ART 2316 Painting I
ART 2323 Figure Drawing

Selected Publications
Gerard Huber Art Ideal Magazine Circle Foundation, 2020
The Art of Man/Fine Art of the Male Form Firehouse Publications Edition 18, Pp.16-25 Bordentown, NJ, 2014
100 Artists of the Male Figure: A Contemporary Anthology of Painting, Drawing and Sculpture, E. Gibbons, Schiffer Publishing Ltd. Pp. 88, 89. Images and references included in the Introduction by Grady Harp — The Reprise of the Male Figure, 2011
Powerfully Beautiful" Classically Inspired Living Painters of the Male Figure, E. Gibbons, A firehouse Studio Publication, 2009