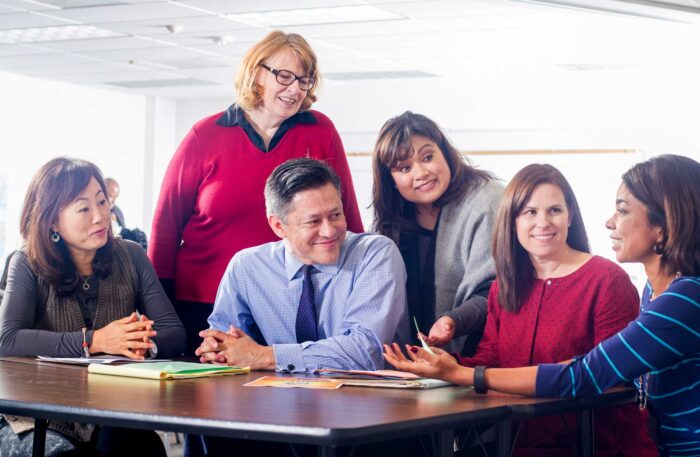 To this day, it has been the BEST career move I've ever made. Becoming a bilingual teacher helped me to realize how much I love to teach and work with others to reach common goals and objectives.
Juan Araujo, Ph.D.
Assistant Dean/Associate Professor
Department of Curriculum & Instruction
Office
Young Education North 203A
Related Department
Curriculum and Instruction, Department of

Born in El Salvador, Juan Araujo moved to Texas in 1996 and worked as an electrical engineer for six years across the country with IBM, Eastman Kodak and Siemens AG. With encouragement from his wife, he switched careers taking a local position as an elementary bilingual teacher in the Dallas-Fort Worth area, where he discovered his true calling, education. To this day, he says it was the BEST career move he ever made. Becoming a bilingual teacher helped him to realize how much he loved to teach and work with others to reach common goals and objectives. Now he teaches tomorrow's teachers specializing in literacy assessment, writing and writing instruction, preservice education, the instruction of English learners and ELA methods. He is also the co-editor of the Association of Literacy Educators and Researchers Yearbook.
A Conversation with Dr. Araujo
What would you tell a student who is thinking about attending A&M-Commerce?
"A&M-Commerce is a place that allows students to grow as scholars, academics and future professionals. At the College of Education and Human Services, students learn to become teachers, principals, nurses, coaches and special education professionals through practical applications in local settings, including ISD, hospitals and other settings in North Texas. First, and foremost we believe our students are at the center of what we do. We strive to make an impactful experience for them so that they can be ready upon graduation to achieve what their hearts desire."
What draws you to your discipline?
"My philosophy of education is driven by the belief that one of the purposes of schooling is to facilitate students to develop over time problem-posing/solving, decision-making and other skills that prepare them for their careers and life. Students possess a curiosity and wonderment about the content they are learning. I aim to turn their curiosity into questions that directly address the objectives of the course. It is not enough to produce content expert teachers; they must also be able to distinguish between particular approaches, strategies and curriculum. Then decide for themselves what is most appropriate for their future students. Preparing literacy and its instruction professionals are essential if we are to create a just society."
What has been your favorite course to teach?
"I have too many favorite courses to name just one, but I have always enjoyed teaching RDG 350, the introductory course to Literacy Instruction. It is one of my favorite courses because typically it's one of the first professional classes undergraduates take when they come into our department. It is where they first uncover their skills and passions for the teaching profession and particular, in literacy. I love to see their faces light up when they explain the successes of a literacy strategy they attempted with a family member, neighbor or cousin."
Tell us about a project you are currently working on or recently completed
"I am a co-principal investigator on a 3-year grant to help our department redesign the undergraduate teacher education program. The main objective of the grant is to prepare new teachers to deliver social just curriculum and instruction to their future students."
Educational Background
Post.D., Extension Studies in English, Harvard University, 2017 – Present
Post.D., Teacher's College, Harassment, Bullying, Cyber Bullying and Discrimination in Schools: Prevention and Integration, Columbia University, 2017
Post.D., School of Education, Partner in School Training, Ball State University, 2016
Ph.D., Reading, University of North Texas, 2011
MBE, Concentration Talented and Gifted, Southern Methodist University, 2006
BS, Electrical Engineering and Power Systems, New Jersey Institute of Technology, 1996
Academic Positions
Assistant Dean, Texas A&M University-Commerce, 2020 – Present
Associate Professor, TAMUC, 2018 – Present
Assistant Department Head, Texas A&M University-Commerce, 2015 – Present
Assistant Professor, TAMUC, 2014-2018
Interim Assistant Professor, TAMUC, 2013-2014
Awards and Honors
Paul W. Barrus Distinguished Faculty Award for Teaching (Nominated), 2020
Distinguished Global Scholar (TAMUC), 2017
Global Scholar (TAMUC), 2016
Hispanic Leadership Award (TAMUC), 2016
Honoring Faculty at Texas A&M University-Commerce (Teaching, Research, & Service), 2015
Outstanding Doctoral Student in Reading, 2009-2010
Research Interests
Writing and Its instruction
Preservice teacher education
Professional Development to Independent School Districts
Professional Organizations
Harvard Circle of Dallas
Harvard Latino Alliance
International Society for the Advancement of Writing Research
International Reading Association (IRA)
Association of Literacy Educators and Researchers (ALER)
Board of Directors, Association of Literacy Educators and Researchers
ALER Yearbook, Co-Editor
57TH, 58TH, 59TH, 60TH, 61st, 62nd, 63rd Journal of Adolescent and Adult Literacy
Latin American Journal of Content and Language
Literacy Research and Instruction
Journal of Curriculum and Pedagogy
Texas Journal of Literacy Education (TALE)
Teaching English to Speakers of Other Languages Journal (TESOL)
GIST Education Research Journal
Featured Courses
RDG 350 Reading and Literacy I
RDG 528 Integrating Writing
RDG 667 Reading Processes: Theory and Implications
Selected Publications
Araujo, J., Blaylock, J., Garden, P., Hogg, S., Larue, L., Murillo, D., Still, B., & Venters, A. (with Patterson, L.) (2018). Using action research in a literacy graduate classroom to connect theory to practice: a replication study. Journal of Teacher Action Research, 57-74.
Araujo, J., Babino, A., Cossa, N., & Johnson, R (2018). Engaging all readers through explorations of literacy, language & culture. The 40th Association of Literacy Educators and Researchers Yearbook. Louisville, KY: Association of Literacy Educators and Researchers.
Araujo, J. J., Morton, T. B., Foote, M. M., & Dixon, K. V. (2017). Helping preservice teachers get the power of parental involvement: Establishing connections from day one. In R. Johnson, J. Araujo, & N. Cossa (Eds.) Literacy: The critical role of teacher knowledge. The 39th Association of Literacy Educators and Researchers Yearbook, (pp. 1-29). Louisville, KY: Association of Literacy Educators and Researchers.
Araujo, J. J. & Wickstrom, C. D. (2017). Writing instruction that makes a difference to English learners. "Acta Universitatis Lodziensis. Folia Librorum", 1(24), 77-96. ISSN 0860-7435.