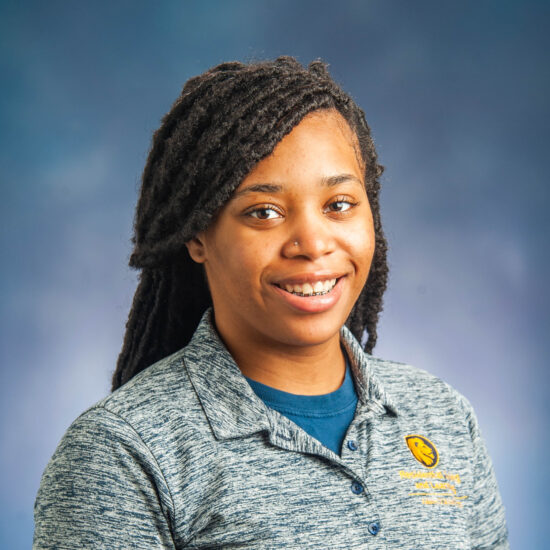 College Major
Criminal Justice
Taylor Robinson serves as the Community Director of New Pride Residence Hall. She holds a Master's Degree in College Student Personnel Administration and a Bachelors in Criminal Justice. As a First-Generation College student, she encounters many obstacles which have made her passionate about student development and diversity and inclusion initiatives. Taylor's special hobbies include writing & performing poetry, cooking, and maintaining good mental and physical health.
How I Can Help You?
By providing academic, social and professional support. It is my priority to serve as a resource and advocate for students throughout their collegiate journey at TAMUC. In my role, I strive to meet student housing needs by providing unique programming and through community engagement initiatives.
A Conversation with Taylor
What is a transition you have had to make?
I served six years in the US Army, so transitioning from the military to college was challenging. The military offered me structure and ongoing assistance while college seemed to be a little less controlled and more "on your own". It was also difficult being a black student at a predominantly white college. Often I found myself feeling like I did not belong because of the two identities I held.
What does community mean to you?
Community is a place where love, support and self-development are promoted. It is also a place where you could be yourself without restrictions. Communities that I value/communities I am a part of include but are not limited to the Black community, Spoken word artist community, and women-empowerment community.
What makes you laugh?
Anything. I find many joys and pleasures out of being present each day. I'm a silly person so, it's is not hard for me to crack a joke or smile. It's not unusual for me to be the last person to laugh at a joke.
Educational Background
Awards and Honors
President's Meritorious Service Award, Texas A&M University-Commerce, 2021
Phenomenal Woman AWARD, Southern Illinois University, 2020
Black Heritage Month Most Achieved Female, Southern Illinois University, 2018
Phenomenal Woman AWARD, Southern Illinois University, 2018
Professional Organizations
Delta Sigma Theta Sorority, Inc
NASPA: Student Affairs Administrators in Higher Education