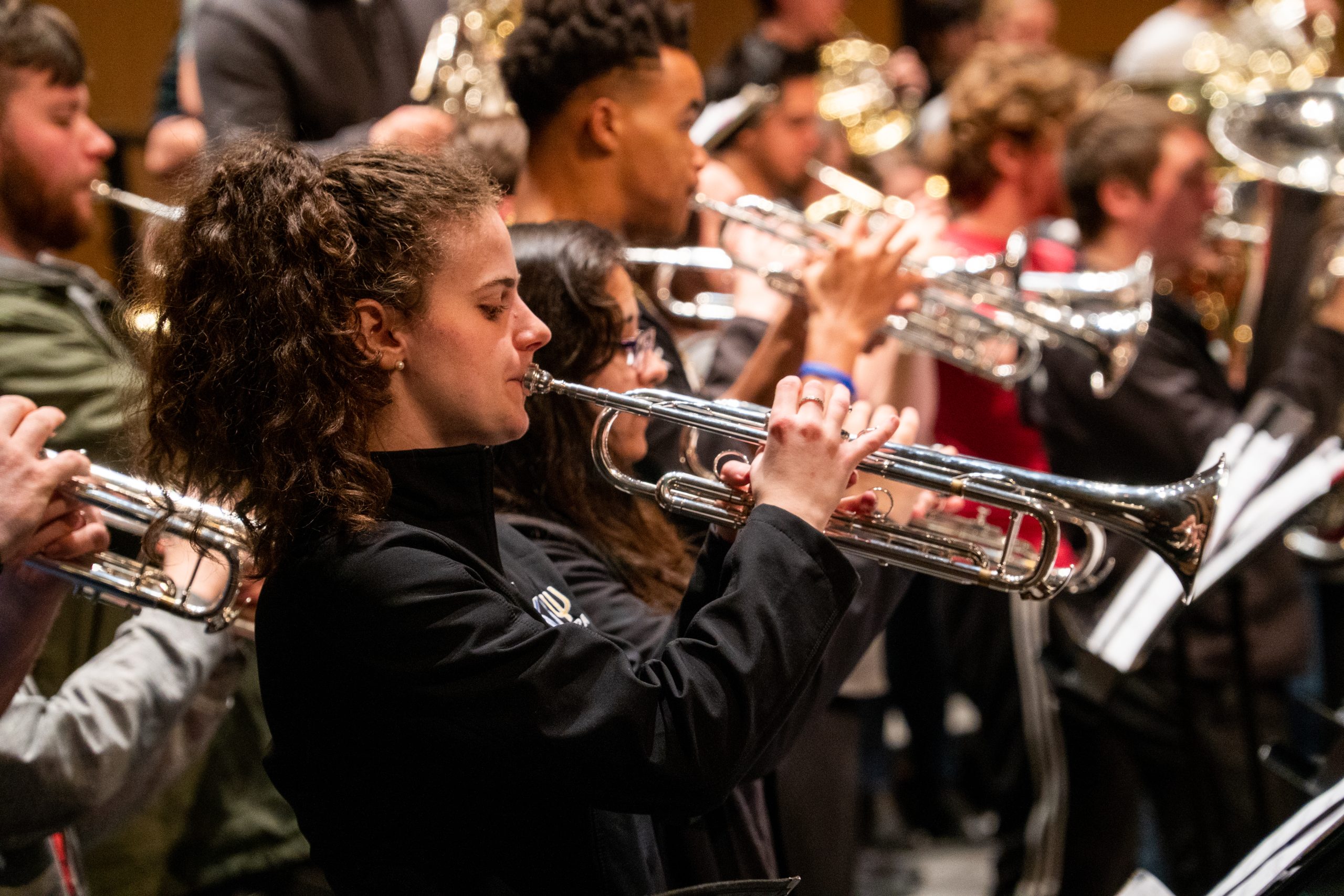 Take the next step in your musical journey as you become a well-rounded trumpet player.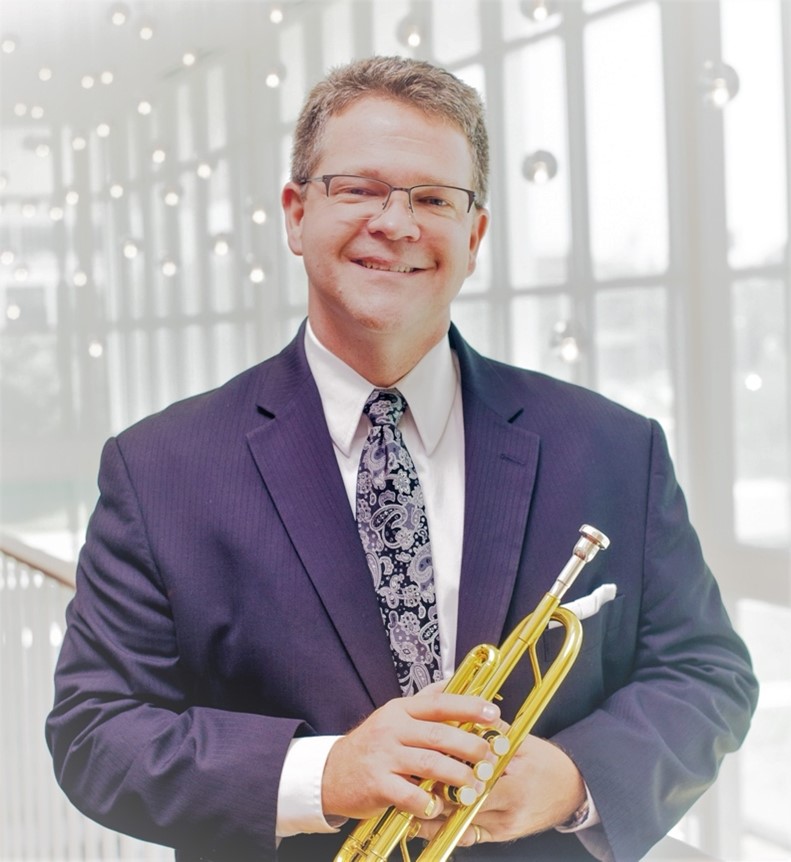 Welcome from Dr. Kelly
Welcome to the A&M-Commerce trumpet studio. Our trumpet program prides itself on preparing students to become outstanding professionals in their selected careers. I hope that you will visit the campus soon to attend a concert, recital or clinic. You will see that there are great things happening in East Texas. Please browse through our entire site to learn more about the trumpet program and please don't hesitate to contact me if you have any questions.
Featured News
TAMUC Percussion Alums Land University Appointments
A pair of alums from Texas A&M University-Commerce were recently hired in faculty roles at Texas universities. Dr. Caleb Pickering (B.S., Music Education, 2012) was named assistant professor of percussion at Texas A&M University-Corpus Christi. Dr. Andrew Veit (M.M., Percussion Performance, 2012) was appointed as lecturer and percussion director at the University of Texas at […]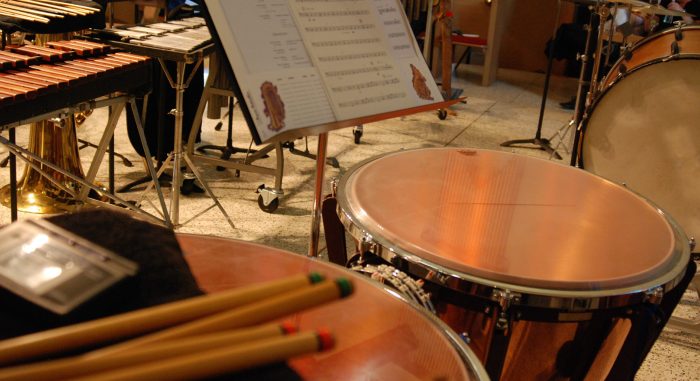 A&M-Commerce Percussion Ensemble Wins International Competition
The Texas A&M University-Commerce Percussion Ensemble, led by Dr. Brian Zator, was one of three winners chosen in in the Percussive Arts Society (PAS) International Percussion Ensemble Competition (IPEC) along with Indiana University and Florida State University. As a result of being selected, the ensemble is invited to Indianapolis this fall to perform a showcase […]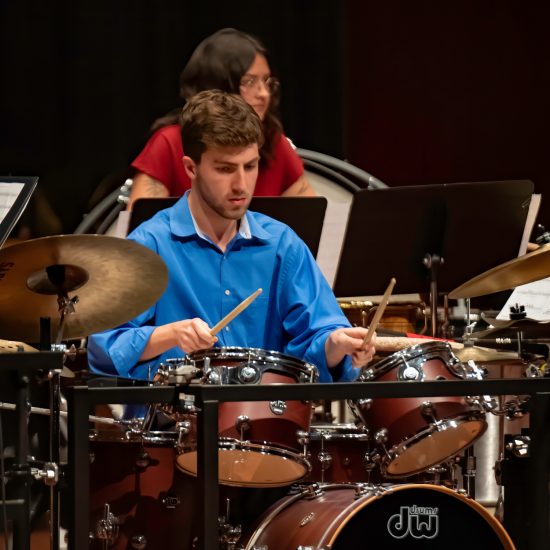 Lion Students Win Awards at Vocal Competition Held at A&M-Commerce
Several music students at Texas A&M University-Commerce received high marks at a recent vocal competition held at the university. A&M-Commerce hosted the spring competition of the Dallas-Fort Worth chapter of the National Association of Teachers of Singing. In total, 219 students registered to compete in classical, musical theater and commercial music categories across several divisions. […]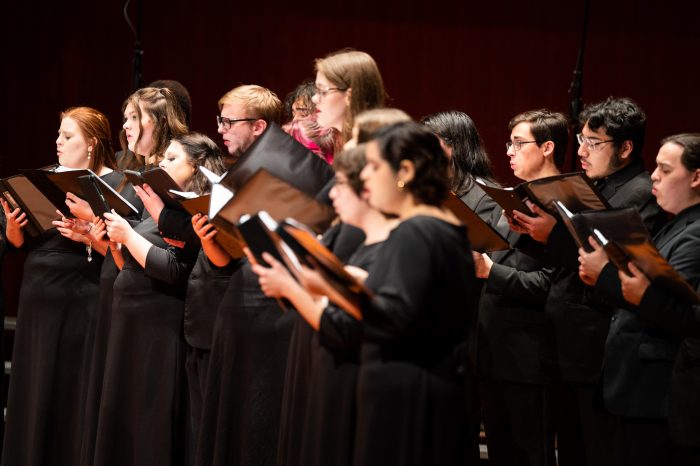 A&M-Commerce Alum Receives Lifetime Achievement Award from PAS
Texas A&M University-Commerce alum Anthony Robinson was recently honored with the "Lifetime Achievement in Education" award by the Percussive Arts Society (PAS). Robinson received his Bachelor of Music Education degree from Northwestern State University in 1975, and then earned his Master of Education degree with an emphasis in secondary education from East Texas State University […]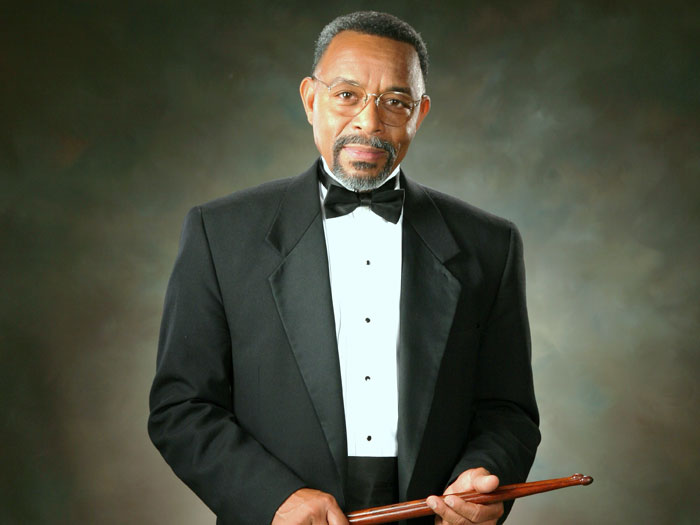 Several A&M-Commerce Students and Faculty Participate in DCI
Many students and faculty from Texas A&M University-Commerce participated in Drum Corps International (DCI) during the past summer. DCI has been a leader in producing events for the world's most elite and exclusive marching ensembles for student musicians and performers. The annual DCI Tour sees performance ensembles compete in a variety of competitive events. The following A&M-Commerce students […]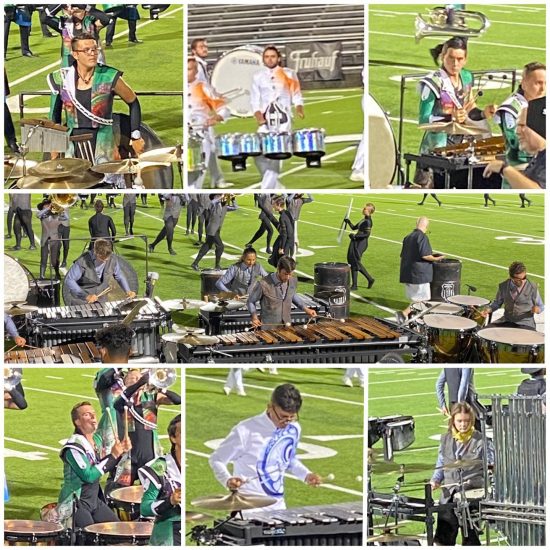 A&M-Commerce Music Student Reaches Semifinals of National Vocal Competition
Texas A&M University-Commerce student Evan June reached the semifinals of the National Student Auditions hosted by the National Association of Teachers of Singing, held in Chicago from July 1-2. June reached the semifinal round after submitting a video audition in October 2021. His audition pieces were "Sea Moods" by Tyson, "Der Atlas" by Schubert and […]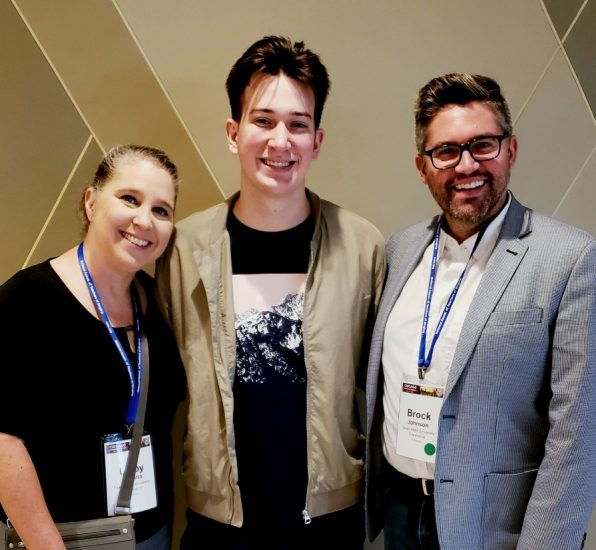 A&M-Commerce Alums Represent Well at Band and Orchestra Conference
Several Texas A&M University-Commerce alumni represented their alma mater well at the Midwest Clinic International Band and Orchestra Conference. The Midwest Clinic is the world's largest instrumental music education conference, drawing approximately 17,000 attendees annually to Chicago from all fifty states and as many as forty countries. In this year's clinic, four A&M-Commerce percussion alumni […]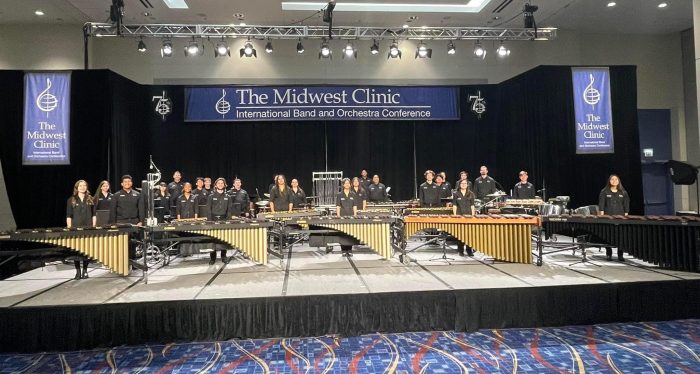 TAMUC Percussion Students Make Waves at Regional Competition
Students in the Texas A&M University-Commerce Percussion Studio performed well at the Tierras South Texas Percussion Competition in December. This first-annual competition saw high schoolers and university students perform their works on either keyboard or snare drum. A&M-Commerce students finished as follows: Ashton Carter – 1st place in the Collegiate Snare Drum CategoryGenevieve Trant – […]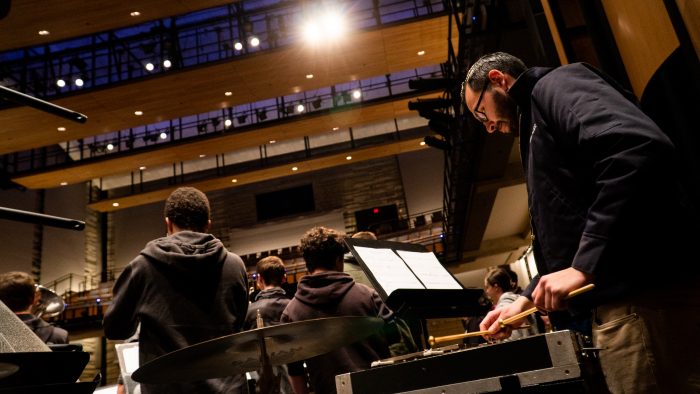 TAMUC Students, Faculty and Alumni Shine at Percussion Convention
A strong contingent of students, faculty and alumni of Texas A&M University-Commerce had a stellar outing at the 2021 Percussive Arts Society International Convention (PASIC). The convention ran from November 10 through 13 in Indianapolis, Indiana. Featuring concerts, clinics, panels and presentations given by the finest artists from all over the world, PASIC 2021 showcased […]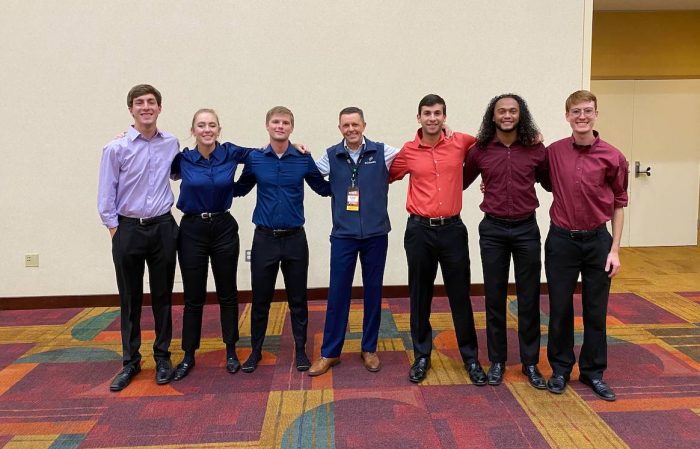 Distinguished Alum Returning to TAMUC for Music Clinic
Texas A&M University-Commerce Distinguished Alumnus Dr. Dan Moore is scheduled to return to campus on November 15 to give a music clinic to A&M-Commerce percussion students. Moore is a 1982 graduate of then-East Texas State University, where he studied under Robert Houston. Moore has served as the Director of Percussion at the University of Iowa […]
Audition Information
The first step in the admissions process is to contact me! I strongly encourage you to come to campus for a visit, take a lesson, and chat with me about what we do here at A&M-Commerce. You should also contact the University Admissions Office to arrange an official campus tour, meet with financial aid, housing, and other departments that can help your transition to university life. Of course, you'll also need to apply to the university, submit your SAT/ACT scores, send transcripts, etc. The Admissions Department's website provides easy access to the entire process.
In addition to being accepted to the university, prospective music majors must also be admitted to the Department of Music. Music admission is based on a Music Application and a live audition, though recorded auditions (video preferred) may be accepted from applicants for whom travel to Commerce is impractical. Music scholarship awards are also determined in large part on this audition, so it's imperative that you show us your best efforts!
Repertoire – Your audition should include 5-10 minutes of music (solos, etudes, and/or orchestral excerpts are acceptable) that shows your playing at its best. I don't have a required list of pieces but I do need to hear examples of your slow/lyrical playing as well as your technical skills. I also need to hear major scales (from memory, if possible) and I'll ask you to sight read. Prospective Graduate students and music performance majors should also prepare three standard orchestral excerpts. If you just have no idea of what to prepare just contact me and I can help!
The Music Department has scheduled Audition Days in the spring to make the whole process easy. We'll have representatives from the Department and University on-hand to answer your questions and give tours of the building and campus. While I can hear auditions by appointment I strongly suggest you make plans to audition on one of our official Audition Days.