A&M-Commerce College of Business Earns AACSB Reaccreditation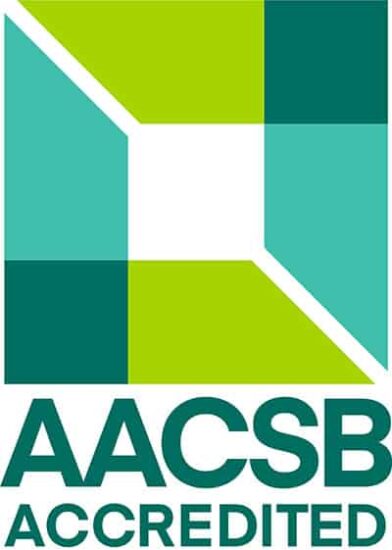 The College of Business at A&M-Commerce has received a five-year extension of accreditation from AACSB International, an association founded in 1916 to advance quality management education worldwide. The college has been AACSB accredited since 1976.
"Reaffirmation of our long-held AACSB accreditation is a direct reflection of the outstanding work and transformational learning that occurs every day in the College of Business," said Dr. Shanan Gibson, dean of the college. "My congratulations go to all of the faculty, staff and students whose hard work and accomplishments are recognized by the accreditation process."
Antonio Goodson, senior associate with AACSB Accreditation Data Management, informed the college of the reaccreditation. "Congratulations to you, the faculty, students, staff and all supporters of the school," he said.
The AACSB website states that accreditation signals to the world that an institution has met the most rigorous standards of excellence in business education. Institutions that bear the AACSB-accredited mark demonstrate that they are committed to upholding—and advancing—the quality of their programs both at the undergraduate and graduate levels.
According to Gibson, several of the college's high-impact outcomes and practices were commended by AACSB including the Center for Excellence's training and consulting activities, the Business Leadership Council's successful engagement of alumni and community members, and the university administration's support of a high-quality business program.
The AACSB website also states that AACSB-accredited schools are considered to be the best business schools in the world. Their undergraduate and graduate degree programs have passed rigorous standards for quality. AACSB-accredited schools have better programs, better faculty, better students with higher overall GPAs, more international students, more employers that recruit from them and graduates that receive better salaries.
"The reaccreditation is an achievement we are all very proud of," Gibson concluded.