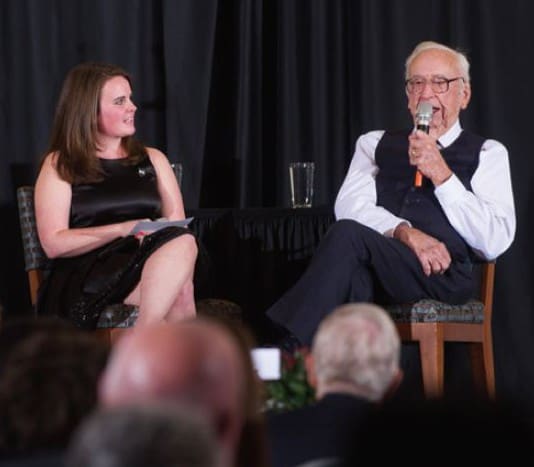 Taking notes in history class and reading a textbook are not enough for the six original student interns of the East Texas War and Memory Project (ETWMP). They are passionate about learning history through the first-hand perspectives of military veterans from World War II through the Vietnam War. "These are ordinary people who did extraordinary things," said Hayley Hasik, student coordinator of the ETWMP. "All the things we've read about in books are events that real people lived through. And we get to meet the men and women who made it happen."
Along with Hasik, Courtney Crumpton, Jackson Dailey, Kyle Hackney, Jacob Ham and Travis Ueckert comprised the founding generation of the ETWMP interns.
The idea to start collecting and preserving oral histories came in the fall of 2011, when Dr. Eric Gruver, director of the ETWMP and assistant dean of the Honors College at A&M-Commerce, realized that 2011 marked the 70th anniversary of the Japanese attack on Pearl Harbor.
Gruver created an honors course in conjunction with Professor of Literature & Languages Dr. Gerald Duchovnay's honor's film course in fall 2011. Gruver's students started summarizing some of the 200 oral histories which had sat untouched in the university's digital collection for almost 40 years. In fall 2012, Gruver and Dr. Susan Stewart, associate professor of literature & languages, created two subsequent courses on honors history.
"The most significant challenge a history professor has is finding a way to keep students interested in studying history," Gruver said. "I learned that listening to veterans tell their stories is a different and exciting way to engage students with history."
These students wanted to do follow-up interviews of the veterans in the university archives. They met with Andrea Weddle, head of Special Collections and Archives at Gee Library, and Adam Northam, digital collections librarian, and created an internship in spring 2013.
The students began going through obituaries and discovered that over half of the veterans the university had interviewed had passed away. The interns could not afford to suffer this tragic loss again, so they carried on with the project with a sense of real purpose. The interns started calling the veterans and their families who were still alive. The last week of February 2013, they began conducting interviews with people who were involved in World War II. With that, the East Texas War and Memory Project was born.
"In high school, we were confined to textbooks," said Ueckert. "We were taught who won the war and what battles were fought, but we never really understand how many sacrifices were made by each soldier. Working with oral histories, we come across these individual stories and experiences. With each person we come in contact with, we unlock a new page in the history of each war."
The interns' goal is to treat each interview as a conversation, not a strict interrogation. They film every interview to later be uploaded and processed in the library archives.
With 75 interviews under their belts to date, Hasik is planning to start scheduling seven veteran interviews a week for the fall 2013 intern class. Right now, they are only interviewing veterans who have served from World War II to the Vietnam War. Eventually they want to expand this. A few wives have also been interviewed on their experiences at home while their husbands were at war.
Hasik, Crumpton, Dailey and Ueckert are mentors to the rest of the fall 2013 intern class, giving them tips on how to conduct interviews. The intern class has evolved and now has 16 students, including Bailie Avrit, Victoria Bass, Austin Baxley, Brittney Bowen, Alexandra Burks, Brianna Crews, Margo McCutcheon, Josephine Just, Austin King, Sarah Miller, Meredith Shaw and Nick Sprenger.
Some of the 16 interns are doing veteran interviews like the original six; however, other interns are doing different projects related to war and memory. For example, Avrit is documenting the growth of the project for her honor's thesis by attending veteran interviews with her own video camera and questioning the veterans on why they think the ETWMP is important. Just is working in the university archives to process World War I and World War II letters that Marty Marsh Jacobs donated to the ETWMP to make them available for scholars to use in research.
"I think the War and Memory Project is wonderful," said Jacobs. "I'm really excited about it, and I think it's already accomplished miracles in finding out about the wars and finding out about the people involved in the wars, which is what these letters are all about.
The letters from my father and grandfather contain a lot of personal information, and the students will get to know the people who took part in the wars, and I think that's important."
One of the veterans the interns interviewed was Corporal William Pelley. An Oklahoma native, Pelley's older brother, John, joined the Army Air Corps after the attack on Pearl Harbor and served with the 391st Squadron as a bombardier, flying 35 missions over Germany during World War II. Because of his brother's influence, Pelley decided to join the U.S. Army in 1946. After completing basic training at Camp Lee, Pelley was shipped to Yokohama, Japan, as part of the occupation force. Pelley began his college career in the fall of 1948 at the University of Oklahoma. During his time at OU, he joined the U.S. Air Force ROTC program, earning the rank of first lieutenant. He graduated from OU in 1952 with a B.B.A. and remained in the Air Force Reserves until 1958. After visiting with Pelley, the ETWMP discovered the next day was his 86th birthday. The interns decided to surprise him by bringing him birthday cupcakes and celebrating with him.
"Working with veterans and listening to their stories, whether it's in person or on a DVD, makes it all real," said Hasik. "You listen to some of the things they did, and it is the stuff you read about or watch in movies, but this man lives down the street and gets his mail just like you do. Recognizing that and preserving the stories of veterans like these two men acknowledges their service to this country. And that's what the ETWMP is all about."
After getting involved with the War and Memory Project, several students found out about a family member who fought in a war that they never knew about before.
"We've brought together families," said Gruver. "Students and their families have come together and started talking about their own family histories, and the veterans and their families have come together because many of the veterans never told the stories to their wives or kids because no one ever asked, or the stories were too painful to tell."
Already, people are starting to see the importance of the War and Memory Project. Rick and Sharon Foster donated $5,000 to the ETWMP on June 21, 2013.
"We saw the energy that Dr. Gruver and the students had about the project, and it was contagious," said Rick Foster. "We decided to donate to the project because we realized this was a good opportunity for the students and a good opportunity for the veterans to have their stories heard. Each passing day closes a window of opportunity to talk to the veterans and see the impact the wars had on them and their families."
Another significant aspect of the East Texas War and Memory project is building a bridge between the generation gap of college students and war veterans.
"It is very important that young people acknowledge and appreciate the experiences of people who have come before them," said Gruver. "We are creating a multi-generational project. We have 19 to 21-year-old students talking to 75 to 95-year-old people as if they've known each other for decades. It's that sort of project where we are making a personal connection; we are building relationships."
Gruver and the interns have two goals for the future of the ETWMP. First, they want to create a series of publications, manuscripts and articles that demonstrate that undergraduate students can do history. The first manuscript is already in its editing phase, about to be sent out to a publisher. Second, they hope that A&M-Commerce will become a repository for oral histories and artifacts of veterans and their families available for the scholarly study of war and memory.
"History is not one of the more popular subjects in education," said Gruver. "I have seen students go from being disinterested in history and government to wanting to know more. Completing that transformation and gaining an appreciation that the world is bigger than they are is truly the purpose of a university education. These students have made it their goal to speak to veterans they run into at public events and thank them. Just a smile and twinkle of the eye from the veteran has changed these students' perspectives. That's what has made history more relevant to college students."
The ETWMP has grown by leaps and bounds since its birth, and it continues to expand. One of the most noteworthy additions is the East Texas War and Memory Lecture Series.
The goal of the ETWMP Lecture Series is to bring the A&M-Commerce campus and surrounding community together to honor veterans and to learn by listening to their stories. Each lecture series event features a different veteran speaker from World War II, the Korean War, the Cold War or the Vietnam War. Presentations range from a traditional lecture to a moderated interview, and those in attendance will have the opportunity to ask questions of each veteran.
The first event featured retired Two-Star Maj. Gen. Christopher Adams, Jr., to celebrate the 66th anniversary of the U.S. Air Force. Adams talked about his 31-year career, starting in the A&M-Commerce ROTC program. During his time in the Air Force, he was in the Strategic Air Command, flying B52s in the Cuban Missile Crisis. The second lecture series featured retired Army Pfc. Arlen Butler. Butler was a member of the Military Police Platoon, 23rd Infantry Division during World War II. He fought on the beaches of Normandy and liberated prisoner-of-war camps in Europe.
The ETWMP interns have already begun scheduling series events for spring 2014. Presentations will take place on Feb. 5, March 19 and April 9. All events are scheduled for 3:15 p.m. in Conference Room C of the Rayburn Student Center.
To stay updated on the latest developments from the East Texas War and Memory Project, follow and message the team on Facebook at fb.com/WarandMemory.
Continue your fearless investigation of the incredible research happening at A&M-Commerce at pride.tamuc.edu!