Collaboration Featured in "Social Psychology"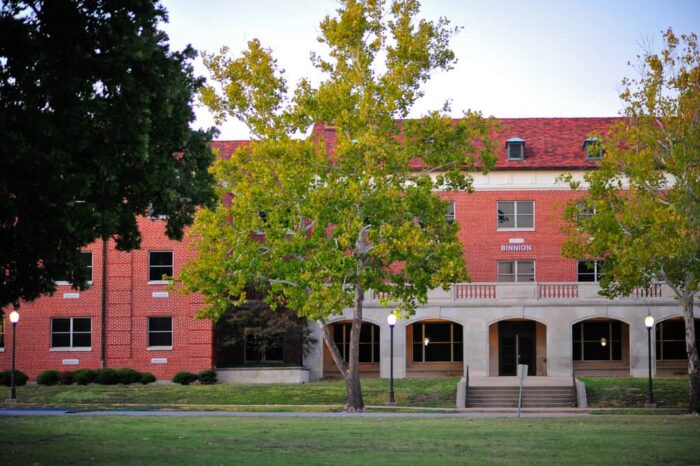 One Texas A&M University-Commerce psychology research laboratory was invited to participate in the "Many Labs" collaboration by professors from the University of Florida and the University of Virginia.
Researchers originally extended a call for group efforts via the Society for Personality and Social Psychology. Assistant Professor Lacy Krueger in the Psychology, Counseling, & Special Education department responded and then received a follow-up invitation from Dr. Brian Nosek, a collaborator on the project and the co-coordinator of the Open Science Framework.
"I was excited for Texas A&M University-Commerce to be one of the 36 labs represented," said Krueger. "To be a part of a research collaboration with a novel approach to investigate the replicability of effects I think follows our motto of 'fearless investigation'."
The project's goal was to understand and determine whether a set of basic social psychology principles would replicate across a variety of settings, including different institutions and with different administration mediums, such as face-to-face in a laboratory or online. They really wanted to know why a psychological effect occurs, if it occurs in other cases, and if it does not, why the replication does not occur. A minimum of 80 individuals were required to be tested per each participating lab. In all, only 36 laboratories across the United States and internationally were chosen to contribute in the research. By using multiple labs with the same methodology, the project was able to collect more sound data than if a single lab had been used.
Krueger and her lab coordinator, S. Jane Hunt, oversaw the A&M-Commerce data collection for the "Many Labs" work and served as the actual collaborators. Laboratory research assistants Meghan Pearson, Andrea Rosales and Claudia Smithart were tasked with testing participants.
"It was very exciting to be a part of this research collaboration," said Krueger. "This study was accepted to 'Social Psychology,' but in my cognitive psychology classes I teach about some of these effects, including how we frame information (in terms of gains or losses) and how it can influence decision making. It was exciting to know that these effects replicated, and that it did not depend on the institution."
The research article will appear in the print version of the journal of "Social Psychology" in 2014. "Nature," "National Geographic," and "Science" magazines also featured stories on this project in late November 2013.