A&M-Commerce Hosts First-Ever Virtual New Student Orientation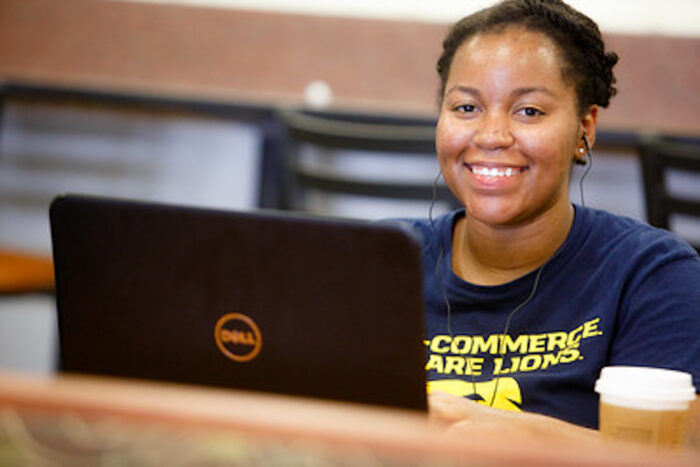 Before COVID-19 changed how we interact, new undergraduates would gather on the Texas A&M University-Commerce campus every summer to get acquainted with fellow Lions and explore their new college home. This summer, New Student Orientation moved to a virtual format for the first time.
Eight freshman and four transfer orientation sessions are scheduled throughout the summer, and each new student is required to attend one session. The purpose of New Student Orientation is to introduce incoming scholars to the people, programs and resources available to students at A&M-Commerce.
According to Kristen Neeley, director of New Student and Family Programs, "New Student Orientation is designed to ensure students have a successful transition into A&M-Commerce. Our institution also invites parents and family members to partner with us during this transition period. The orientation experience is structured to make students feel ready and engaged for this next step."
For the most part, the university is hosting the orientation sessions on Zoom, a company that provides video telephony and online chat services. During Zoom meetings, participants can see and communicate with others through their computers.
New Student Orientation officially begins with a welcome session, where university leaders and the Orientation Team (known as the O-Team) introduce themselves and welcome new students to A&M-Commerce.
Other orientation sessions include the Virtual Showcase, where students can access more than 67 virtual booths staffed with representatives from on-campus student organizations, academic departments and student support services. In addition, the Student Meet and Greet session offers a fun opportunity for new Lions to get acquainted with their classmates.
While students are getting to know their future classmates, parents and family members are invited to attend the virtual Parent and Family Panel where they can ask questions and learn about student support services available for their college students.
Senior public health major Taylor Ward, a three-year O-Team member, said the online version of New Student Orientation has been fun and effective.
"We are doing our best to get our new students pumped to come to Commerce, and I think it's working!" she said. "I am still able to help our students as if we were in person. It's exciting to be a part of something so different. Although we aren't face to face, we are doing our best to provide the best orientation experience we can offer."
Neeley confirmed that the virtual format has been a success. "The students and family members are engaged, asking several questions throughout the day," she said.
In addition to the mandatory one-day orientation, new students are invited to join more than 155 Department Spotlights, scheduled between June 1 and August 13. In these online sessions, students have the opportunity to gain more in-depth information about specific support services, academic departments and student organizations at A&M-Commerce.
For more information about New Student Orientation, visit the Orientation website or email [email protected].