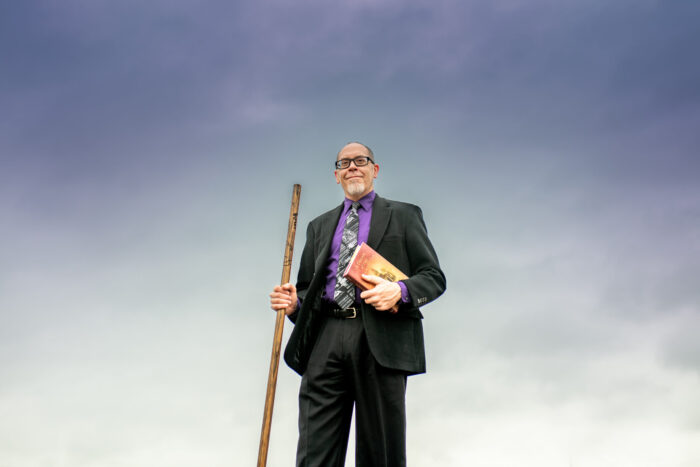 My exploration of history is driven by what I see as my responsibility to inform my students and the public at large about what went right and what went wrong in the past so that we can make better decisions in the future.
John Howard Smith, Ph.D.
Professor of History
History
Office
Ferguson Social Sciences 117
Dr. John Howard Smith cannot remember a time before he loved history. He shares a birthday with Thomas Jefferson and a name with the founder of Virginia; both of which made it clear that he was destined to become an early Americanist. His fascination with religion and religious culture provided a natural research focus.
Now at A&M-Commerce, Dr. Smith continues to pursue his passions as a professor and historian. In the classroom, he reveals the lessons of history to his students. As a historian and author, he has set out to thoroughly deconstruct the influence of religious apocalypticism on American politics and culture.
A Conversation with Dr. Smith
What has been your favorite course to teach?
Probably my favorite course to teach is the Salem Witch Trials because we delve deeper into primary source documents in the trial records than is possible in almost any other course. So much of what happened in eastern Massachusetts in the early 1690s is identical to what continues to happen in contemporary America. Plus, it's just a lot of fun to introduce students to the finer details about Puritan New England that leads to the dispelling of certain myths about the foundations of American society.
Tell us about a project you are working on or have completed.
I just published my latest book, A Dream of the Judgment Day: American Millennialism and Apocalypticism, 1620-1890 with Oxford University Press, and I've begun work on the follow-up, Some Revelation at Hand: American Millennialism and Apocalypticism, 1890-2020, which will complete my overview of popular belief in an end to the world in American history. It will highlight the degrees to which apocalypticism has permeated American culture and influenced our politics in particular.
What would you tell a student who is thinking about attending A&M-Commerce?
You're going to get the best education available in this region for a relatively low price, and you'll be taught by a faculty the vast majority of whom hold the highest-level degrees in their fields. There's a spirit of community here that you can't find at large universities, and the good faculty-to-student ratio means that you can get more individual attention.
Educational Background
Academic Positions
Professor of History, Texas A&M University-Commerce, 2016-present
Associate Professor of History, Texas A&M University-Commerce, 2009-2016
Assistant Professor of History, Texas A&M University-Commerce, 2003-2009
Ad-Interim Instructor of History, Texas A&M University-Commerce, 2002-2003
Adjunct Instructor of History, Guilford College, 2001-2002
Awards and Honors
Harry S. Wade Senior Faculty Award
Paul W. Barras Distinguished Faculty Award for Teaching
Research Interests
Early America
Early Modern Atlantic World
Religion in American History & Culture
American Indian History
Professional Organizations
Selected Publications
A Dream of the Judgment Day: American Millennialism and Apocalypticism, 1620-1890 (Oxford University Press, 2020)
The First Great Awakening: Redefining Religion in British America, 1725-1775 (Fairleigh Dickinson University Press, 2015)
The Perfect Rule of the Christian Religion: A History of Sandemanianism in the Eighteenth Century (SUNY Press, 2008)
Featured Courses
HIST 1301 The United States to 1877
HIST 342 Colonial North America
HIST 408 Plagues and Pandemics
HIST 535 Introduction to the History of Religion