125th Homecoming Celebration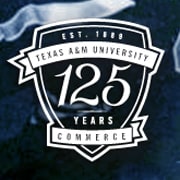 Texas A&M University-Commerce is celebrating 125 years of tradition at this year's homecoming on November 1. University faculty, staff and students as well as alumni and community members are invited to homecoming events beginning on Friday, October 31.
"Homecoming is one of the most festive and nostalgic times of the year, and this one will be especially significant as we celebrate the 125 year anniversary of the university," said Derryle G. Peace, director of the Alumni Association.
Homecoming festivities will begin on Oct. 31 with the annual Homecoming Golf Tournament at Webb Hill in Wolfe City, Texas followed by a women's volleyball game at 7 p.m. in the Field House. The night will finish with a homecoming bonfire and fireworks show starting at 9 p.m. behind Whitley Hall.
The annual homecoming parade will start at 10 a.m. on Saturday, Nov. 1 at the Alumni Center. Tailgating for the game will begin at 11 a.m. and last until the game time at 4 p.m. when the Lions take on McMurry at Memorial Stadium.
"We encourage everyone to come to campus to witness the growth, connect with old friends, and join us in celebrating a Rich History – Enriched Future – Lions Forever," said Peace.
For a complete schedule, visit https://www.tamuc.edu/homecoming.
Homecoming activities can also be followed on social media using #Lions4Ever125 on Facebook, Twitter and Instagram.
For questions, contact [email protected].