88.9 KETR Awarded Seven First Place Accolades from Texas Associated Press Broadcasters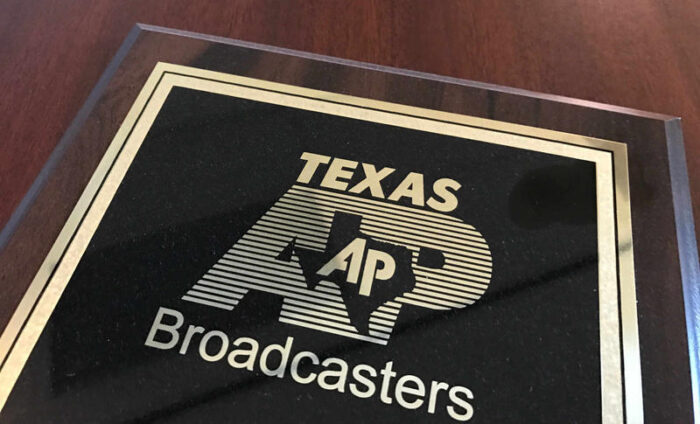 By Jerrod Knight, KETR.org
Each year, radio and television stations across the state of Texas submit their very best work for consideration by the Texas Associated Press Broadcasters. Generally in April, an awards ceremony is held in Austin and journalists, videographers, producers, and anchors flock to 6th Street to learn who's work topped each category. This year, concerns related to the coronavirus pandemic led to the cancellation of the ceremony planned for April 4. As a result, the winners have been announced in a release – and 88.9 KETR is among the top-awarded stations in its division.
The annual competition is conducted by the Texas Associated Press Broadcasters, which is an organization of journalists who work across the state of Texas for stations that subscribe to newswire content from the Associated Press. The process for determining winners in some 30 TV categories and 20 radio categories involves sending a few hours' worth of audio and video recordings off to other journalism and broadcast professionals from similar organizations in other states who judge submissions and deliver their determinations back to the TAPB Board of Directors.
Prior to this year's announcement, 88.9 KETR in Commerce had managed to collect at least 71 first place awards in various radio categories over the years, dating back to 1983, according to the plaques that hang in the halls of the station's studio facility in Commerce. There have certainly been more; over the years, the journalists and content creators who have worked at the rural northeast Texas station have occasionally been inclined to carry these testaments to their great work out the door with them on their way to their next opportunities. It is certain, though that 36 first place awards have been collected by KETR since December of 2008.
88.9 KETR's journalists, producers, and sportscasters were recognized for their work, placing in 8 of the 14 radio categories among Radio Division II stations, which are the many stations located outside of Texas' major metropolitan areas. (Division I includes stations in the DFW metroplex, Austin, Houston, and San Antonio.) A list of KETR's accomplishments follows:
General Assignment
First Place: Scott Morgan, KETR-FM, Commerce, "8 of 9 Rural Hospitals NE Texas Operate in the Red"
Digital
First Place: Mark Haslett and Jerrod Knight, KETR-FM, Commerce (for www.ketr.org)
Serious Feature
First Place: Jerrod Knight, KETR-FM, Commerce, "TAMUC's Answer to Food Insecurity Among College Students"
Online/Special Content
First Place: George Hale and Jerrod Knight, KETR-FM, Commerce, "Buried"
Second Place: Mark Haslett and Jerrod Knight, KETR-FM, Commerce, "Rockwall Group Helps Victims of Trafficking, Raises Awareness."
Documentary
First Place: George Hale and Jerrod Knight, KETR-FM, Commerce, "Buried."
Specialty/Beat Reporting
First Place: Scott Morgan, KETR-FM, Commerce, "Local Economy"
Sports Anchor/Anchor Team
First Place: Jerrod Knight and Ryan Fulkerson, KETR-FM, Commerce, "The Big Friday Night Scoreboard Program."
Sports Play-by-Play
Second Place: Kevin Jefferies and John Mark Dempsey, KETR-FM, Commerce, "Commerce Tigers vs Lone Oak Buffaloes."