AAMMPing Up the Involvement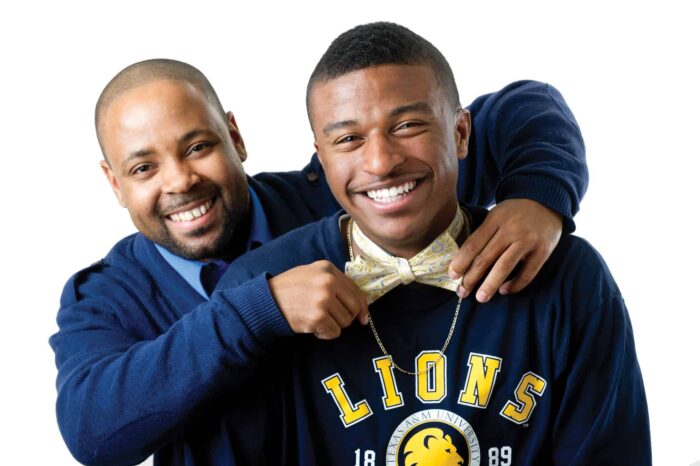 Zachary Shirley, Assistant Director of Fraternity and Sorority Life, is a stranger to no one. His outgoing personality and exuberance for his role at A&M-Commerce are truly infectious, and he has the perfect amount of energy for leading a successful mentoring program on campus—the African American Male Mentor Program (AAMMP). Shirley's educational background prepared him for his current role through a deep appreciation for mentorship. He earned his master's degree in higher education administration from A&M-Commerce, and he makes it a priority to give back to the university on a daily basis through his tireless work ethic and consistent interaction with AAMMP participants and students from across the university. The goal of AAMMP is to bring students from a variety of fraternities and sororities together to mentor new Lions who are in need of positive role models and want to experience collegiate growth. Ultimately, the plan for the program is to increase mentees' success and provide them with a rich, well-rounded university experience while strengthening their confidence, academic abilities, and self-esteem. AAMMP began in 2010 and was established under a grant from the Higher Education Coordinating Board—secured by Dr. Mary Hendrix, Vice President of Student Access and Success—and it was presented to Shirley as a top priority when he came onboard in the fall of 2011. From its inception, the program has utilized university Success Coaches, staff members, and old-fashioned observation on Shirley's part to identify potential mentees. In the program's early days it was difficult to identify both mentors and mentees as students were hesitant to let down their guard, often rendered motionless by pride or a sense of the unknown.
"It was like pulling teeth to get people to participate," Shirley said.
However, as AAMMP has grown semester-by-semester and gained popularity and a devoted following among A&M-Commerce students, it has expanded to a total of 56 total mentors and mentees for the spring of 2013 – by far its largest numbers to date. Antonio (T.J.) Davis is currently a member of the AAMMP program and Shirley's mentee for the spring 2013 semester. In his second semester, Davis has quickly shown himself to be devoted to the university experience. He is president of the Whitley Hall Association and has already participated in a national conference on the university's behalf; he spends the majority of his time embroiled in new priorities. "I don't even watch TV anymore. I'm always doing something, whether it's studying or working on a program," Davis said. Shirley first noticed Davis because he spent time in the leadership office to study and get away from the social areas of the Rayburn Student Center. As Davis's involvement in the university grew, he again came to Shirley's attention.
"When I was recruiting mentees for this semester I said, 'Find that T.J. boy.'" Shirley insisted, "I know he's going to do big things at Commerce."
While the original goal of AAMMP was mentoring African American male students, the program has diversified and expanded as the need has arisen. Spring 2013 is the first time mentees receive both male and female mentors to give them an expanded view of their college experience and a breadth of opinion they did not receive before. AAMMP participants make lasting relationships and enduring connections with their mentors that often remain strong throughout their tenure at A&M-Commerce. Likewise, they meet faculty and staff who continue to cultivate a mentorship relationship with them throughout their college careers. The AAMMP program and Zach Shirley have found a way to create bonds and connections across campus, across races and genders, educational backgrounds, and programs of study. They offer an experience to students to involve them deeply in the A&M-Commerce community, and those who are genuinely involved are far more likely to graduate and succeed. As a young program, AAMMP—like its students—has a bright future. Students are not the only ones who grow and gain fulfillment from the AAMMP program.
Shirley insisted, "This has been a life-changing experience. People often undervalue the importance of making connections, and that's what we do here."