Alex Shillow Named to 2021 Allstate AFCA Good Works Team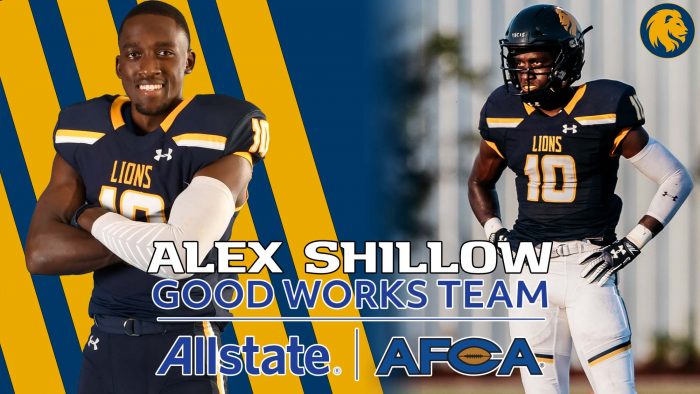 NORTHBROOK, Ill. – Texas A&M University-Commerce football standout Alex Shillow has been selected on the 2021 Allstate AFCA Good Works Team ®. He is one of the 11 student-athletes selected for the Combined Divisions (FCS, Division II, Division III and NAIA) team.

Shillow, a senior defensive back from Pflugerville, was selected from 42 student-athletes who were nominated by sports information directors around the nation earlier this year.  Since its inception in 1992, the award shines a spotlight on selfless student-athletes and honors their dedication to volunteerism, community service and their commitment to enriching the lives of others.

While players are often recognized for their accomplishments and achievements on game day, these student-athletes have made significant contributions to the greater good of society, inspiring future generations of young athletes and the larger college football community.
He is the fifth student-athlete from Lone Star Conference history, first since 2017, and first in Lion history to be named to the Allstate AFCA Good Works Team.

Shillow was also nominated for the award in 2019 and is named to the team this year. As an active participant in multiple leadership roles for the Lions' Student-Athlete Advisory Council, Shillow has led community service and fundraising efforts to raise awareness and funds for the Make A Wish Foundation. A&M-Commerce SAAC raised over $15,000 to grant two "Wish Kids" trips to Walt Disney World, as well as a trip to the NBA All-Star Game for the most recent "Wish Kid" at A&M-Commerce. Through fundraising initiatives and coordinated efforts, Shillow has also driven fundraisers and clothing donation collections to provide underprivileged families in the Commerce community with personalized gifts for Christmas.

Shillow was also a leader of the "Make It Important" Campaign in the summer of 2020, which involved a video and an action plan to bring awareness to the social injustices going on in the country in response to the George Floyd shooting. He led in getting his team fully registered to vote, along with other sport teams in the department, and initiated a conference-wide voter registration challenge. He sat on the university's voter coalition committee to help make voter registration and voting more accessible for A&M-Commerce students.

Shillow also led a virtual political open forum with two Texas state legislators – Sen. Royce West (D-Dallas) and former Rep. Dan Flynn (R-Canton) – in front of over 300 student-athletes and guests, moderating an insightful conversation and dialogue between Texas legislators and student-athletes. This initiative won 3rd place for the NCAA Division II Award of Excellence this past year.

Shillow is also a leader and a part of Athletes In Action – a student-athlete faith based organization.

Shillow has also served on the NCAA Division II National Student Athlete Advisory Committee from 2018-21, and was the national chair of the committee from 2019-21. He led discussion and change around the topics of mental health, professional development, name image and likeness, and many student-athlete well-being topics, all while being a student-athlete and involved heavily in the Commerce community.

In the classroom, he has been honored as a CoSIDA Academic All-America twice. He is the third student-athlete in Lion Athletics history to win multiple COSIDA Academic All-America recognition and first student-athlete in Lion Football history.

Following the 2019 season, Shillow was honored as a CoSIDA Second Team Academic All-America, the Lone Star Conference's Fred Jacoby Academic Athlete of the Year, and the Lone Star Conference Academic Player of the Year in football. He graduated summa cum laude with his bachelor's degree in sports management in August 2019 and his Masters of Business Administration in December 2020, and continues graduate work currently in preparation for his final season of eligibility.

Captain Voting Phase
Fans can cast their vote for this year's Allstate AFCA Good Works TeamÒ Captain. The complete Allstate AFCA Good Works TeamÒ Captain, including Shillow, is listed on ESPN.com/Allstate, where fans can go online and cast their vote for Team Captain up until Monday, November 22, 2021.

About the Allstate AFCA Good Works Team®
The Allstate AFCA Good Works Team was established in 1992 by the College Football Association, recognizing the extra efforts made by college football players and student support staff off the field. AFCA became the governing body of the award in 1997 and continues to honor college football players who go the extra mile for those in need. Allstate worked to present the award starting with the 2008 season.

This year, Allstate is pledging $1 million to honor the Allstate AFCA Good Works Team, as well as their non-profits of choice, for their remarkable commitment to community service. Made possible by new NCAA Name Image Likeness (NIL) rules, Allstate has an opportunity to financially empower athletes who serve their communities, opening the door to new possibilities for players and beyond.

This is the largest NIL investment yet for community impact by a college football sponsor—and insurer. Unlike other recent NIL announcements, Allstate is financially empowering players in recognition for their work in local communities, not just their performance on the field. Community leadership aligns with Allstate's values and is part of its longstanding commitment to creating positive societal change.

"We dedicate resources to financially empower people," said Terrance Williams, Good Works Team selection committee member and Executive Vice President and General Manager, Allstate Agency Distribution. "This historic decision allowing college athletes to be compensated for the use of their Name, Image and Likeness means Allstate can foster equity for these athletes who are community leaders."

"Throughout the 30 years of the Good Works Team, we have honored individuals who create lasting impact in their communities and at school," said AFCA Executive Director Todd Berry. "We have the perfect roster of outstanding individuals that continue that legacy for 2021 and beyond."

About the AFCA
The AFCA was founded in 1922 and currently has more than 11,000 members around the world ranging from the high school level to the professional ranks. According to its constitution, the AFCA was formed, in part, to "maintain the highest possible standards in football and in the coaching profession" and to "provide a forum for the discussion and study of all matters pertaining to football."

Football Bowl Subdivision (FBS)
| | |
| --- | --- |
| Darien Rencher | Clemson University |
| Camren McDonald | Florida State University |
| Harry Miller | Ohio State University |
| Mac Brown | Ole Miss |
| Sean Clifford | Penn State University |
| Nakobe Dean | University of Georgia |
| Kenneth Horsey | University of Kentucky |
| Cal Adomitis | University of Pittsburgh |
| Mo Hasan | University of Southern California |
| Race Porter | University of Washington |
| Elijah McAllister | Vanderbilt University |
Football Championship Subdivision, Divisions II, III, and NAIA
| | |
| --- | --- |
| Austin Phillips | Ashland University |
| Jaran Roste | Bethel University (Minn.) |
| Chibuike Odo | Davidson College |
| Deven Osborne | Dixie State University |
| Alnazir Blackman | Farleigh Dickinson University-Florham |
| Philip Green | Minot State University |
| Jessie Malit | North Carolina Central University |
| Alex Shillow | A&M-COMMERCE |
| Hunter Rodrigues | UC Davis |
| DeValon Whitcomb | University of South Dakota |
| Julius Wilkerson | Wayne State University |
Honorary Head Coach
| | |
| --- | --- |
| Matt Wells | Texas Tech University |