A&M-Commerce Celebrates Fall 2018 Commencement December 14 and 15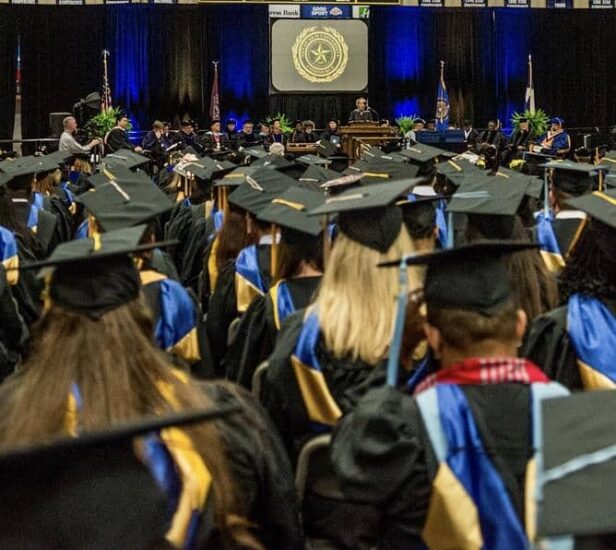 Texas A&M University-Commerce will hold its Fall 2018 Commencement on December 14 and 15, the largest in the last six years, where 1,378 students are eligible for graduate and undergraduate degrees. Among these candidates, 268 will graduate with honors including 94 cum laude, 98 magna cum laude and 76 summa cum laude.
Fall 2018 Commencement Dates and Times:
December 14 at 4 p.m. – Master's and Doctoral Students
December 15 at 8:30 a.m. – College of Business and College of Humanities, Social Sciences & Arts
December 15 at 11:30 a.m. – College of Science & Engineering and College of Agricultural Sciences & Natural Resources
December 15 at 2:30 p.m. – College of Education & Human Services
All ceremonies will be held in the University Field House at 1804 Lee Street, Commerce, Texas. Doors will open one hour prior to the start of each ceremony. The Pride Room on the second floor of the Rayburn Student Center will be available to accommodate any overflow.
Two distinguished graduates of East Texas State University, now A&M-Commerce, will speak at the commencement ceremonies:
Rita Garcia Ransdell received her Bachelor of Arts in Spanish in 1975 and a commission in the U.S. Air Force. She is currently a licensed attorney and vice president of human resources for Center Operating Company at the American Airlines Center. Ransdell will speak on December 14 and 15.
D.W. "Dan" Bobst graduated in 1990 with a degree in marketing and was a student-athlete on the men's basketball team. Bobst is founder and owner of TrendHR in Rockwall, Texas. He will speak on December 15.
An alumni reception for graduates and their families will be held immediately following each ceremony across the street from the Field House at the edge of the parking lot. Light refreshments will be served.
Fall 2018 Graduate Profiles
Evan Luecke will receive his bachelor's degree with a concentration in journalism. Evan said his experience at A&M-Commerce has been both positive and challenging. "I am very proud of my successes as a student-athlete on the track and field team and as a campus photographer. I am especially proud to have done all these things and still kept my grades up." He will start his career in January at Southern Utah University as a marketing and promotions assistant in the Athletic Department.
Rebecca Tuerk, director of Student Disability Resources and Services at A&M-Commerce, will receive her doctorate this fall. "Receiving this degree completes a personal goal I set for myself several years ago," Tuerk said. "Professionally, my hope is that this degree will allow me to have an even greater positive impact on student lives and A&M-Commerce."
More details and information can be found on the Registrar's Office website.