A&M-Commerce College of Business Receives Prestigious Recognition with IMA Endorsement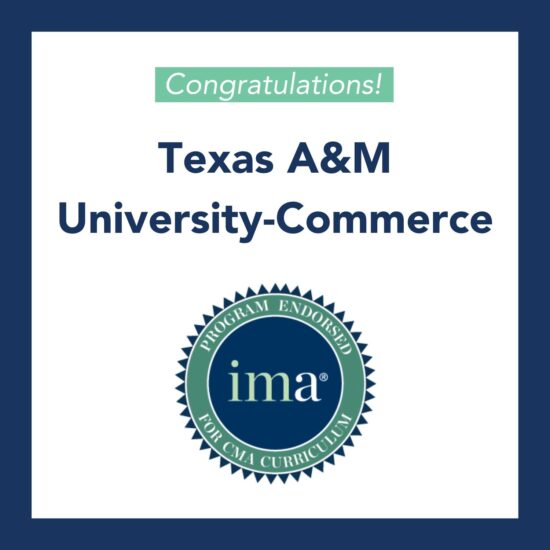 Texas A&M University-Commerce's Department of Accounting and Finance received prestigious recognition after its course offerings were endorsed by the Institute of Management Accountants (IMA) as an IMA endorsed program.
The IMA is an international association of management accountants and financial professionals established in 1919. IMA is present in 150 countries across the globe.
The endorsement comes through the institute's Certified Management Accountant (CMA) program, which means that the organization has recognized that the course offerings in A&M-Commerce's accounting and finance program adequately prepares students to take the CMA certification exam.
IMA's globally-recognized CMA program is a relevant assessment of advanced accounting and financial management knowledge in areas such as financial planning, analysis, control and decision support – each of which is increasingly critical in meeting the changing needs of business, and therefore, essential knowledge for students of accounting and finance.
To qualify for IMA endorsement, programs must substantially cover the CMA exam content have adequate faculty resources to deliver this content be accredited by a recognized accreditation organization and have a faculty member designated as an IMA Campus Advocate.
A&M-Commerce is one of only four universities in Texas to receive this endorsement, and one of only 55 nationwide.

Dr. Caroline Hartmann, associate professor of accounting, and Dr. Robert Rankin, assistant professor of accounting, helped spearhead the project to attain recognition from IMA. They also received assistance from A&M-Commerce faculty members Dr. Ran Lin, Vicki Stewart, Dr. Guclu Atinc, Dr. Alex Williams, Dr. Gerald Burch, Joe Brodnax, Dr. Sri Nippani and Scott Wheeler.

Hartmann stated that receiving such an endorsement from a world leader in the industry is a tremendous accomplishment.
"This certifies that TAMUC ha a rigorous and robust program that will give students the academic preparation and skills they need to succeed at the CMA exam and become CMAs," Hartmann said. "For our industry partners, it demonstrates that our students will graduate with the critical thinking and analytical skills they are seeking."

This endorsement not only benefits the 700+ students in the Department of Accounting and Finance, but business majors in other disciplines as well, as a student doesn't need to major in accounting or finance to take the CMA exam.
An additional is the increase in pay that normally comes to those receiving CMA certification. According to research by IMA, worldwide, those with CMA certification average 60% more in annual earnings than those in the same positions without one.
Rankin stated, "The IMA endorsement sets A&M-Commerce apart from our peer institutions demonstrating that we are a cut above." He added, "We are in the process of establishing an IMA student chapter."
To learn more about IMA, visit imanet.org