A&M-Commerce Department of Political Science Hosts Model Arab League Conference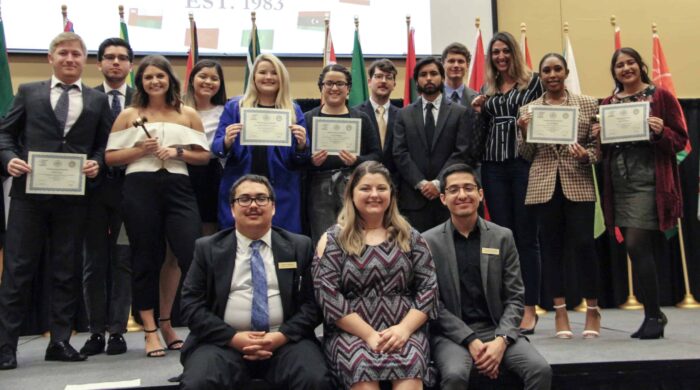 The A&M-Commerce Department of Political Science and Pi Sigma Alpha, the National Political Science Honor Society, hosted and participated in the Southwest Regional Model Arab League (MAL) Conference April 4-6.
MAL is an international organization simulation that gives students the opportunity to confront real-world issues and develop solutions to ongoing problems. In addition to students from A&M-Commerce, 10 other colleges and universities took part with more than 90 students participating.
The General Secretary of the model was Brianna Stone, assisted by Brian Stephens and Giovanni Pimentel—all political science majors at A&M-Commerce. The students organize all aspects of the conference from scheduling meeting space to planning the menus.
"Faculty advisors from every college or university that attended praised the secretariat for the work it did in putting the conference together since it was so well organized and run—in addition to the way that those students reacted to unforeseen difficulties that arose in the context of the conference," said Dr. Jeffrey Herndon, head of the Department of Political Science.
The team from A&M-Commerce was named Distinguished Delegation as voted by the participants in the simulation, while the team from Baylor University took top honors as Outstanding Delegation.
A&M-Commerce student and political science major Alee Corrales was named Outstanding Chair by the faculty advisors who attended the conference, and Ashley Ramirez, also a political science major at A&M-Commerce, received recognition as Distinguished Chair.
In all six councils that comprise the simulation, A&M-Commerce students were recognized—the only university to win awards in every council. Luke Carnine and Christian Alemain were named as Outstanding Delegate, while Patrick Beaver, Destiny Hibbler, Valeria Rangel and Robert Tipps received Distinguished Delegate awards.
"I am so proud of these students for the work that they have done," Herndon said.
Attendees unanimously selected A&M-Commerce to host next year's conference to be held April 2-4, 2020.