A&M-Commerce Faculty, Staff and Alumni Recognized by Texas Association of Black Personnel in Higher Education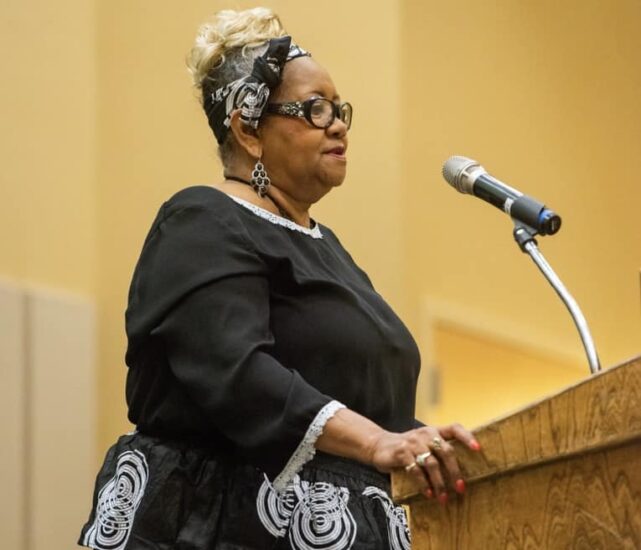 The Texas Association of Black Personnel in Higher Education (TABPHE) honored 22 faculty, staff and alumni for outstanding contributions to A&M-Commerce in a ceremony on February 16. The ceremony was held on campus and included awards in several categories.
The ceremony opened with a scripture and prayer from Pastor Kris Myers of First Baptist Church of Commerce and was followed by a welcome from Dr. Julia Ballenger, professor of educational leadership and TABPHE chapter president. Dr. Mark Rudin, president of A&M-Commerce, also provided opening greetings.
Recipients of service awards included Dr. Willie Edwards, Dr. Brent Donham, John Weatherford and Dr. Chuck Arize. Awards for teaching were given to Dr. Julia Ballenger, Dr. Derald Harp, Dr. Allan Headley, Dr. Mildred Pryor, Dr. David Brown, Dr. Doug LaVergne, Dr. Kriss Kemp-Graham and Dr. Nate Templeton.
"Part of the A&M Commerce tradition is being student-centric," Templeton, assistant professor of educational leadership, said. "As I continue to hone my craft in search of ways to increase student engagement, it means so much to me that my efforts to better serve our students [have] been recognized."
Leadership awards were presented to Linda King, Dr. Ricky Dobbs, Dr. Elvira White-Lewis and Dr. LaVelle Hendricks. Awards were also given to Dr. Alex Williams, Harry Turner, Dr. Joyce Miller, Dr. Madeline Justice and Dr. John Humphreys for areas including research, academic excellence and integrity in education. The Mark J. Rudin Excellence in Diversity and Inclusion Award was introduced as a new category this year. Rudin was the recipient of the inaugural award named in his honor.
Winners were presented with a $500 check during the ceremony. Recipients expressed gratitude for TABPHE's recognition. Ballenger said, "It was great to be recognized. My persistence and hard work finally paid off." LaVergne, interim assistant dean and assistant professor of agricultural education, said, "Anytime you are recognized by your peers, it's a rewarding feeling."