A&M-Commerce Hosts 2018 Annual Research Symposium
A&M-Commerce hosted its annual symposium in the Rayburn Student Center on April 3, from 8:00 a.m. to 8:00 p.m. The symposium combined the university's three research events, the Annual Research Symposium, the Graduate Research Symposium, and the Lion's Innovation Showcase, into one robust, unified event for the first time.
"In an effort to build synergy among several events and initiatives centered on student research, we have worked as a committee in creating the Annual Research Symposium," said Dr. Shonda Gibson, Associate Provost for Institutional Effectiveness & Research.
Students and faculty representing each of the university's colleges presented research through oral and poster presentations. Prizes awarded included the opportunity to win a lunch with President Keck or university provost Dr. Humphreys. The event also allowed faculty and students to network.
Participants were able to use the 2018 A&M-Commerce Annual Research Symposium guide app created through Guidebook. With this app, attendees could view the day's schedule, create their own schedule, set session reminders, chat with friends, post pictures, and more.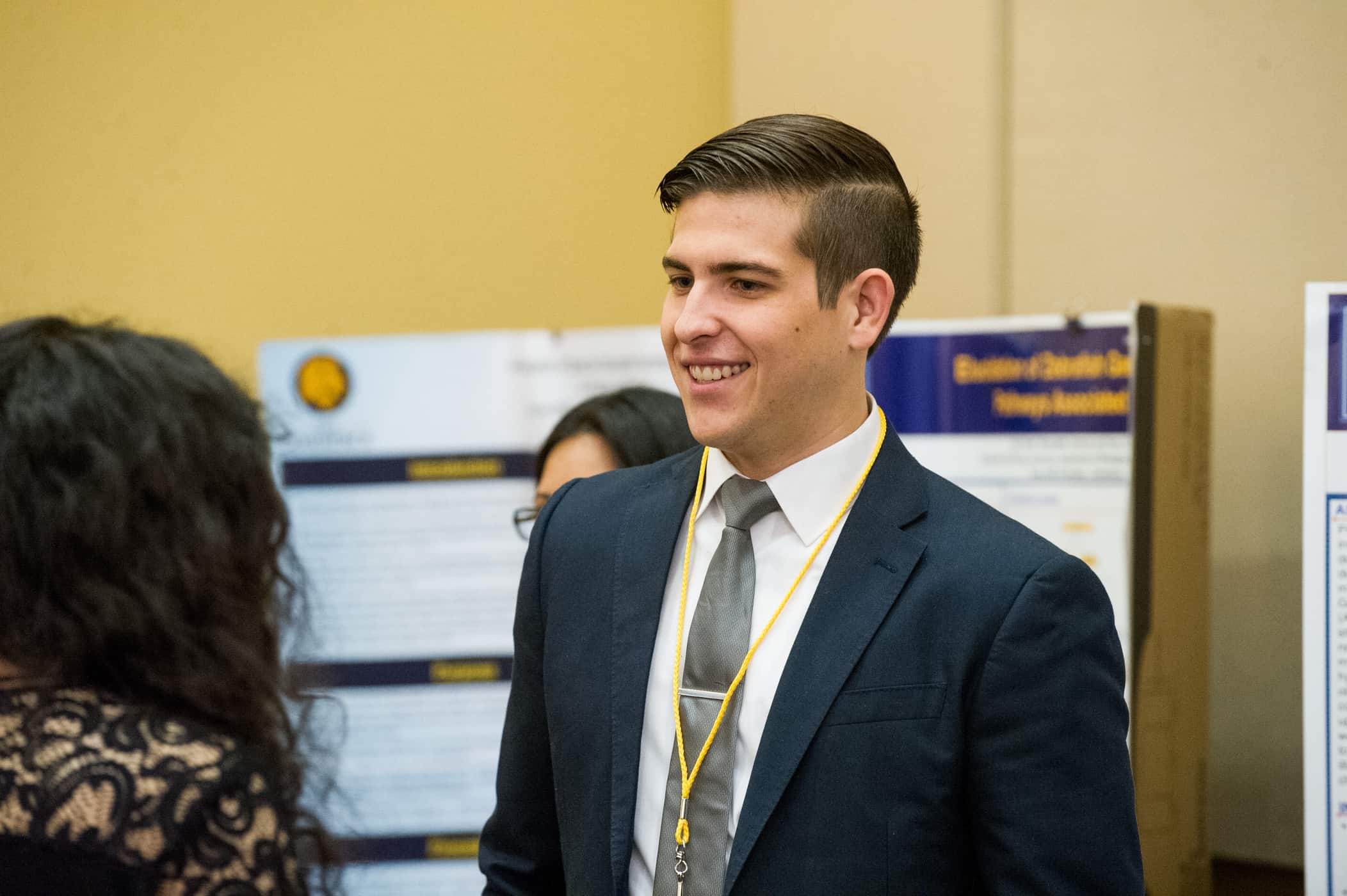 Check out more photos from the event on our Facebook page.
The day concluded with dinner and an awards reception to recognize outstanding student work. Read the full list of winners.
First Place Winners:
Agricultural Sciences and Natural Resources
Undergraduate: Noor Faisal, "Elucidation of Zebrafish Gene Networks and Pathways Associated with PTSD"
Graduate: Chelsea Arnold, "Starting Freshman with a Signature Course in Food"
Business
Undergraduate: Tyler Raine, "Cross-Product Hedging for Farm Service Companies"
Graduate: Moyosore Odebiyi, "Social Network Optimization: Strategies to Increase ROI in Higher Education"
Education and Human Services
Undergraduate: Macy Garner, "Motivations and Barriers of College-Aged Women Using Weight Training as a Mode of Exercise in Their Current Exercise Regimen: A Qualitative Analysis"
Graduate: Crystal Brashear, "Treating Comorbid PTSD and Substance Use Disorder: A Systematic Literature Review"
Humanities, Social Sciences, and Arts
Undergraduate: Morgan Manning, "An Argument for Reproductive Dystopian Literature: Analyzing Eugenics in the Context of the Emerging Genre"
Graduate: Hilal Ergul, "Humor as a Mitigating Strategy in Error Treatment Sequences in EFL Classrooms"
Science and Engineering
Undergraduate: Emma Neuweiler, "Development and Assessment of Interactive Learning Supplement Tools for Engineering Mechanics"
Graduate: Jedidiah Koomson, "Mathematical Derivation of Fluorescence Recovery After Photobleaching Models," & Kalynn Hudman, "Effects of Red Imported Fire Ants on the Green-Flowered Milkweed Arthropod Community Occupied by Monarch Butterfly Eggs and Larvae" (tie)
Other
Business Plan: Gabriella Stout, "Gabby's Bake Shop"
Lightning Round: Michael Pimentel-Galvan, "Synthesis of bio-oil via the hydrothermal liquefaction of sludge from waste water treatment plants"
Overall Winner: Morgan Manning