A&M-Commerce Institute for Competency-Based Education Receives $15,000 Scholarship Donation from the American Institutes for Research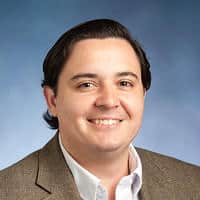 The American Institutes for Research has awarded the A&M-Commerce Institute for Competency-Based Education (ICBE) a $15,000 scholarship donation for research completed by Carlos Rivers, operations research analyst for ICBE. Rivers worked with the American Institutes for Research on a project titled "Evaluating Competency-Based Education in Postsecondary Settings and Building Institutional Capacity for Conducting Rigorous Research."
ICBE has pledged the entire $15,000 donation to scholarships for adult learners who enroll in the competency-based Bachelor of Applied Arts and Sciences in Organizational Leadership degree offered at A&M-Commerce.
"The donation serves to offer the opportunity for organizational leadership students to finish their path towards an affordable baccalaureate degree without additional financial burden," Rivers said.
The research project, supported both by the Lumina Foundation and the Bill and Melinda Gates Foundation, was designed to evaluate student outcomes in competency-based education programs. The American Institutes for Research selected a total of nine leading competency-based institutions, including A&M-Commerce, to form part of this work. The completion of the project was made possible through the collaboration of several departments at A&M-Commerce including Financial Aid, Financial Services and Institutional Research.
Rivers stated that even though competency-based education is growing in popularity, it lacks a strong research foundation. "A&M-Commerce and the ICBE is in a unique position to work with partners such as the American Institutes for Research to participate in research activities that address unanswered questions and ultimately to inform the actions taken by policymakers, practitioners and students."
"Carlos Rivers' research brings great credit upon himself, A&M-Commerce and the state of Texas," said James Fountain, executive director of ICBE.