A&M-Commerce Professor Conducts Small Robotic Aircraft Workshop for Dallas ISD Teachers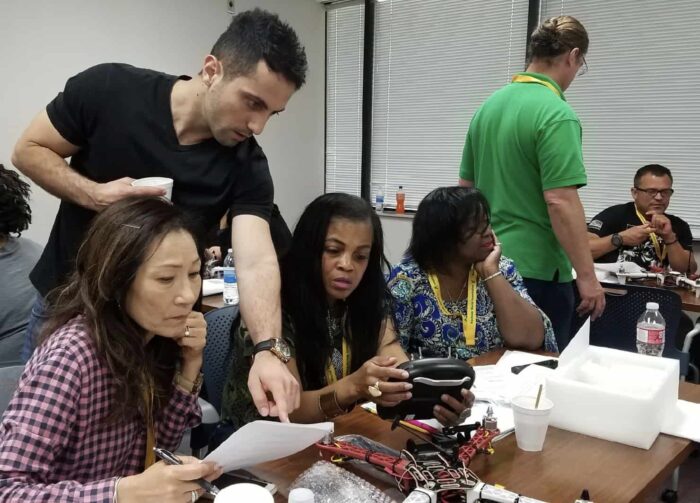 Middle and high school teachers from around the Dallas Independent School District learned about the design, fabrication, customization and operation of small robotic aircraft during the Teachers Take Flight workshop. Guest speakers from multiple industries, including Dr. Burchan Aydin, assistant professor of engineering and technology at A&M-Commerce, were invited to help give teachers a first-hand perspective of the real-world use of unmanned aerial systems.
Aydin said he was interested in helping conduct the workshop because, "Technologies are emerging through an integration of computer science and engineering disciplines. An emerging and disruptive technology – Unmanned Air Vehicles (UAVs), or so-called drones – have unique sensing capability, on-board processing, long endurance and global communications that enable a wide range of humanitarian and commercial missions."
The key purpose of the workshop was to help teachers promote science, technology, engineering and math (STEM) interest among their students. About 30 teachers completed the workshop and received a "DaVinci Challenge: Build a Drone Education" certificate endorsed by Kashmir World Foundation, a partner in the workshop, and became DaVinci Scholars with access to a large and growing community of drone design and coding experts collaborating on challenging applications.
"I strongly believe that it is currently vital for our country's economic development and national defense to foster interest among our teachers and students in autonomous aircraft technologies and systems," Aydin said. "Moreover, I believe that it is very important to promote critical thinking skills and a hands-on learning environment for our students to increase nationwide interest in STEM disciplines."
Aydin recalled how the teachers reacted to the workshop: "The last day was a flight day where they fly the drones they just built. Seeing the drones that they built from scratch flying in manual and autonomous modes made them very excited." He stated that the teachers requested additional help from the workshop presenters to transfer the knowledge gained from this workshop to their own students.
Kashmir World Foundation through its academy has created a network of academics and professionals engaged in collaborative and hands-on educational programs to solve real world challenges using robotic systems and artificial intelligence through the power of open source hardware and software tools. Innovative projects are embracing drones as companions that are vital to solving local and global catastrophes.