A&M-Commerce Professor Speaks at Organization of American Historians Annual Meeting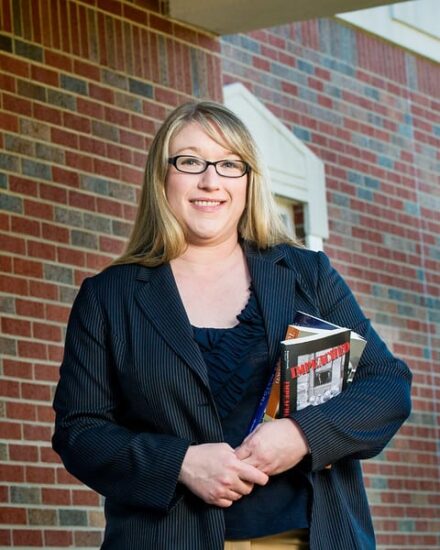 Dr. Jessica Brannon-Wranosky, A&M-Commerce distinguished professor of digital humanities and history, was recently invited to speak on the 2019 Organization of American Historians Woman Suffrage Centennial Commemoration Panel. The meeting was held in Philadelphia April 4-7. According to its website, "Founded in 1907, the Organization of American Historians (OAH) is the largest professional society dedicated to the teaching and study of American history. The mission of the organization is to promote excellence in the scholarship, teaching and presentation of American history, and to encourage wide discussion of historical questions and the equitable treatment of all practitioners of history."
Wranosky's presentation stemmed from her paper titled "Does the Suffrage Movement Deserve an Obituary?: Rethinking the Placement of Suffrage in Historical Narratives at the Centennial of the Nineteenth Amendment."
Wranosky's areas of specialization are women, gender and sexuality with a large portion of her work throughout the past 15 years focused on woman suffrage, specifically highlighting how Texas connected the South, the U.S. and national suffrage. Her expertise provided powerful insight into the suffrage-centered event.
"We're coming up on the centennial for the ratification of the 19th amendment which, technically, removed sex as a qualifier for voting. No longer could people say only men could vote," Wranosky explained.
Wranosky noted that society often mistakes the outcome of the ratification of the 19th amendment, suggesting the battle was won and the story stops there.
"The purpose of the panel was to conceptualize how we as historians need to help the media and the public deal with the centennial," she said. "My talk, specifically, focused on the fact that not all women gained the right to vote in 1920 – that is a very important message. The fight was not over. There were plenty of restrictive laws that kept people from voting and this milestone was only the beginning of a series of other battles to remove restrictions."
Dr. Bernadette Pruitt, associate professor of history at Sam Houston State University, organized the panel for the Organization of American Historians meeting. Wranosky was the only suffrage-focused historian on the panel for the 100th anniversary, and she used the exceptional opportunity to shed light on aspects that are not as widely discussed in society.
"Her session was engaging, exciting and passionate," Pruitt said. "She presented before a full house, which speaks to the interest in the approaching centennial. Among the three presentations, Dr. Wranosky chose to focus on the black-white dichotomy, which is very fitting when we look at where we are politically today."
The centennial of the ratification of the 19th Amendment by the State of Texas will be recognized this June, with the centennial of it passing into law occurring in August 2020.
"We as a society need to be addressing suffrage in ways that aren't simply two-dimensional, for example by not only highlighting white women who marched along. It was a much more complicated story," Wranosky said. "That story deserves to be told in its entirety."