A&M-Commerce to Host Inaugural Southern Gospel Brunch Event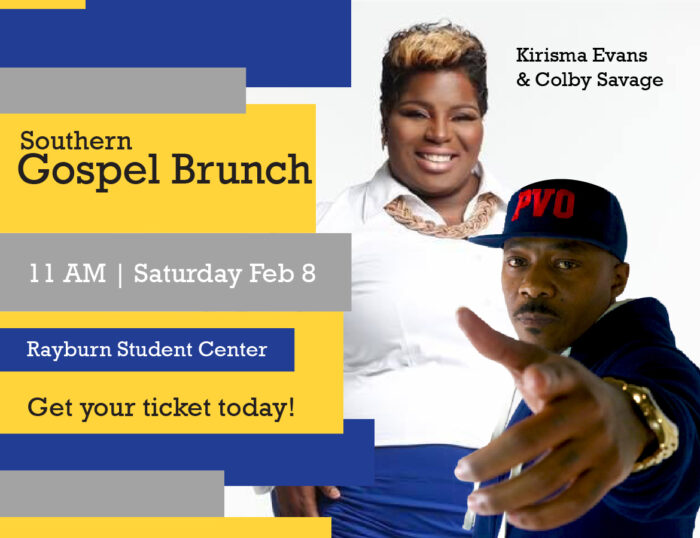 UPDATE: EVENT CANCELLED
The inaugural "Southern Gospel Brunch: Celebrating African-American Heritage" event is set for February 8 at the Sam Rayburn Student Center on the campus of Texas A&M University-Commerce.
The event is being organized by the Office of Intercultural Engagement and Leadership at A&M-Commerce, as well as university Alumni Center, Sodexo and the Eta Zeta chapter of the Phi Beta Sigma fraternity.
The festivities will include a brunch buffet in the Mane Café featuring creole shrimp and grits, fried chicken and waffles, collard greens and more.
The event will also feature an African-American inventor's exhibit on the second floor of the student center, which is slated to include documents, photographs and hands-on replicas of inventions made by African-American innovators from the 1800s to the 2000s. Featured inventors include Nathan Nearest Green, Madam C.J. Walker and Dr. Patricia E. Bath.
Following brunch, the winner of the "I Have a Dream" essay contest will read their entry. The contest is a partnership between Sodexo and A.C. Williams Elementary School in Commerce. Third through fifth graders were tasked with writing an essay about their aspirations, and the winner and their class are invited to the brunch.
The event will conclude with the Gospel Explosion, featuring guest performances by Lady Kirisma Evans of KEM Ministries, Colby Savage with Positive Vibes Only, the Uniquely Blended Praise Dance Ensemble and the Evidence of Grace Gospel Choir.
Several dignitaries will also speak at the event, including Sydnie Long, constituent outreach liaison for Senator Ted Cruz; Robert High, president of the Paris NAACP; Wyman Williams, mayor of Commerce; and Dr. Mark Rudin, president of A&M-Commerce.
Admission is free for A&M-Commerce students, faculty and staff who have an active meal plan at the university, and $9 for all others. The public is encouraged to attend the celebration.
The Southern Gospel Brunch will be held February 8, beginning at 11 a.m.
For more information and to purchase tickets, visit https://calendar.tamuc.edu/southerngospelbrunch.