A&M-Commerce Undergrads Make Masterful Showing at Annual Sports Management Case Study Competition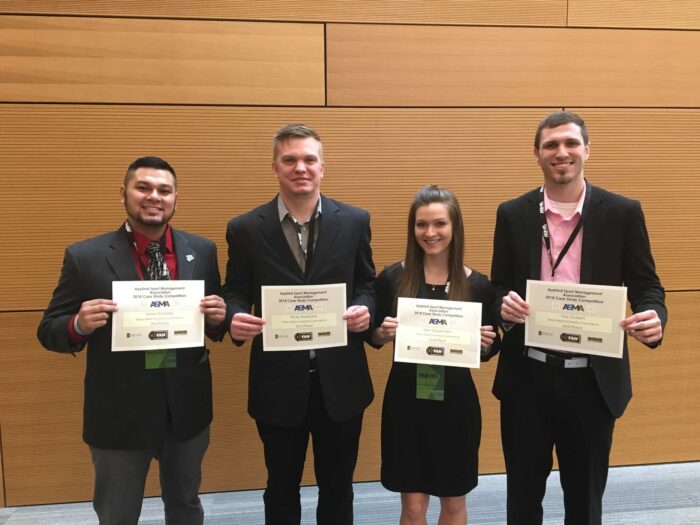 Undergraduate students from Texas A&M University-Commerce's Department of Health & Human Performance and College of Education and Human Services placed second at the 2018 Applied Sport Management Association (ASMA) conference case study competition.  They were the only undergraduate team competing against Division I opponents at the conference held at Baylor University in Waco on February 15-17.
The four students — Tyler Oppenheim, Ricky Hoelscher, Kevin Gonzales and Trey Grubert— currently in the Sport & Recreation Management program, made up one of eight teams. They developed a proposal to plan and execute a "College Football Playoff Fan Central" experience, described as a multi-day fan festival for thousands that would take place in one of nine cities. As part of the proposal, the team developed sponsorship activation strategies, staffing and budgetary plans, and safety and security plans.
The A&M-Commerce team finished behind a group of graduate students from the University of Texas.
A&M-Commerce students also took part in poster presentations of their own research, with presentations entitled "The Role of Pre-Internship Classes in Sport & Recreation Management" and "Cheating and Moral Reasoning in Youth Soccer." These were among 30 oral presentations at the conference.
SRM Undergraduate Program Coordinator Dr. Clay Bolton, International Sports Management Concentration Graduate Coordinator Dr. Samantha Roberts, and HHP Department Head Dr. Tara Tietjen-Smith were there to cheer the students on.
"We knew that LSU won last year, and that we would be up against some stiff competition, especially as an undergraduate team," said Dr. Tietjen-Smith. "I am so proud of these students and their mentors for their knowledge, poise, and competitive spirit!"
The Applied Sport Management Association (ASMA) aims to build strong connections between scholars studying sport and practitioners working in the sport industry. Along with the annual conference, they also publish the Journal of Applied Sport Management.