Article Remembers TAMUC Bois d' Arc Professor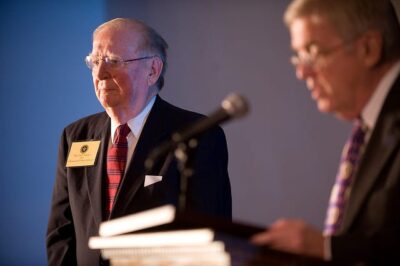 A recent article in the Texarkana Gazette recalled the late A&M-Commerce professor Fred Tarpley, whose interest in the "magical" Bois d' Arc tree helped start the annual Bois d' Arc Bash in the city of Commerce.
Tarpley was the author of numerous books, including "Wood Eternal," which provides an in-depth exploration of the Bois d' Arc tree and it's green fruit. According to the book's description on Amazon, "This book identifies famous Osage orange trees, festivals that celebrate the tree, and famous folk linked to the trees. It answers 10,000 questions about Osage orange."
Tarpley passed away in 2014. He was Professor Emeritus at East Texas State University (now A&M-Commerce) where he taught English.