Brookshire's Signs on as "Official Grocery Partner of A&M-Commerce Athletics" in Multiyear Agreement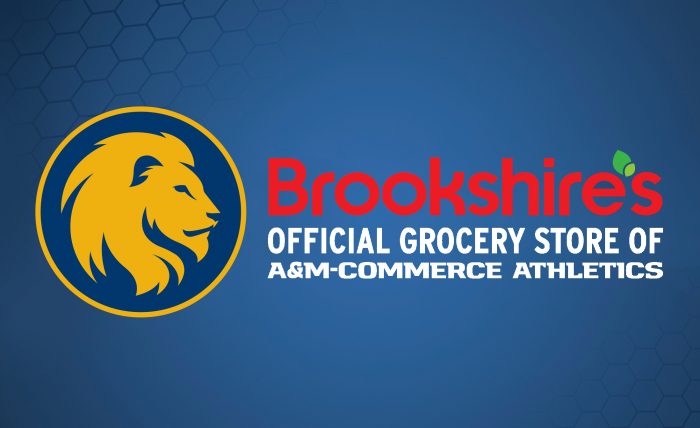 COMMERCE – Texas A&M University-Commerce and Brookshire Grocery Co. have entered a multiyear agreement designating Brookshire's as the Official Grocery Partner of A&M-Commerce Athletics.

The agreement is the second-largest overall corporate partnership in Lion Athletics history, expanding on an already strong relationship between the Lions and Brookshire's.

"We are so pleased to expand our partnership with Brookshire's," A&M-Commerce President Dr. Mark Rudin said. "Not only are they key scholarship partners to our institution, but they now support our student-athletes and coaches in expanded and innovative ways. It always pleases me to see our students in the local Commerce store when shopping there, and we are so grateful to Brad Brookshire and his entire team for their support."

The expanded partnership includes activations such as the Brookshire's Tailgaters of the Game, the Brookshire's Red Zone, and prominent placement of Brookshire's signage throughout Lion Athletic facilities. Brookshire's is also the presenting sponsor of Saturday's Homecoming football game.

"Our partnership with Brookshire's epitomizes our Best in Class mission," A&M-Commerce director of athletics Tim McMurray said. "As we engaged in strategic discussions about linking our brands in new and unique ways, it has been an absolute pleasure to work with Brad and the Brookshire's team to maximize the partnership and give Brookshire's a year-round presence with Lion Athletics. Whether tailgate supplies, weekend barbecues, or weekly grocery trips, it is extremely gratifying to walk in our Official Grocery Partner and see our logos aligned. This partnership has a very high ceiling."

As a long-time supporter of A&M-Commerce and its involvement in the Commerce community, Brookshire's will offer discounts to TAMUC students, faculty, and staff, and also provide local charities opportunities to attend Lion Athletics through the Brookshire's Community Ticket program.

"We are incredibly excited to partner with the Texas A&M University-Commerce to be the Official Grocery Partner of A&M Commerce Athletics," said Brad Brookshire, Charmain and CEO of Brookshire Grocery Co. "As it has been for more than 93 years, our goal is to serve the customers with the very best grocery stores and employee-partner teams while also furthering our commitment and involvement in the community. We look forward to a long and meaningful partnership with TAMUC."

About Brookshire Grocery Co.
Brookshire Grocery Co. was founded on Sept. 1, 1928, when Wood T. Brookshire opened the Company's first store in downtown Tyler, Texas. Throughout its over 93-year history, BGC has remained deeply committed to serving its customers and communities.

BGC is a family business based in Tyler, Texas, and currently operates more than 185 stores in three states – Texas, Louisiana and Arkansas – with three distribution centers and a corporate office. Customers who enter BGC stores can expect to find a great variety of quality fresh products and friendly employee-partners who embody BGC's core values and are happy to help. Brookshire Grocery Co. has been family-owned since its founding, with members of the third- and fourth-generation leading the company.