Building Better Futures: Connecting Students with Businesses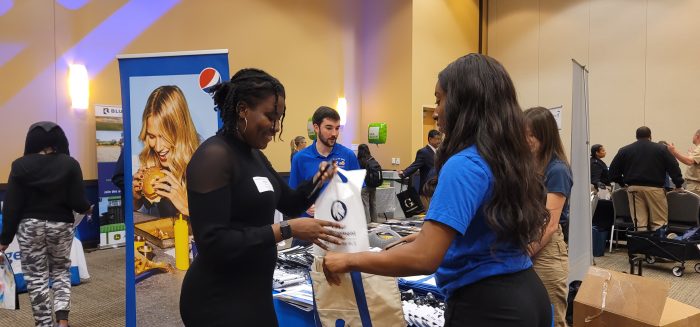 The Department of Career Development and the College of Business at A&M-Commerce partnered to host the "COB Career Day" on November 10, 2022, at the Rayburn Student Center.
The day consisted of a Datathon Competition sponsored by Infosys, a luncheon with awards, and a career fair. Hundreds of undergraduate and graduate students had the opportunity to meet with executives and recruiters from approximately 30 businesses from the DFW metroplex and the Northeast Texas region.
The annual event was organized to empower students to build their relationships and expand their network for potential jobs whilst further strengthening the relationships between A&M-Commerce and its community.
"Supporting career development and the growth of our students ensures a better future not only for them but for our community as well," said Lacey Henderson, director of Career Development. "Our department and the College of Business always strive to host such events every semester to provide students with avenues that offer opportunities to impact their lives and their success."
The College of Business and the Department of Career Development have already hosted a virtual career fair this year in addition to several networking events. The events were aimed at providing students the opportunity to interact with potential employers and make business connections while discussing potential jobs and internships.
Such events are at the core of the mission of the College of Business, which is to inspire transformational learning, create applied knowledge, and forge impactful connections.