Business Analytics Program Receives Scholarship For Fourth Year in a Row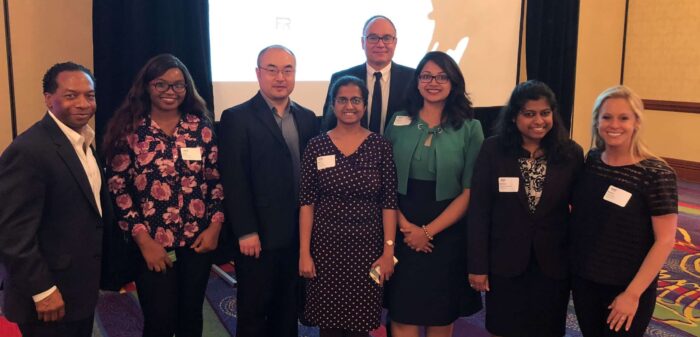 A&M-Commerce's Business Analytics program has received $2,000 in scholarship funds from ISACA's North Texas Chapter, in recognition of student achievement and data analytics education excellence at the university.
The ISACA North Texas Chapter's academic scholarship is highly selective, and is awarded to universities with prestigious IT and data analytics research and education records. "ISACA funds student scholarships in order to impact students' lives professionally and academically," said Dr. Jose Lineros, ISACA's director of academic relations. "Our hope is that our investment in their future will yield valuable benefits for the IT Audit profession and the community as a whole." This is the A&M-Commerce Business Analytics program's fourth consecutive year as ISACA scholarship fund recipients.
Business analytics, which uses data and quantitative analysis to make business decisions and solve in-depth problems, is a fast-growing field with increasing job opportunities. A&M-Commerce's online Business Analytics graduate program is currently ranked #6 in the nation by BusinessAnalytics.com.
"ISACA has been instrumental in funding scholarships to attract students," explained Dr. Chris Myers, department head of marketing and business analytics at the university. "At times, the ISACA funding has also provided for student activity support such as attendance at job fairs, transportation to business etiquette luncheons hosted by ISACA, and student-led 'Teach and Learn' sessions."
The scholarship awards and funding have been instrumental in the growth of professional activities that help students better integrate into the professional environment they will be seeking after graduation.  Some students have landed positions with organizations such as American Airlines, AT&T, Ford Motor Company, EBay and Southwest Airlines, just to name a few.
Dr. Myers continued. "We hope our relationship with ISACA will continue to grow and fulfill the promise of creating career ready students."
The ISACA North Texas Chapter has been serving IT professionals in the Dallas/Fort Worth area since 1975, with members including E&Y, GM Financial, and Weaver. ISACA is a global, independent nonprofit that "engages in the development, adoption and use of globally accepted, industry-leading knowledge and practices for information systems." The organization was previously known as Information Systems Audit and Control Association, but ISACA is now known solely by its acronym "to reflect the broad range of IT governance professionals it serves."